A confident high school sprinter wants to take Ted Ginn Jr up on his challenge.
Ginn, who has played in the NFL for 12 seasons, said on "The Lefkoe Show" this week that he is the fastest player in the NFL. He is even willing to wager $10,000 or more to race anyone from pole to pole.
"Where your check at?" Ginn told Lefkoe, via Pro Football Talk. "I'm always down to do it. I've been running from light pole to light pole my whole life."
Ginn ran a 4.37 40 at Ohio State's Pro Day, was timed as fast as 4.28 at Ohio State, and says he has been clocked as low as 4.22.
Matthew Boling, a high school sprinter from Houston, took Ginn up on the challenge via Twitter.
— Matthew Boling (@matthew_boling1) May 17, 2019
Back in late April, Boling set the high school record for fastest 100 meter sprint in all conditions.
We are awaiting Ginn's response. This is a race that needs to happen.
If any of the players the Jets drafted last month go on to enjoy successful NFL careers, head coach Adam Gase will not be able to say he had a hand in bringing them to New York. In his first year with the team, Gase apparently felt it was best to completely remove himself from the draft process.
Manish Mehta of the New York Daily News published a behind-the-scenes look at the rift between Gase and Mike Maccagnan that resulted in the former Jets general manager being fired this week, and apparently the relationship got so bad that Gase gave up on trying to help evaluate players. Sources told Mehta that Maccagnan did not want Gase's input, because he felt the Jets' scouting department should be able to evaluate players without being influenced by the coach. Maccagnan apparently operated the same way when Todd Bowles was the head coach in New York.
While there were some points where Gase shared his opinion during meetings with Maccagnan, Gase became angered that the GM did not allow him to have more input on players that were going to have to succeed in the coach's system. Eventually, Gase decided to go to great lengths to remove himself from the draft process altogether. One team employee who was in the war room during the draft said Gase intentionally moved his seat so he could not be seen on camera.
"He literally took his seat and moved it (out of camera view)," the staffer said. "That was extreme."
Here's more on the dynamic that quickly became "awkward" for many within the organization:
Gase wanted to wash his hands of the draft before it even began, according to sources. Eyewitnesses told the Daily News that he was oddly detached for all three days. This was a Maccagnan Production through and through. Gase stayed out of the way, rarely giving input on trade possibilities or prospects when the Jets were on the clock. There was no point that Gase ever fought for or objected to any of Maccagnan's picks.
Obviously, that is no way to run a team. Jets owner Woody Johnson and CEO Christopher Johnson must not have known how ugly the power struggle had gotten, which could explain the odd timing of when Maccagnan was fired. It could also be explained by one source telling Mehta that Johnson tries to see the good in everyone and simply "doesn't know what he's doing."
Gase was at odds with Maccagnan before the draft because of some major free agent signings he disagreed with, and it will be interesting to see how that plays out going forward. Now that the Jets have sided with Gase over a GM that had been with them for years, the pressure will be greater than ever to win.
The Boston Bruins completed a sweep of the Carolina Hurricanes on Thursday night to secure their spot in the Stanley Cup Finals, and it would appear some of their players have drawn inspiration from what Tom Brady and the New England Patriots accomplished less than four months ago.
Following their 4-0 win over the Hurricanes, Bruins defenseman Charlie McAvoy and some of his teammates recreated the famous Instagram video Brady and Rob Gronkowski made after defeating the Kansas City Chiefs in the AFC Championship Game.
Here's the original from Brady and Gronk for comparison:
Brady has been following along with the Bruins during their Stanley Cup run, and he took note of McAvoy's video. The six-time Super Bowl champ loved it.
Tom Brady loved the Bruins recreating his famous Instagram video from after the AFC Championship Game pic.twitter.com/Wb4dWcV0jU

— Steve DelVecchio (@SteveDelSports) May 17, 2019
The Bruins are playing with a ton of confidence, and the comments goalie Tuukka Rask made after sweeping Carolina showed you just how much they are rolling. They'll await the winner of the Western Conference Finals series between the San Jose Sharks and St. Louis Blues.
The New York Giants are counting on offensive tackle Nate Solder to help protect Eli Manning in 2019, but they may be without him for a significant portion of the offseason.
Ian Rapoport and Mike Garafolo of NFL Network reported on Friday that Solder recently underwent an ankle procedure to address bone spurs he has been dealing with. He is expected to be fully healthy by the time training camp starts during the summer.
The #Giants rebuilt offensive is set to go through the spring without starting LT Nate Solder. Sources tell me and @MikeGarafolo that Solder had arthroscopic surgery to clean out his ankle after dealing with bone spurs and that'll be back by training camp. Not considered major.

— Ian Rapoport (@RapSheet) May 17, 2019
Solder signed a four-year, $62 million contract with the Giants prior to the 2018 season, and he's arguably the most important piece of their offensive line. Fortunately, it sounds like the ankle injury is nothing serious.
The drama between Baker Mayfield and Colin Cowherd has flared up once again, with Odell Beckham Jr in the middle of things.
Things started on Thursday when Cowherd mocked Beckham in a segment about the receiver's top 10 moments. Most of the "moments" picked on Beckham for some of his notorious off-field issues, such as the infamous party boat and the hotel room photo.
Top 10 moments of Odell Beckham Jr.'s career according to @ColinCowherd pic.twitter.com/O3len4ppzk

— Herd w/Colin Cowherd (@TheHerd) May 16, 2019
Beckham got involved by pointing out the hypocrisy of Cowherd, who had sent him a text message congratulating him on his trade to Cleveland and said he was rooting for him.
Mayfield, who has a deep history with Cowherd, decided to get involved and called the FS1 host a "clown."
"Once again, you're a clown…. now I know you're just trying to get me fired up. "Most memorable moments"… he's 26 and his greatest moments are ahead of him. You forget the kids and people he inspires. That goes much further than football…You're over double his age and you can't even realize that it's much bigger than just the game. Wisdom didn't come with age for you did it?" Mayfield wrote on Twitter.
You're over double his age and you can't even realize that it's much bigger than just the game. Wisdom didn't come with age for you did it?

— Baker Mayfield (@bakermayfield) May 16, 2019
Mayfield is being a good teammate by showing he has Beckham's back, but the two of them responding to Cowherd will only encourage the host because he is getting his desired reaction.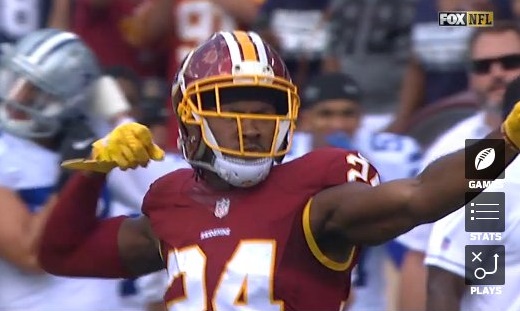 One former Washington Redskins cornerback thinks the team needs to move on from a current one.
Fred Smoot, who played seven seasons for Washington over two stints between 2001 and 2009, joined the "Redskins Talk" podcast on NBC Sports Washington this week and was critical of Josh Norman. He doesn't feel Norman is living up to his contract with the team and suggests they move on.
"You have to ask yourself, 'Where am I expendable?'" Smoot said on the podcast. "I'm going to look at that big cap number that Josh Norman has and that's going to make me want to release him."
"You wouldn't go to a used car lot and try to pay new car prices, would you?" he said. "At the end of the day, for what we pay for this guy, we're not getting that return on that investment. I'm sorry, we paid too much for the car, it's time we trade it back in."
Not many would dispute Smoot's sentiments. Norman has not lived up to his contract since signing a 5-year, $75 million deal that made him the highest-paid cornerback in the NFL prior to the 2016 season.
He had 64 tackles and three interceptions last season but has not been anywhere near the shutdown corner Washington thought they were getting. On top of all that, Norman had some issues with coach Jay Gruden last year. That's a bad combination all around. He's owed $11.5 million in 2019 and $12.5 million in 2020.
Patrick Peterson has known for quite some time that he was facing a suspension for testing positive for performance-enhancing drugs, and that may have had something to do with why he seemed unhappy with the Arizona Cardinals.
Peterson created a stir on social media last month with a cryptic post that made it seem like his future in Arizona was in doubt. According to John Gambadoro of 98.7 FM Arizona Sports, Peterson's discontent was directly related to his suspension, as he was hoping the Cardinals would rework his deal before the NFL handed down punishment.
Peterson has two years remaining on his current contract and is scheduled to make $11 million in 2019 and a little over $12 million in 2020. Had the Cardinals been willing to work with him on a new deal, he believes he could have saved himself $2 million of the nearly $4 million he will have to forfeit during his six-game ban.
A six-game suspension is set to cost Cardinals' CB Patrick Peterson $3,882,352 in lost wages.

— Adam Schefter (@AdamSchefter) May 16, 2019
For what it's worth, Gambadoro does not believe the NFL would have approved such a restructure with a suspension looming.
If Peterson was hoping the Cardinals would help protect some of his salary, it would not have been unprecedented. Back in 2016, the New England Patriots signed Tom Brady to a two-year extension that paid him less in the short-term and more in the later years. That allowed him to save $2 million when he was eventually suspended four games over the Deflategate scandal.
However, Brady's new contract was agreed to before the Deflategate situation played out, so the circumstances may have been a bit different. After Peterson tested positive for PEDs, it was obvious that a suspension was coming.
Peterson seemed unhappy with the Cardinals last season but eventually publicly apologized for the way he handled things. New Arizona head coach Kliff Kingsbury said this week that he is unsure if Peterson will show up to OTAs, so the relationship could be back on rocky ground.
pixel2