There was a familiar face sitting near the Golden State Warriors' bench during Game 4 of the Western Conference finals on Monday night in Portland.
Fans and some media members spotted former NFL quarterback Colin Kaepernick sitting next to the scorer's table:
Colin Kaepernick at the game pic.twitter.com/VRBT0qwFTZ

— Steve Noah (@Steve_OS) May 21, 2019
Colin Kaepernick sitting courtside next to the Warriors bench. #DubNation #NBAPlayoffs pic.twitter.com/9p7D8rTB73

— Dylan (@DylansRawTake) May 21, 2019
Kaepernick, best known for protesting during the national anthem in the 2016 NFL season to bring attention to social inequality and racial injustice, has mostly avoided headlines the last few months. He and Eric Reid settled their collusion case with the NFL in February, leading to reports that he would likely make an NFL return in the future.
The 31-year-old was a star basketball player in high school, in addition to his success in baseball and football.
Did Antonio Brown respond to Ben Roethlisberger with a tweet sent on Monday? That's what some are thinking.
During an interview with KDKA in Pittsburgh that aired in two parts, Roethlisberger apologized for going too far in his criticism of Brown. The Steelers quarterback said sorry for blaming Brown for an interception and apologized if the criticism ruined their relationship.
Not long after Roethlisberger's comments were publicized online, Brown sent the following tweet that said "two face."
Two face

— Antonio Brown (@AB84) May 20, 2019
He sent another follow-up tweet:
Lil fans ex players media people stop monitoring my life making comments on me I got bigger fish to fry! Focus on God #CallGod

— Antonio Brown (@AB84) May 20, 2019
KDKA, which aired the Roethlisberger interview, thinks the tweet was intended for Roethlisberger.
The relationship between Brown and Roethlisberger has been frayed for a while. Big Ben called out Brown for pouting two years ago. The two were at odds the next season over the national anthem, and then they had their infamous altercation at the end of last season.
Brown forced his way out of Pittsburgh and got traded to the Oakland Raiders this offseason, while the Steelers extended Roethlisberger's contract. The two players will be going their separate ways moving forward after nine seasons as teammates.
The Dallas Cowboys say that the incident involving Ezekiel Elliott over the weekend in Las Vegas will not impact their long-term contract talks with him.
Elliott was handcuffed and detained briefly during an incident at the Electric Daisy Carnival music festival early Sunday morning in Las Vegas. TMZ Sports reports and shared video that showed the Cowboys running back shoving an event staff member to the ground. Las Vegas police handcuffed Elliott after the shove and detained him, though he was eventually let go.
Police say the staffer who was shoved to the ground declined to press charges for misdemeanor battery.
"Two officers approached and placed Elliott into handcuffs while they investigated," Las Vegas police said in a statement. "The security guard who was the victim of the misdemeanor battery refused to press charges and officers escorted Elliott a short distance away and he was released."
Elliott later appeared at his youth football camp in Frisco, Texas that day.
Speaking with reporters on Monday, Cowboys executive Stephen Jones said the incident would not impact their contract negotiations with the running back.
Stephen Jones said club continues to gather information on Ezekiel Elliott episode in Las Vegas. Didn't want to discuss specifics, but did reiterate he's impressed w/ how Elliott has conducted himself overall & said what took place over weekend would not impact negotiations.

— David Moore (@DavidMooreDMN) May 20, 2019
Stephen Jones, who has pointed out a more professional approach by Ezekiel Elliott, doesn't want latest episode to obscure his progress: "Zeke has got a big heart. These are all bumps. People have challenges."

— David Moore (@DavidMooreDMN) May 20, 2019
Elliott, 23, is still on his rookie contract and the Cowboys plan to pick up his fifth-year option for 2020, which would pay him just over $9 million.
The two-time NFL rushing leader has been the subject of multiple off-field incidents, going back to his time in college when he was cited for driving on a suspended license. He was accused of domestic assault shortly after being drafted by the Cowboys and was later suspended six games by the NFL. He was accused in 2017 of breaking a man's nose during an altercation.
The Cowboys believe the young back is still maturing and has shown signs of progressing off the field, such as the generous gesture he recently made to a grieving family.
The Tampa Bay Buccaneers are releasing Gerald McCoy but reportedly have interest in a potential replacement.
The Bucs informed McCoy on Monday of their plans to release him, The Tampa Bay Times' Rick Stroud reports. They reportedly are interested in free agent Ndamukong Suh as a potential replacement.
With the release of Gerald McCoy, the Bucs have several options, and may move quickly to sign Rams free agent defensive tackle Ndamukong Suh, according to @tometrics.

— Rick Stroud (@NFLSTROUD) May 20, 2019
Tampa Bay apparently worked with McCoy on the matter and wants him to find a suitable home. They gave his agent permission to talk with other teams.
McCoy, however, may be better off than the Bucs. The team had given his agent, Ben Dogra, permission to talk to other teams to find a new home for McCoy, who should attract lots of interest from contending teams

— Rick Stroud (@NFLSTROUD) May 20, 2019
The two sides seemed destined to part ways. McCoy was set to make $13 million this season, which is an amount Tampa Bay did not want to pay. The team was looking to trade him but apparently did not find a partner because other teams did not want to pay that amount and surrender an asset to get him on top of that. If he is going to take a pay cut, it would be for a championship contender. There is an up-and-coming AFC team was said to have interest in the six-time Pro Bowler.
McCoy, 31, had not been participating in off-season activities for Tampa Bay. The defensive lineman had 28 tackles and six sacks in 14 games last season.
The first day of OTAs has resulted in a significant injury for the Washington Redskins.
According to Ian Rapoport of NFL.com, linebacker Reuben Foster is believed to have a torn ACL plus additional damage, and will see a specialist to figure out the true severity of the injury.
Sources: #Redskins LB Reuben Foster is believed to have suffered a torn ACL, plus additional damage. The injury has been described as major and significant. He's seeing specialists to determine the full extent. But a brutal situation for Washington.

— Ian Rapoport (@RapSheet) May 20, 2019
This was the fear as soon as Foster was carted off the practice field. Such an injury would put his season in serious jeopardy, but Washington will wait to get the full picture on the injury before making any pronouncements on recovery time.
With no new contract in his back pocket, Atlanta Falcons wide receiver Julio Jones was a no-show for the start of the team's OTAs.
Like last year, Jones did not participate in the OTAs as he seeks a new contract from the team.
Not that it's a surprise, but Julio Jones didn't show up today for the first day of OTAs. (It's not like he needs to be there, obviously.) The team does expect him to participate in mandatory minicamp, although it expected him to do so last year.

— Jason Butt (@JasonHButt) May 20, 2019
Jones's actions last year got him an adjusted contract, but with two years left on his deal and a new Antonio Brown contract resetting the market for receivers, he wants a renegotiation. It was reported back in March that he was nearing a new deal, but that hasn't happened yet, though the Falcons do remain optimistic.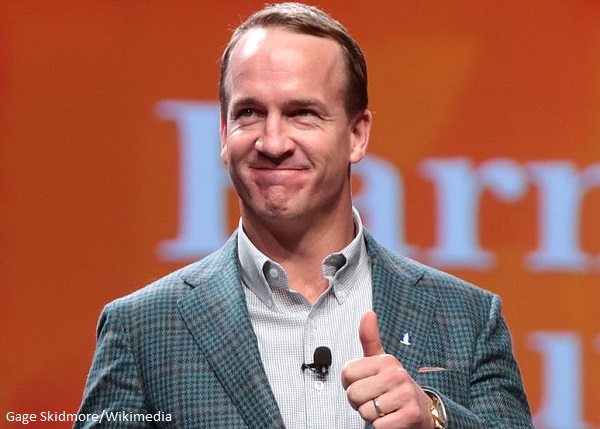 The rumors linking Peyton Manning to the New York Jets' general manager job appear to have little substance to them.
According to Ian Rapoport of NFL.com, Manning is not under consideration for the vacant position. Rapoport notes that there is little reason Manning would accept the job, and the links appear to come simply from Manning and Adam Gase having a good relationship.
From Up to the Minute Live: The #Jets GM search is going to kick into gear with requests and interviews expected this week… but no, the plans do not involve Peyton Manning at this point. pic.twitter.com/63PbraAwvQ

— Ian Rapoport (@RapSheet) May 20, 2019
In the past, it has been suggested that a front office job is Manning's major ambition. However, he'd want it to be the right situation. The Jets, who look chaotic from the outside, are probably not that landing spot, and even if the Jets were interested, Manning probably knows it.
pixel2