The Oakland Raiders sent all of their scouts home last week in advance of the NFL Draft, and the move not just be about trying to keep their plans as secretive as possible.
Ian Rapoport of NFL Network reports that Raiders head coach Jon Gruden and new general manager Mike Mayock do not trust the scouts that are currently working for the team, and there is expected to be a "major shakeup" with the department. Rapoport expects the Raiders to move on from most, if not all, of them after the draft.
From @gmfb: The #Raiders want absolutely secrecy on their slew of first-round picks, so GM Mike Mayock and coach Jon Gruden did some things. pic.twitter.com/2kvRIol6OK

— Ian Rapoport (@RapSheet) April 22, 2019
Most of Oakland's scouts were already working for the team before Mayock was hired, so it makes sense that he would want to bring in his own people.
After the report came out that Gruden and Mayock had sent all of their scouts home and told them not to return for the draft, Mayock's daughter tried to downplay it by sharing a funny story about the lengths the GM went to in order to keep his draft binder away from his own family. While that was likely a factor in what happened with the Raiders' scouts, it seems like Mayock and Gruden do not think very highly of them.
The Arizona Cardinals continue to insist they have not decided what to do with the top overall pick in the NFL Draft this week, and Josh Rosen could be making things more difficult for new head coach Kliff Kingsbury.
The Cardinals will hold a veteran minicamp this week, and Rosen will be in attendance as he has been for the rest of the offseason program. According to Ian Rapoport of NFL Media, Kingsbury has been impressed with what he has seen from the 22-year-old quarterback thus far.
Interesting dynamic in Arizona: Veteran minicamp is Tuesday through Thursday and Josh Rosen will be on field. I'm told he's impressed Kliff Kingsbury, thus far, and this week is another opportunity. Right before Thursday night. https://t.co/8VFJtZZ9Ye

— Ian Rapoport (@RapSheet) April 22, 2019
There is a wide-ranging assumption that the Cardinals are planning to take Kyler Murray at No. 1 overall, and that may still be the case. While Rapoport also reported on Monday that Arizona's brass will meet this week to discuss plans for the top pick, the team could be leaking all of this information in an attempt to drive up Rosen's trade value.
At this point, we may have to wait until the Cardinals actually announce the pick to know what they are doing. There seem to be at least a handful of teams that are interested in trading for Rosen, but he's not going anywhere if the Cards draft a player other than Murray.
The Arizona Cardinals have done everything they can to create the impression that they have not decided whether to take Kyler Murray or another player with the top overall pick in the NFL Draft, and they may actually be telling the truth.
Ian Rapoport of NFL Network reported on Monday that Cardinals general manager Steve Keim, head coach Kliff Kingsbury and owner Michael Bidwill plan to meet in the coming days to go over their options for the No. 1 pick. They have also received inquiries from teams interested in trading up to their spot.
#AZCardinals brass — GM Steve Keim, coach Kliff Kingsbury and owner Michael Bidwill — will have a final meeting over the next couple days to discuss their options at No. 1, sources say. The Cardinals have received feeler calls from teams inquiring about trading up, as well.

— Ian Rapoport (@RapSheet) April 22, 2019
It has been widely reported that the Cardinals are set on drafting Murray, but Keim said last week that no decision has been made and the media must know more than he does about his own team. If what Rapoport was told is accurate, Keim was not lying.
The Cardinals could still decide that Josh Rosen is a good fit for Kingsbury's system, and Kingsbury has done nothing but praise the team's 2018 first-round pick. We know of at least one team that might look to move up for Murray, so perhaps Arizona will be presented with an offer it can't refuse.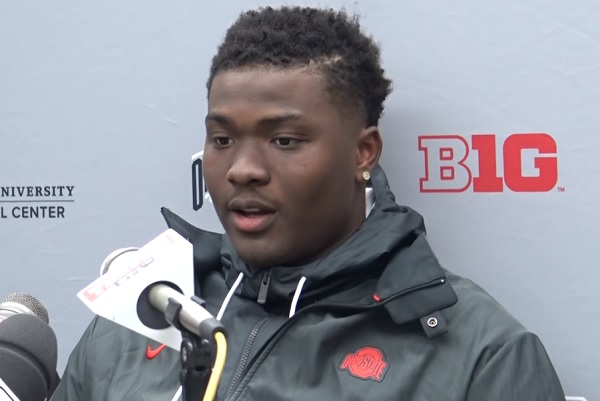 The 2019 NFL Draft is approaching, which means all of the speculation, rumors and insider reports will come to an end and we'll finally see exactly what each of the 32 general managers are thinking.
As part of that, we'll likely see a flurry of trades, with many of those coming at the top of Round 1. But the jockeying won't end there as teams contentiously wheel-and-deal in an effort to fortify their rosters. What players will they be trying to trade up for? We have an idea.
Here's a look at 10 prospects who are most likely to be targeted in trade-up scenarios.
10. D.K. Metcalf, WR, Ole Miss
The overall feeling on Metcalf is mixed at best. Some have him projected to go in the top 10, others in the top 20, and more yet in the second round. It's anyone's guess where he eventually goes, but in the event Metcalf falls into the No. 20 range, someone is going to take a flier and not risk waiting for him to fall further. The Baltimore Ravens, New England Patriots, Arizona Cardinals and Green Bay Packers are all potential buyers in such a scenario, so keep an eye out for some late-Round 1 shakeups if Metcalf remains available at that point.
The Buffalo Bills appear to be stockpiling veteran running backs this offseason, and they added another on Monday when they agreed to a contract with TJ Yeldon.
According to ESPN's Adam Schefter, Yeldon will sign a two-year deal with Buffalo.
Bills are signing former Jaguars' RB T.J. Yeldon to a two-year contract, per league source.

— Adam Schefter (@AdamSchefter) April 22, 2019
Yeldon spent the first four years of his career with the Jacksonville Jaguars, and he was effective almost any time they needed him to take on an expanded role. He averaged 4.0 yards per carry last season and racked up more than 900 total yards from scrimmage in 14 games.
In addition to signing Yeldon, the Bills also brought in Frank Gore at the start of free agency. With LeSean McCoy turning 31 before the 2019 season begins, adding depth at the running back position is probably a good idea.
Indianapolis Colts linebacker Darius Leonard is doing big things both on and off the field.
A woman shared a video on Twitter Sunday that showed Leonard changing a tire on her car on the side of the road:
@Colts Darius Leonard continues to be an outstanding player on and off the field. So thankful to God that he stopped and helped me. Much love! pic.twitter.com/EKdmpCdYbH

— Martha Isbell (@mottjones) April 21, 2019
The woman who shared the video lists Lake View, South Carolina as her location. Leonard was born in Nichols, South Carolina and lists the same town as his location on Twitter. He went to South Carolina State before being drafted in the second round No. 36 overall last year.
As a rookie, Leonard led the league with 163 tackles. He had seven sacks, two interceptions and four forced fumbles and was one of the biggest Pro Bowl snubs. He ended up being named NFL Defensive Rookie of the Year and first-team All-Pro.
Kelly Stafford, the wife of Detroit Lions quarterback Matthew Stafford, shared a positive update on Instagram Sunday evening following her brain surgery.
Stafford shared the news on Instagram on April 3 that doctors had found a tumor in her brain. The tumor was discovered after she underwent an MRI that was recommended to try and rule out all possible explanations for health issues she had been experiencing. She acknowledged at the time that she was "terrified" to undergo the surgery and what could happen.
The good news is she got through the surgery, even if it took twice as long as expected.
"This Easter is the beginning of a new life for me. I wanna take a second to thank all of you for all the prayers. They have worked. I know they have. When they opened me up, I had an abnormal vein.. maybe abnormal for other neurosurgeons, but not the one We chose. He had seen it before and written a paper on it. That's truly God's work. The prayers for my family, I'm beyond thankful for. A six hour surgery went to 12 hours and although they were anxious and scared, your prayers got them through. Thank you. Thank you so much. Now I am home and learning my new norm. It'll take some time, but I really just wanted to say thank you. Thank you for all your support, thoughts and prayers. It means more than y'all will ever know," Stafford wrote on Instagram.
You can see her full post below, which includes video of her walking.
The Staffords have three children — twins girls born in 2017 and another daughter born last year. Matthew and Kelly have been dating since their time at Georgia when he was a quarterback and she was a cheerleader. They got married in 2015.
Matthew has not participated in the Lions' voluntary offseason activities to help care for his wife.
pixel2