The NFL has issued a statement confirming Josh Gordon's immediate reinstatement to the NFL effective Sunday.
The statement confirmed that Gordon has been reinstated "on a conditional basis" which will be subject to "appropriate progress on clinical care and other arrangements." The statement also noted that Gordon would not play in the Patriots' Aug. 22 preseason game due to insufficient time to get up to speed with his conditioning.
Commissioner Roger Goodell said in the statement that he and the rest of the league were "rooting" for Gordon to succeed, but warned that "ultimately his success is up to him."
NFL statement on Josh Gordon's conditional reinstatement. pic.twitter.com/Ada0paOIJo

— Tom Pelissero (@TomPelissero) August 16, 2019
Gordon has a spot waiting for him with the Patriots, and will almost certainly factor into their thinking once the regular season starts. It remains to be seen to what extent.
The XFL is set to debut (again) at some point next year, and the league has officially signed its first player.
On Thursday, the XFL announced in a press release that former Pittsburgh Steelers quarterback Landry Jones has agreed to a deal with the league. The XFL plans to sign seven more quarterbacks by October, and each of the players will be selected by the league's eight teams.
Jones was selected in the fourth round of the 2014 NFL Draft, and he went on to spend several years as Ben Roethlisberger's backup with the Steelers. He played in 19 games over five seasons in Pittsburgh and completed 63.9 percent of his passes for 1,310 yards, eight touchdowns and seven interceptions. He then spent a season with the Jacksonville Jaguars and was briefly with the Oakland Raiders this offseason.
The XFL could go after some big names in the coming months, and fans are hoping they will be bigger than Jones. While Jones might be a solid player in the league, his signing is not going to turn any heads.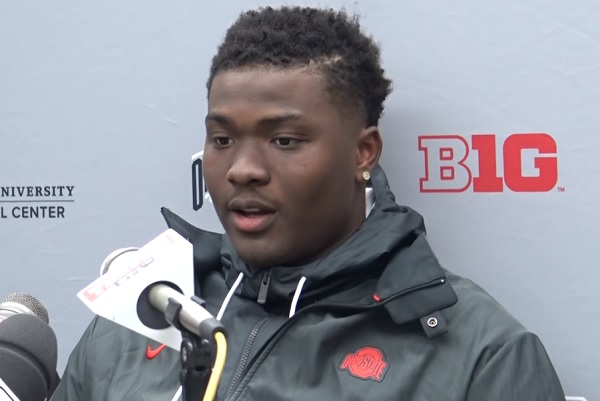 Dwayne Haskins is still fighting for a starting job with the Washington Redskins, and he made a pretty good case for himself with the deep touchdown pass he threw during Thursday night's preseason game against the Cincinnati Bengals. Rather than let his play do the talking, the former Ohio State star was quick to throw it in face of his critics.
One of the concerns some people have expressed about Haskins is his inconsistency with throwing deep passes. His touchdown pass in the second quarter on Thursday was a perfect strike that traveled 45 yards in the air and came in the face of pressure.
Dwayne Haskins' first TD pass of the preseason is a BEAUTY #CINvsWAS pic.twitter.com/vRlB69sP8o

— NFL (@NFL) August 16, 2019
After Washington's 23-13 loss, Haskins mocked those who claim he can't throw deep.
Sheeshhhh lol I can throw the deep ball all day https://t.co/VCCpWDEJRr

— Dwayne Haskins, Jr (@dh_simba7) August 16, 2019
Haskins obviously still has plenty to work on, and he is not the frontrunner to earn the Week 1 starting job as of now. However, that touchdown pass was very much an NFL throw, and it's the type that Haskins will need to make in order to justify being a first-round pick. A few more of those and the QB competition will really start to heat up.
No NFL team has had more buzz surrounding it this offseason than the Cleveland Browns, and there will undoubtedly be people lining up to laugh at them if they fall short of their lofty expectations. To this point, Baker Mayfield feels the team has been doing a good job of handling all that.
In an interview with Zach Frydenlund of Complex this week, Mayfield was asked what it is like to go from an underdog that took everyone by surprise to a team with a target on its back. Mayfield said some people want to see the Browns fail because "the hype is too real."
"You've got to believe in it and take it one week at a time. Because I wouldn't say that everybody wants to beat us. I think in the media and everything that comes with the hype around our team right now, people want to see us lose, just because the hype is so real," he said. "But we've got to go out there and take it one week at a time. We're trying to win every week."
Mayfield acknowledged that jumping from a team that celebrated winning a single game to one with playoff expectations can present challenges, but he's confident the Browns are taking the right approach.
"It went from having excitement over Bud Light coolers being opened to now people waiting to see us lose so they can say, 'Oh, they got too hyped up,'" Mayfield added. "That's why you've got to have an even-keel mindset when it comes to that stuff."
The Browns aren't going to catch many teams by surprise this season. Mayfield proved last year that he is a viable NFL starter, and he now has one of the best wide receiver duos in football in Odell Beckham Jr. and Jarvis Landry. Opponents are going to take them seriously, which can often lead to more challenges. If Mayfield tackles those challenges with the same enthusiasm he showed during a preseason coach's challenge, the Browns will be in good hands.
Jay-Z's recent partnership with the NFL apparently was just the antecedent to something much bigger.
Jay-Z will soon become a part owner of an NFL team, according to a report published by TMZ on Friday.
TMZ's source did not know which team Jay-Z would take an ownership stake in, nor when it would happen, though they were told it will happen in the "near future."
Jay-Z, real name Shawn Carter, became famous thanks to his rap career, which he parlayed into a career as a successful businessman. The 49-year-old is a global icon and has a reported net worth over $1 billion.
Jay-Z has previous experience as an owner of a professional sports team. He was a part owner of the Brooklyn Nets but sold his share in the team in 2013 when he launched Roc Nation Sports, a sports agency, due to a conflict of interest.
The rapper has been involved in NFL headlines over the past few years. He reportedly turned down an invitation to perform at the Super Bowl halftime show two years ago, reportedly over his belief Colin Kaepernick was being blackballed.
On Tuesday, the NFL announced a partnership with Jay-Z.
Ezekiel Elliott has been working out away from the Dallas Cowboys this offseason as he seeks a new contract, but it sounds like he has been doing everything he can to make sure he is in top physical shape for whenever he returns to the team.
Elliott is currently at his lowest weight since his rookie year, according to ESPN's Adam Schefter. He has weighed in recently at somewhere in the low-220s.
While he is away from the Cowboys, Ezekiel Elliott's weight is in the low 220s, the lowest it has been since his rookie year, per source. If and when the two sides can work out a deal, Elliott will be all ready to go.

— Adam Schefter (@AdamSchefter) August 15, 2019
If you remember, there were concerns about Elliott's weight earlier in the offseason when a photo surfaced on social media that appeared to show him looking a bit flabby. Elliott responded to that talk by sharing a video of himself stepping on a scale, and he weighed 230 at the time. That means he has slimmed down even more since then.
Elliott spent time working out in Mexico when he was suspended in 2017, and he looked no worse for the wear when he returned. He has been doing the same this offseason.
Say what you will about Rex Ryan, but one thing the man has never been lacking is a sense of humor. He gave us another great reminder of that on Friday when he cracked a perfectly timed joke at his own expense.
Feet have been a topic of discussion this offseason because of the nasty blister problem Antonio Brown is dealing with, and it came up again during ESPN's "Get Up" on Friday morning when an ex-NFL player shared how he used to remove his toenails completely before the season so they wouldn't get banged up. Sam Ponder was disgusted and said "we gotta quit talking about feet."
Take it away, Rex:
.@sam_ponder COULD NOT keep it together pic.twitter.com/TGya6KUKZo

— Get Up (@GetUpESPN) August 16, 2019
For those of you who don't get the reference, Ryan was the subject of foot fetish talk a few years back when him and his wife were supposedly featured in some bizarre YouTube videos. Ryan has since been mocked by his own twin brother over his love of feet, and he has done a great job of owning it.
Never change, Rex.
pixel2