Professional golf returned to live TV for the first time in two months on Sunday with the TaylorMade Driving Relief match that pitted Rory McIlroy and Dustin Johnson against Rickie Fowler and Matthew Wolff. While the event featured some of the biggest names in the sport, one of the highlights of the event was actually a virtual appearance from Bill Murray.
Murray, who is always quite visible around the PGA Tour, called into the TaylorMade Driving Relief to chat with NBC's Mike Tirico. Viewers probably weren't surprised to see that the actor and comedian didn't seem all that experienced with Skype. Something was a bit off about Murray's camera angle.
Unclear if Bill Murray can't figure out how to balance his camera or just did this whole thing diagonal for comedy reasons. #DrivingRelief pic.twitter.com/zJFBXV9gY6

— Jeff Eisenband (@JeffEisenband) May 17, 2020
Of course, Murray claimed that was his first experience with skype.
The event was organized to raise money for the American Nurses Foundation and the CDC Foundation, and Murray and Tirico agreed to donate $15,000 each to the organizations. Murray may not have been able to set up a camera the right way, but his appearance was certainly worthwhile.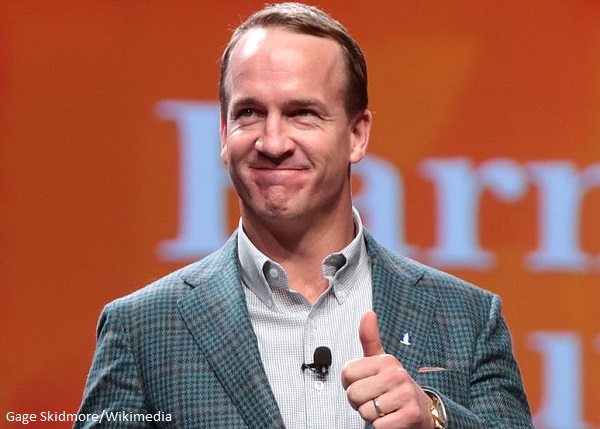 The official date and location for the upcoming charity golf event featuring Tiger Woods, Phil Mickelson, Tom Brady and Peyton Manning was announced on Thursday, and the two teams have wasted no time trading smack talk. If quality of trash talk is any indication of how "The Match" is going to go, Brady and Phil may be in trouble.
The four sports legends got together on Thursday for a video chat to promote the event with TNT's Ernie Johnson. Manning, who is partnering with Woods against Brady and Mickelson, really gave it to his former on-field rival. He mocked Brady over his embarrassing accidental trespass situation and jokingly complained that the golf match is being held in Florida, where Brady now lives. Manning said he would have preferred to have the match somewhere where Brady is disliked, and he cited Boston as one of those places.
"Maybe this is considered a neutral site," Manning said. "I would have loved to have had this tournament in a place where they don't like Tom very much — Indianapolis, Denver, Boston after he just betrayed them and broke their hearts…"
Manning also joked that Brady and Mickelson have 11 championships combined, whereas Manning and Woods have 17. Tiger accounts for most of those, of course, with his 15 major championships. Here's the full video:
Sorry not sorry… pic.twitter.com/qSbYVsHXVz

— Tom Brady (@TomBrady) May 7, 2020
Tiger and Phil also traded some great barbs during the segment:
Phil came out talking trash, but Tiger had the green jacket ready

It's @TigerWoods & Peyton vs. @PhilMickelson & @TomBrady 🐐 Capital One's The Match is on May 24 at Tiger's course, The Medalist, only on TNT. Full interview in the B/R app https://t.co/99p5H7EB4W pic.twitter.com/5BJkMzl9dT

— Bleacher Report (@BleacherReport) May 7, 2020
The match is being held at The Medalist Golf Club in Hobe Sound, Fla., on Sunday, May 24. It will be simulcast on TNT, TBS, truTV and HLN. Woods and Mickelson brought us some awesome moments when they squared off in "The Match" two years ago, and the sequel is sure to be better than the original.
How is Tony Romo keeping busy during the coronavirus pandemic? He's playing golf for charity.
Romo is slated to participate in a 54-hole fundraising tournament for caddies at the Maridoe Golf Club in Carrollton, Texas this week, according to Bob Harig of ESPN. The event will be closed to media and spectators, and is aiming to raise funds for caddies who are currently struggling to find business due to the pandemic.
Social distancing will be enforced at the event, and there will be no caddies except as walking scorers for each group. Former NBA player Deron Williams is also listed as a participant.
Romo is a huge golfing enthusiast who has actually tried to qualify for major events before. He'll appreciate the chance to play, and he's doing it for a good cause, too.
Get ready for what may be the biggest golf match of the year.

According to Darren Rovell of Action Network, Tiger Woods and Phil Mickelson will play a 2 v. 2 charity golf match with Peyton Manning and Tom Brady in May.

TNT will air the match live, with rumored dates being May 15 or May 24. Woods and Manning are believed to be one pair, as both are Nike athletes, while Mickelson and Brady make up the other pairing.

No course has been finalized, but Medalist Golf Club in Hobe Sound, Fla. has been named as one possibility. Nationally televised sporting matches are considered "essential" in the state of Florida, which could clear the way for the match to go ahead there.

PGA Tour officials would not confirm the event, but noted that Woods and Mickelson will have to sign release forms to play in such an event.

Woods and Mickelson played one-on-one in 2018, so this will essentially be a sequel of sorts.

This was widely rumored, and while this isn't official confirmation, it's a pretty good indication that this will be happening. With sports shut down for the foreseeable future, it promises to be perhaps the biggest live event in the month of May.
Golfer Brooks Koepka famously posed nude for ESPN the Magazine's Body Issue last year and looked pretty shredded in the photos. The photoshoot became a topic of conversation after Koepka admitted he lost weight for vanity reasons so he would look good in the photos, leading to criticism that the weight drop would affect his play.
Spoiler alert: it didn't.
Koepka won the PGA Championship and finished second in two other majors last year. And a year later, he's shared a hilarious story from the shoot.
Koepka was a guest on Sunday's edition of "Pardon My Take" and shared the story.
"It's actually a funny story behind this. So we're doing this shoot on a golf course. They didn't close the golf course down. My coach is giving lessons, people are playing. What they don't tell you is the makeup artist stands literally right in front of you. Like frontal, like 10 feet away, like the entire time the shoot is going on," said Koepka.
"So it's getting late in the day, it's cooled down a little, and it's like 60 degrees and starting to sprinkle, and it's getting cold. I haven't complained all day and I kind of mutter under my breath, 'damn, it's cold.' The [makeup artist] hasn't said anything all day, and she just blurts out, 'I can tell.'
"I was like, 'are you serious?' And she was like, 'No, no, the goosebumps, the goosebumps!'"
The obvious joke is that Koepka — and anyone listening — thought the makeup artist was zinging the golfer over his shrinking male package in the cold weather. The makeup artist tried to backtrack, but it's hard to go backwards after a zinger like that. We're guessing Koepka's girlfriend Jena Sims probably didn't enjoy that story too much.
The PGA Tour is planning to restart golf season in June, though there will not be fans present at the events.
Golf Digest reported on Tuesday that the PGA Tour plans to resume on June 11-14 at the Charles Schwab Challenge. The event will take place at Colonial Country Club in Fort Worth, but fans are not expected to attend.
The US Open was originally scheduled to take place the week after the Schwab event, but that has been postponed until September. The RBC Heritage, which originally would have taken place this week in Hilton Head, is set to fill that slot.
According to Golf Digest, the order of events following the RBC Heritage would be:
Travelers Championship
Rocket Mortgage Classic
John Deere Classic
Memorial Tournament
3M Open
WGC-FedEx St. Jude Invitational
Barracuda Championship
Read the entire story at Golf Digest for full details on the planned schedule.
Sunday would have been the final day of the Masters, and Tiger Woods thinks he would have had a chance to be in the hunt had it been played as scheduled.
Woods relived his 2019 triumph with CBS's Jim Nantz during a replay of the final round. Woods said he would have been ready to play the Masters as scheduled, and that his body was in "normal pre-major" mode based on the time of year.
"I was out practicing and subconsciously getting ready; I didn't realize I was getting ready," Woods said, via Bob Harig of ESPN. "I just wanted to go out there, have some fun, hit some balls and get out of the house. But it's amazing. I've been doing it for so long that things were starting to come together; I was starting to peak. We try to peak four times a year; and I know that the tournament's been postponed, not until November — but for some reason, I was still peaking anyway."
Woods will instead have to wait until November, which definitely doesn't fit with his normal major schedule. It will be interesting to see how his internal clock handles the delay.
pixel2