Kyler Murray made history when he was selected No. 1 overall in Thursday's NFL Draft.
The Arizona Cardinals did what was expected by selecting Murray with the top pick to be their quarterback of the future. Murray, who was also selected in the first round of the Major League Baseball First-Year Player Draft last year, became the first athlete to be taken in the first round of the NFL and MLB drafts.
Kyler Murray just became the first athlete to ever be drafted in the first round of both the NFL and MLB drafts.

— Field Yates (@FieldYates) April 26, 2019
Additionally, he is the first ever under-6-foot quarterback to be drafted in the first round.
Murray won last year's Heisman Trophy after throwing for 4,361 yards and 42 touchdowns. He also rushed for 1,001 yards and 12 touchdowns. As a baseball player at Oklahoma, Murray hit .296 with 10 home runs, 13 doubles, 47 RBIs, and 10 stolen bases in 2018.
If the Arizona Cardinals have made a final decision regarding which player they will select with the top overall pick in Thursday night's draft, they are going to great lengths to protect that information.
Cardinals general manager Steve Keim has said for weeks that the team has not settled on Kyler Murray or any other player with the No. 1 pick, and many people believe that is just a smokescreen. However, Ian Rapoport of NFL Media reports that Keim has reached out to at least one player to let him know he is a possibility to go first overall, and that player is not Murray.
If the #AZCardinals have made a decision on No. 1, they are keeping it quiet. Source said GM Steve Keim reached out to at least one player — #Bama DT Quinnen Willliams — to let him know he's still a possibility to go first overall.

— Ian Rapoport (@RapSheet) April 25, 2019
Interestingly enough, the odds of Quinnen Williams being the first overall pick have seen a big shift this week. Murray is still considered the favorite, but oddsmakers do not consider it to be nearly as much of a certainty as they did just a few days ago.
It would still be a surprise if the Cardinals took a player other than Murray, but it would be even more shocking if they took Williams. Most analysts believe Ohio State's Nick Bosa is the best defensive player in the draft, so that would be an upset in more ways than one.
It was not all that long ago that Kyler Murray was considered a virtual lock to be the first overall pick in the NFL Draft, but expectations have shifted for some over the past week or so. With more and more analysts speculating that the Arizona Cardinals could go in a different direction, oddsmakers have made major adjustments in advance of Thursday night.
As of Monday, Murray had -2500 odds at many sportsbooks to be the No. 1 pick in the draft.
Odds to be No. 1 overall pick in NFL Draft:
Kyler Murray -2,500
Nick Bosa +600
Quinnen Williams +1,500
Josh Allen +5,000
via @SuperBookUSA

— David Payne Purdum (@DavidPurdum) April 22, 2019
That means if you bet $100 on Murray to be the top pick and he was, you would win a whopping $4. In other words, it was considered close to a certainty. Fast-forward to Thursday, and oddsmakers were far less confident in the Cardinals — or another team that might trade up — taking Murray.
Woah. pic.twitter.com/joVK9VmFDs

— B/R Betting (@br_betting) April 25, 2019
It would seem that some people believe the Cardinals are going to take a defensive player with the first overall pick. Former Ohio State defensive end Nick Bosa has the best odds behind Murray at around +350, but Pete Watt of Oddschecker told Larry Brown Sports there have been a flurry of bets placed on Alabama's Quinnen Williams to go No. 1 over the past two days. The odds on Williams being the top pick have shifted from +1400 to +450 in under a week.
"The market has shades of last year's draft, when relative long-shot Baker Mayfield ended up going first to the Browns," Watt said. "Williams would be a top asset but, despite his shortening price, the smart money is surely on the Cardinals to take Murray."
The Cardinals have insisted all along that they are not yet decided on what to do with the No. 1 pick, and a recent report made it seem like they may be happy with their current quarterback situation. While it would still be a shock if they traded back or chose a player other than Murray, it clearly is not out of the question.
Mike D'Antoni has high expectations for a potential second-round playoff series against the defending champions.
The Houston Rockets punched their ticket to the second round on Wednesday by defeating the Utah Jazz 100-93 to close out their first-round series. The Warriors would be their opponent in the second round should they eliminate the Los Angeles Clippers.
The potential high-octane matchup would represent a rematch of last year's Western Conference Finals, which the Warriors won in seven games. It's a series many basketball fans want to see, and one D'Antoni said should be "great."
Given the invitation, Rockets coach Mike D'Antoni fought an urge to comment on a match up with GS. He could not resist the one-liner.

"If they come out of it, it's going to be a great series. We said all year, 'let's run it back.' Well, OK. I guess we're going to run it back."

— Jonathan Feigen (@Jonathan_Feigen) April 25, 2019
There are more than a few Rockets fans who feel their team could have beaten the Warriors last season had Chris Paul not injured his hamstring in Game 5. Houston won that game to go up 3-2 in the series. However, the Warriors won the next two games, both of which Paul missed.
Barring injury to any of the important players from each team, a Warriors-Rockets series should indeed be one worth watching. It's the matchup one Rockets player wants.
Vladimir Guerrero Jr. is officially heading for the majors.
The highly-touted prospect will finally be called up to the Toronto Blue Jays on Friday, according to manager Charlie Montoyo.
The wait is over. #BlueJays are calling up top prospect Vladimir Guerrero Jr. Friday, per Charlie Montoyo

— Ben Nicholson-Smith (@bnicholsonsmith) April 24, 2019
Toronto fans have been waiting for this since the beginning of the season. Baseball's consensus top prospect was raking at Triple-A this season, hitting .360 with two home runs in just seven games. If you just watch him hit, you'll know he's ready for the promotion that he's finally getting.
In total, Guerrero hit .331 and slugged .529 over the course of four minor league seasons, hitting 43 home runs over 287 games. He only just turned 20 in March.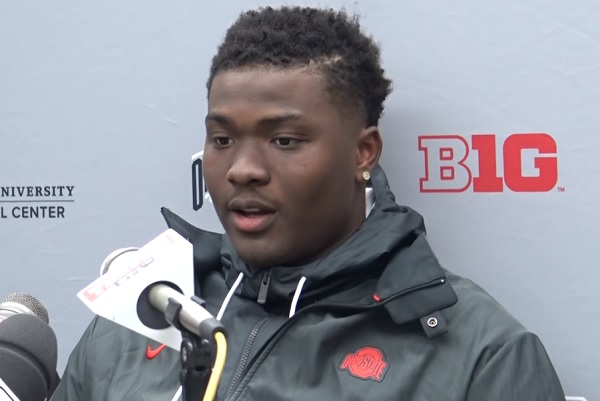 There has been a lot of talk about the Washington Redskins taking a quarterback early in the NFL Draft, and they may even be willing to make a huge move up the board to get the player they want.
Mike Garafolo of NFL Network reports that the Redskins are exploring the possibility of moving from No. 15 overall into the top-five on Thursday.
.@MikeGarafolo reports @nflnetwork the Redskins have explored moving into the top-5.#UpToTheMinute

— Andrew Siciliano (@AndrewSiciliano) April 24, 2019
If Washington is set on drafting a quarterback, trying to get up that high in the first round makes sense. The Arizona Cardinals still seem likely to select Kyler Murray first overall, and the next team that is in clear need of a QB after that is the New York Giants at No. 6. The Redskins will likely need to move ahead of the Giants if they want a shot at the player they believe is the best at the position outside of Murray.
According to ESPN's Dianna Russini, that player is Ohio State's Dwayne Haskins.
Make no mistake of it, the Washington Redskins are in the market for a QB. Sources have indicated Dwayne Haskins is their target despite multiple holes at several positions on this roster. I'm also told the Redskins Draft board is set.

— Dianna Russini (@diannaESPN) April 24, 2019
Alex Smith will turn 35 next month and is expected to miss the entire 2019 season after undergoing leg surgery, so it's no surprise the Redskins are looking at QB options. There has also been talk that they could address the need via trade, but moving up in the draft may be the easier route.
Paul George was not impressed with the shot selection on Damian Lillard's series-clinching three-pointer against the Oklahoma City Thunder on Tuesday night, and Lillard seems quite amused by that.
George was the one defending Lillard when the Portland Trail Blazers star buried a three-pointer at the buzzer to send his team to the next round of the playoffs. There was nothing more George could have done, as Lillard chose to put up a shot from about 36 feet out. Following the game, George called it a "bad shot."
"That's a bad shot. I don't care what anybody says. That's a bad shot. But, hey, he made it. That story won't be told, that it is a bad shot. You live with that." – Paul George on Damian Lillard's game winner.

Dame was 8 of 12 from 30+ feet in the series. 4 of 6 in GM5. pic.twitter.com/YTZRIaztKT

— Ballislife.com (@Ballislife) April 24, 2019
Lillard made 8-of-12 shots from 30 feet or beyond in the series against OKC, so it is clearly a better shot for him than most. He also knew that the game was tied and the worst-case scenario was going to overtime, so that probably was a factor in his decision to launch such a deep attempt. When Lillard caught wind of what George said about the shot, he had a very simple response.
— Damian Lillard (@Dame_Lillard) April 24, 2019
There is plenty of bad blood between the Thunder and Blazers, and Lillard's reaction after hitting his series-winner was a reflection of that. Even if his shot came from half court, it got the job done. That's something George and his OKC teammates will have to live with until next season.
pixel2