Enough Whining Over UCLA Non-Calls
That seems to be the theme around college hoops lately — UCLA and all the great calls they've received from officials. Sure, I admitted they benefited against Stanford and Cal down the stretch, but people are now bringing up the Texas A&M game as well. First it was a co-worker saying there was a non-call, then an email, and then a few different stories and message boards suggesting as much. Let me say a few things on the subject. Sure — the photos indicate there was a foul on the last play when Shipp blocked Donald Sloan's shot, but Sloan would have needed to make two free throws just to tie the game — no easy proposition for a 67% shooter. Not only that, but the game would have gone to OT where A&M was already in serious foul trouble — and the longer that game was going, the more UCLA would have increased the point differential.
Those are simple logistics. But how about this to try on for size. If you want to point out one non-call, then you must also point out every other non-call that impacted the game. Just because they weren't in the final 10 seconds doesn't mean they didn't influence the game, right? Check out this horrendous foul call on Darren Collison when he was mauled by Sloan. In addition to that, chew on a few of these photos from the game (in addition to the non-call on Love in the photo above) — more non-calls that suggest A&M got away with several calls in the game: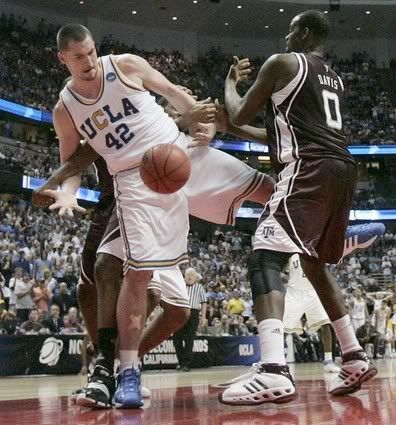 Karma, anyone? That should put the complaints to rest. Thanks to Gutty Little Bruins for the video and photos.