Lane Kiffin's Sour Grapes?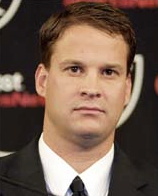 Lost in the shuffle last week because of Super Bowl hype and the news that Lane Kiffin received a commitment from 13-year-old quarterback David Sills, was another dumb comment by Kiffin. As LBS contributor Botros reminded me, Kiffin had this to say last week about UCLA recruits:
"I watched it over the weekend, just to see if it's the same, and it's really still the same," he said. "I guess we waste time continuing to recruit them. We know within the first 10 minutes whether they're the type of guys that want to play here or there."
First of all, when Kiffin was working at USC last time Karl Dorrell was the coach in Westwood and he allowed the Trojans to take their pick of top recruits in So Cal like they were Neil Patrick Harris walking into a brothel. This time around it's Rick Neuheisel coaching the Bruins — someone who lives for recruiting and has no qualms about stealing your recruit nor your wife. In other words, times are completely different now and Kiffin's words sound solely like sour grapes coming from a man who saw a few top recruits choose UCLA over USC — not the way it was supposed to be (or used to happen). I'm not about to gloat over UCLA winning a few recruiting battles. Only time will tell if those really were victories for the program because most of player development depends on coaching. Neuheisel and Chow have a pretty good track record of maximizing talent. Pete Carroll was legendary for his abilities. Ed Orgeron was a flop. Lane Kiffin? I have a good reason to believe his results will not match his mouth.