Anthony Davis won't be wearing a social justice message on the back of his jersey when the NBA restarts, though he admitted he thought long and hard about it.
Davis cited the importance of his last name, and how he represents it every time he plays, as being key to his decision.
Anthony Davis on not wearing a social justice phrase on his jersey: "I think the name 'Davis' is something I try to represent every time I step on the floor with my family. I was torn between the two." AD added "my last name is very important to me."

— Mark Medina (@MarkG_Medina) July 12, 2020
This means two of the most prominent Laker players will not use a name off the NBA's approved list, though LeBron James' stated reason is different than Davis'.
Davis is averaging 26.7 points and 9.4 rebounds per game this season and will be a key part of any title run the Lakers make.
Playing Anthony Davis at the 5 has unlocked a lot of lineup versatility for the Los Angeles Lakers, but head coach Frank Vogel still does not want to do it any more than he has to.
Speaking with reporters on Thursday, Vogel said that he is hoping not to play Davis at center any more than the team was doing previously, per Harrison Faigen of SB Nation. Vogel also said that there was no change with Dwight Howard's status for Orlando and added that, if Howard sits out, the Lakers may give Devontae Cacok, Kostas Antetokounmpo, Markieff Morris, or even Kyle Kuzma more minutes at the 5.
Davis, who was averaging 26.7 points and 9.4 rebounds per game this season, had seen about 38 percent of his minutes at center, per Basketball Reference. That lineup configuration had been able to juice the Lakers with small-ball floor-spacing and switchability at every position. But limiting Davis' time at the 5 prevents the unnecessary wear-and-tear that comes from constantly banging with opposing seven-footers, which is especially important for a player like Davis who is historically prone to injury.
If Howard does ultimately decide against joining the Lakers in Orlando, it could leave them with JaVale McGee as the only true center on their roster. Still, that does not mean that the Lakers plan to overburden Davis, who is facing an important offseason after the Orlando experiment is complete.
Paul George opened up this week about why he requested a trade from the Indiana Pacers three years ago, and the star swingman said a lot of it had to do with a fellow All-Star wanting to play for the Pacers and the team not making an attempt to acquire him. Now, we know who that unnamed player was.
George said he was angry with the Pacers over their unwillingness to explore a trade for "the best power forward" in the NBA. While George didn't name the player, J. Michael of the Indy Star reports that George was referring to Anthony Davis. However, the situation may have been more complicated than George made it sound.
I keep getting Blake Griffin comments over this. It was NOT him. PG is referring to Anthony Davis who had a couple yrs left on his deal. No commitment to #Pacers beyond that and a team gutting itself to get AD and then having to compete w/Lakers in free agency made it a no-go https://t.co/cJ1BppN6L2

— J. Michael (@ThisIsJMichael) June 23, 2020
Davis had two years remaining on his contract at the time, and he reportedly would not commit to Indiana beyond that. Michael went on to note that the Pacers probably did not have enough to offer to entice the New Orleans Pelicans to trade Davis to them.
The other hitch …dealing for AD wasn't that simple. If AD wanted to come to Indy and stay he would've gotten every penny allowed by the CBA. The other team has to value wha you're offering above all others https://t.co/oyUMwWbiVQ

— J. Michael (@ThisIsJMichael) June 24, 2020
George said last year that he was going to eventually tell the full story of why he left the Pacers, and it sounds like their inability to acquire Davis was the biggest factor. We'll never know how much effort Indiana made to land Davis, but they would not be the first franchise that was unwilling to mortgage their entire future for one player.
Of course, it should be noted that George butted heads with the Pacers over their desire to play him at the power forward position. That likely added to his frustration when they were unable or unwilling to trade for Davis.
The NBA playoffs are often full of remarkable performances, with one player taking over a game and dragging his team over the line. After all, we've seen it plenty of times over the year, from Michael Jordan to Kobe Bryant to LeBron James and many more.
Who are those players now? Here are five who could, if they take over a game or series, be good enough to lead their team to the NBA Finals — and even win a championship when the season resumes in Orlando this summer.
What's J.R. Smith up to these days? It turns out he's still hanging out with LeBron James.
Smith, James, and Anthony Davis were spotted riding bikes together in Los Angeles on Saturday in a video taken by a passerby.
He drove by and saw LeBron, AD and JR Smith out for a bike ride in LA today

(via instakyle/Instagram) pic.twitter.com/7ECnq7XKIC

— NBA on ESPN (@ESPNNBA) May 30, 2020
Former Laker Jordan Clarkson and James' agent Rich Paul were also part of the big day out.
LeBron James hit the road with his bike again today, but J.R. Smith, Jordan Clarkson, Anthony Davis and Rich Paul also decided to join him for a Klutch sports bike ride. pic.twitter.com/z6fQlAKdqX

— LeBron Wire (@LeBron_Wire) May 30, 2020
Smith is a free agent right now, but is still close with James. He's apparently getting to know Davis as well, which is probably going to spark some rumors going forward.
We don't really know if NBA teams will be allowed to add more players if and when the season resumes. That said, last we heard, the Lakers were taking a look at Smith, so maybe this is a preview of something.
The selections for All-NBA forwards and centers present an interesting dilemma, as they strictly adhere to a two forward, one center format. In today's position-less pace-and-space era of the NBA, it seems antiquated to require one center per All-NBA team. With the game speeding up and a premium being placed on spacing, there is a significant decrease in demand for traditional centers. Teams like the Houston Rockets don't even believe in playing a center.
The NBA recognized this shift in basketball ideology by removing positions from the frontcourt of the All-Star ballot and allowing for three frontcourt players of any position to be named a starter. While this was a step in the right direction, no changes have been made to the format of the All-NBA teams, resulting in less deserving players on the All-NBA teams simply due to their position.
With that caveat in mind, here are my selections for the All-NBA forwards and centers. (You can see my 2020 All-NBA guards here)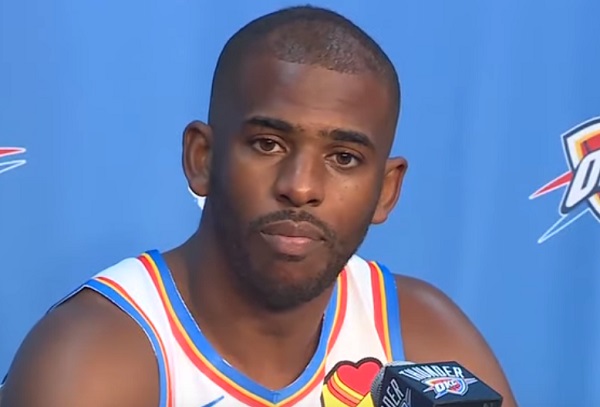 Several NBA stars want to resume the current season, according to a report.
Yahoo's Chris B. Haynes reported on Tuesday that Chris Paul, who is the president of the players' association, arranged a call with many other top players in the league to discuss the resumption of the season. Haynes says the call included LeBron James, Anthony Davis, Kevin Durant, Giannis Antetokounmpo, Kawhi Leonard, Stephen Curry, Damian Lillard and Russell Westbrook.
All players agreed that they wanted to resume the current season when it is safe. The belief is that the superstars all being on the same page will influence the direction of the league.
With the exception of Curry, Durant and Lillard, the players on that call mostly are on championship-contending teams, and therefore would have more incentive to resume the season. Haynes says many players not on playoff contenders feel the season should only resume with playoff teams to minimize the risk of virus exposure.
One issue some players are considering is that the next collective bargaining agreement would be negatively affected if the season were not resumed. That is a concern that was raised by one veteran player.
pixel2