The Cleveland Browns have won three of their last four games and look poised to finish the season strong, and their quarterback is hoping fan support reflects that.
Baker Mayfield urged Browns fans to come and support their team — despite the chilliness in Cleveland — and is hoping for a capacity crowd for the team's home finale against the Cincinnati Bengals on Dec. 23.
#Browns Baker Mayfield: "We'd love to have more fan support. It's cold. We get it." Hopes for a full house Dec. 23rd in the home finale

— Mary Kay Cabot (@MaryKayCabot) December 9, 2018
There's some genuine excitement around the Browns for the first time in a long time, and you'd expect fan interest to grow so long as that excitement continues. They should just stay away from grandiose displays for a while and they should be fine.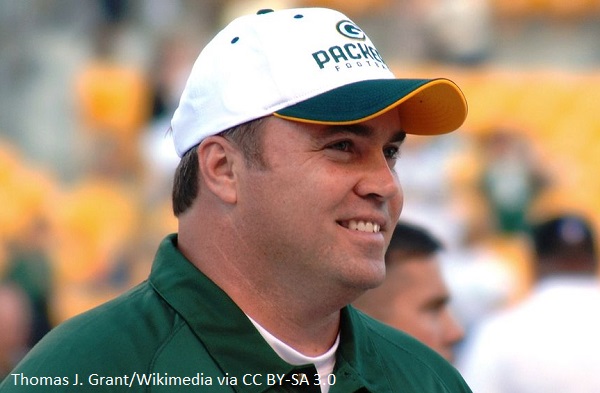 One member of the Cleveland Browns has some experience playing under former Green Bay Packers coach Mike McCarthy, and he certainly believes it would be beneficial to bring him in.
Browns center JC Tretter played for McCarthy as a Packer from 2013 to 2016. He's a firm believer in McCarthy's abilities despite how badly the coach's Green Bay tenure ended, and he thinks it would be greatly beneficial for quarterback Baker Mayfield.
"I think they'd do great," Tretter said, via Mary Kay Cabot of cleveland.com. "He started working with Aaron (Rodgers) when Aaron was a rookie too and Aaron's developed into a hell of a player so I think that relationship would be fine. I see a lot of similarities between Aaron and Baker personalty-wise, competitiveness, and that's all the things that Aaron came in with too when he was a young player, so I think they'd work well together."
One of the big reasons the Browns changed coaches was for the benefit of Mayfield, who has flourished since Hue Jackson's removal. Their next coach will be tasked with continuing that growth. That, along with McCarthy's ties to Browns GM John Dorsey, makes him a strong early candidate for the position.
Week 13 of the NFL season came with no shortage of surprising. One of the most disappointing results led to a major coach firing, some QBs who had been playing well stunk up the joint, and a franchise did something they had never done before — and not in a good way. Whether they were teams or players or units, there were several disappointments from Week 13 of the NFL season. Let's take a look at them.
Cam Newton, QB, Panthers
Much will be speculated about Newton's health, but whether his shoulder was a factor or not — and there is some reason to believe it was at least partially — he was really poor on Sunday against a vulnerable Tampa Bay secondary. While he threw for 300 yards and two touchdowns, he was picked off four times, and it could have been more. The turnovers are unacceptable and were the primary reason the Panthers couldn't break their losing streak in a winnable game. He certainly bears watching going forward.
Baker Mayfield made his feelings about former Cleveland Browns head coach Hue Jackson very clear after he led his team to a win over the Cincinnati Bengals, and the rookie quarterback is standing by everything he said.
Mayfield said on Sunday that he didn't approve of the way Jackson immediately took a job with another AFC North team after being fired by the Browns. When asked about those remarks on Wednesday, he said he has no regrets.
#Browns Baker Mayfield doesn't regret anything he said about Hue Jackson after the game or even calling him "fake" pic.twitter.com/u9TDFpK1Ir

— Mary Kay Cabot (@MaryKayCabot) November 28, 2018
Mayfield also said there were things that happened behind the scenes with Jackson in Cleveland that people don't know about.
#Browns Mayfield on calling Jackson fake: "There's things that happened in the building. No reason to go into detail about it. We've moved on"

— Mary Kay Cabot (@MaryKayCabot) November 28, 2018
We get the point. Mayfield was more than happy to see Jackson go, and that is probably one of the reasons the Browns decided to fire the coach. It turns out the icy exchange Mayfield had with Jackson after Sunday's game was completely intentional, as he clearly feels Jackson held him back in Cleveland.
Cleveland Browns quarterback Baker Mayfield may harbor some resentment towards former head coach Hue Jackson, but the numbers don't lie as to how good he has been post-Jackson.
NFL.com's Graham Barfield shared an insane stat on Sunday that Mayfield's 129.5 passer rating since Jackson was fired after Week 8 of the season is second only to New Orleans Saints star Drew Brees over that span.
Since Hue Jackson was fired (after Week 8), Baker Mayfield's passer rating is 129.5. Only Drew Brees (142.1) has been better in this span.

— Graham Barfield (@GrahamBarfield) November 26, 2018
Mayfield's other post-Jackson numbers have been just as impressive, as he has completed 73.9 percent of his passes for 771 yards with nine touchdowns to just one interception in the three games since the coaching change. The Browns have also won two of those games, both by double-digits.
The rookie signal caller admitted Sunday that he wasn't happy about Jackson taking a position with the rival Cincinnati Bengals after his firing, but it looks like Jackson's exit may have just been the best thing to happen to Mayfield.
There is no love lost between Cleveland Browns quarterback Baker Mayfield and his former head coach.
Mayfield admitted after Sunday's 35-20 win over the Cincinnati Bengals that he wasn't particularly thrilled with Hue Jackson ending up on the Cincinnati Bengals' staff so soon after being fired by the Browns, and made no secret of it in his postgame press conference.
#Browns Baker Mayfield admitted he didn't like Hue Jackson defecting to the #Bengals so soon. Gave him a chilly reception pic.twitter.com/hF480gMc7N

— Mary Kay Cabot (@MaryKayCabot) November 25, 2018
"Left Cleveland, goes down to Cincinnati. I don't know," Mayfield said. "Somebody that was in our locker room asking for us to play for him, and then goes to a different team we play twice a year. Everybody can have their spin on it, but that's how I feel."
Mayfield was clearly unhappy with Jackson and his career move, and that was clearly implied in their postgame interaction. In fairness to Jackson, he was fired and was free to work wherever he wanted after that, but given the rivalry, you can see why Mayfield would have issues.
Baker Mayfield did not seem too interested in sharing any postgame love with Hue Jackson.
Jackson was hired by the Cincinnati Bengals two weeks ago, just two weeks after he was fired by the Cleveland Browns. Jackson was on the Bengals' sideline for their game against Cleveland on Sunday, which the Browns dominated to the tune of a 35-20 victory.
After the game, Jackson was seen looking to give Mayfield a handshake and hug, but the Browns quarterback did not appear interested in doing much more than stick his hand out.
Hue Jackson went for the hug and Baker hit him with the "we're just friends" handshake pic.twitter.com/khycq8Vhik

— Will Brinson (@WillBrinson) November 25, 2018
The lack of interest in much more from Mayfield is understandable; it's hard to have such a positive reaction towards a guy who joined the enemy after leaving you. Let's also not forget that Jackson probably was holding Mayfield back.
pixel2