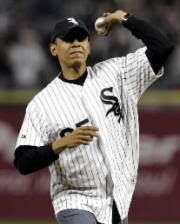 Second time's a charm? After declining the Nats offer to throw out the first pitch in their season opener last year due to a busy schedule, President Barack Obama has decided he'll do the honor at the Washington Nationals home opener on April 5th against the Phillies. This event will mark the 100th anniversary of a president throwing out the first pitch to start the season. The first time was in 1910 when President William Howard Taft did so.  MLB commissioner Bud Selig seems to be happy with the news:
"I am proud that President Obama will continue the long presidential tradition of throwing out the first pitch of opening day in Washington, D.C.," Selig said.
I think it's kind of cool that Obama is continuing the tradition. From fighting for a college football playoff to throwing first pitches, it's pretty fun having a sports fan in the White House.  The only problem is now people are questioning Obama's allegiance to the White Sox because of it. That's just stupid — of course he's a White Sox fan! I'm sure many people who throw out the first pitch at games are not necessarily a fan of that team but they can't pass up the amazing opportunity (although I'm pretty sure Obama could just tell any team he wants to throw out the first pitch and there would be no argument).
Anyways, I don't think anyone could sit here and tell me that if a team that you weren't really a fan of called you up and said "Hey, so we would love if you would throw out the first pitch at the game on Sunday" that you wouldn't jump at the chance. I would. I won't reveal who my team is but let's just say this … I'd do it even if the Cubs asked me.
Sources:
Obama to throw out first pitch in D.C [Washington Post]