First Lady Michelle Obama is scheduled to throw out the first pitch at Camden Yards before a game between the Baltimore Orioles and Tampa Bay Rays next Tuesday. Given Barack Obama's history with throwing out the first pitch, this could turn out to be pretty emasculating stuff for the President. Michelle's first pitch certainly can't be any worse than Barack's was at the Washington Nationals game. In case you've forgotten, here's the video of the President's first pitch disaster:
Barack could be opening himself up to a world of harassment if Michelle's first pitch ends up on target. How fun would that be? Fingers crossed she throws a perfect strike. Who knows, maybe she'll even step into the throw if she avoids studying any film of her husband.
Sources:
SPORTS by BROOKS Live
Michelle Obama coming to Camden Yards [The Baltimore Sun]
Video Credit: YouTube user threefingersof
On Monday, I wrote about how my respect level for President Obama as a baseball fan increased a tad with his refusal to do the wave.  Like I said before, the wave is for fans who are bored and anyone who takes a stand against it is okay in my book.  While I admitted I now think more highly of the current president as a fan, I'd be lying if I told you I thought he was a great athlete.  As a matter of fact, I'll even argue that George W. Bush — who's 5 years older than Obama — is a more impressive overall athletic specimen.
To kick off the debate I've come up with a collection of videos of Obama and Bush participating in athletic activity.  Let's start with the sport Obama has a clear edge in — basketball.  The current President can ball.  The former president, not so much.  Here's a video of Barack Obama playing H-O-R-S-E followed by a video of George W. Bush shooting an air-ball to prove it:
To be honest, I have no idea what to make of President Obama as a baseball fan.  He claims to be a dedicated, life-long Chicago White Sox fan, but couldn't even name his favorite player — or any player for that matter — when asked in an interview.  He's also thrown out the ceremonial first pitch at a White Sox game and missed horribly.  Some fans even questioned his allegiance recently when he accepted an offer to throw out the first pitch at a Washington Nationals game, but we won't hold that against him since it would just be bad PR for him to turn that down for obvious reasons.
Now, we see this photo of Barack Obama not doing "the wave" at Nationals Park while he was in attendance watching Stephen Strasburg pitch against the White Sox.  Score one for the President.  Actually, I'll even give him two points here.  The first point he receives is for clearly being locked into the game and not wanting to be distracted.  Just look at the expression on his face and effort he's giving to peer around the arms of the other fans.  The second point is awarded simply for not partaking in the "the wave".  It's for bored fans.  I've seen it done in 10-0 games and I've seen it done in 0-0 games.  If you don't want to be there, go home.  In my opinion, this photo can only help the status of Obama's fanhood.
Source:
Obama Takes A Firm Stand Against The Wave [Deadspin]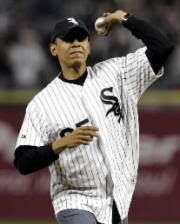 A visit to the White House is special for any winning team that gets invited. For the New York Yankees however, their visit celebrating their 2009 World Series title became less about them and more about another city — Chicago. President Barack Obama has made it quite clear in the past that he loves the White Sox, even though he had a hard time naming any of their players. The best part about the Yankees' visit Monday was not what Obama had to say about his beloved Sox, but instead his comments about the Cubs:
"It's been nine years since your last title — which must have felt like eternity for Yankee fans. I think other teams would be just fine with a spell like that. The Cubs, for example."
Way to slip in a jab at the Cubs, Mr. President. It does help mask the pain of a disappointing White Sox season by making fun of the team that is doing slightly better than them (Cubs are 10-10, White Sox are 8-11). This isn't the first time Obama has made a jab at the Cubs, and I'm certain it won't be the last.
I think the Yankees may have gotten the last laugh on this one though.  After Yankees manager Joe Girardi brought the World Series trophy over to Obama for a photo opp, a member of the Yankees organization said to Obama that it might be the only chance he gets to hold the trophy. Ouch, would you like a little ice for that burn? As much as it pains me to say it, Obama probably won't be holding a World Series trophy with the boys in black and white anytime soon.
Sources:
Obama hosts Yankees at White House [ESPN New York]
Last week we told you that President Barack Obama was going to throw out the first pitch at the Nationals season opener Monday. He came through as promised but his delivery was a failure in more than one way. First off, Obama's pitch was high and about six feet off the plate, and somewhat embarrassing. It certainly makes one think twice about the "baller" tag he earned by beating Clark Kellogg at H-O-R-S-E. Secondly, and more emblematically, Obama seemed to have blown his cover leading one to believe he's posing as a White Sox fan. Check out this great find by Brooks where Obama's asked to name his favorite White Sox player on Nationals TV:
For as smooth of a talker Obama's supposed to be, he sure was stumbling and at a loss for words trying to answer that question. The commenters on YouTube have already labeled Obama as a fraud and phony, not far off from my label of him as a poser. I don't care how many political issues are going through your head, you should be able to recall at least one name if you really were a fan and not just lying. I wasn't expecting a Ron Karkovice mention, but Ozzie Guillen would have been an easy answer considering he played about 13 years with the Sox and has been their manager the last six. Carlton Fisk certainly comes to mind and at the very least, how tough would it have been to say Frank Thomas who was the cornerstone of the White Sox during the 90s?
Look, I understand that sports isn't very high on the President's agenda so it's not as if I expect the guy to rattle off the White Sox's pitching rotation, but if he's speaking from true experience, then how could he not come up with one name for his favorite player? Worse yet, in trying to cover his tracks, he said he liked some Cubs players too and the A's as well which really shows he's not a fan. Obama's allegiance to the White Sox seems nothing other than a ploy to identify himself as a South Sider and a friend of the working class man rather than the actual truth. What a sham.
Sources:
'Southside Kid' Obama Can't Name a Chisox Player [Sports by Brooks]
President Obama Good at Basketball, Not Bowling and First Pitches [You Been Blinded]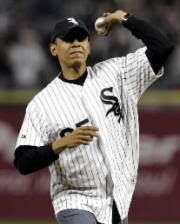 Second time's a charm? After declining the Nats offer to throw out the first pitch in their season opener last year due to a busy schedule, President Barack Obama has decided he'll do the honor at the Washington Nationals home opener on April 5th against the Phillies. This event will mark the 100th anniversary of a president throwing out the first pitch to start the season. The first time was in 1910 when President William Howard Taft did so.  MLB commissioner Bud Selig seems to be happy with the news:
"I am proud that President Obama will continue the long presidential tradition of throwing out the first pitch of opening day in Washington, D.C.," Selig said.
I think it's kind of cool that Obama is continuing the tradition. From fighting for a college football playoff to throwing first pitches, it's pretty fun having a sports fan in the White House.  The only problem is now people are questioning Obama's allegiance to the White Sox because of it. That's just stupid — of course he's a White Sox fan! I'm sure many people who throw out the first pitch at games are not necessarily a fan of that team but they can't pass up the amazing opportunity (although I'm pretty sure Obama could just tell any team he wants to throw out the first pitch and there would be no argument).
Anyways, I don't think anyone could sit here and tell me that if a team that you weren't really a fan of called you up and said "Hey, so we would love if you would throw out the first pitch at the game on Sunday" that you wouldn't jump at the chance. I would. I won't reveal who my team is but let's just say this … I'd do it even if the Cubs asked me.
Sources:
Obama to throw out first pitch in D.C [Washington Post]
With the Steelers making their appearance in D.C. to be honored for winning the Super Bowl, James Harrison was missing. President Obama I'm sure was told about his comments but did not address it. Instead, he limited the talk to those in attendance. If you check out the video, you'll notice that the Steelers all wore white polo shirts with team logos on them because they got down-and-dirty putting together care packages to send to our troops. Obama also admitted that he was rooting for the Steelers. Even though he's the President, he does come across as just a "regular guy." Check it out:
It's nice that Obama actually knows sports so he doesn't make a fool of himself like that guy from Florida International who called Isiah Thomas Isiah Thompson. And of course, there was a strong presence of Steelers fans in attendance. They are freaking everywhere.
pixel2