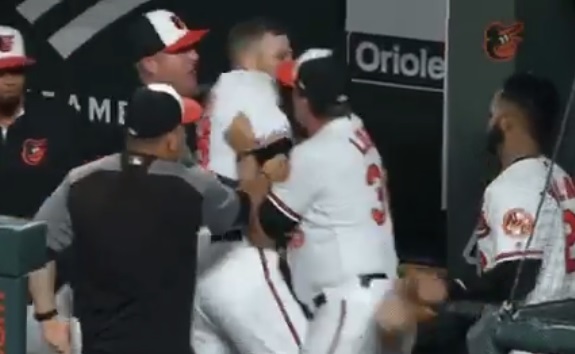 Baltimore Orioles first baseman Chris Davis weighed in on his altercation with manager Brandon Hyde for the first time on Friday.
Davis, who was spotted on TV being held back from going after Hyde during Wednesday's game, blamed a mistake at first base for heightening his frustration, leading to him erupting in the dugout. He said he has no issues with Hyde, and that the two have spoken since the incident.
Chris Davis on his scuffle with Brandon Hyde the other day: "It's going to happen when you have that much frustration when you're constantly having to deal with failure." pic.twitter.com/yqZiWnJOHP

— Zachary Silver (@zachsilver) August 9, 2019
Hyde himself admitted that the whole thing was embarrassing, but the two don't seem to have a problem with each other. The Orioles are one of the worst teams in baseball and the losing is wearing on them. It's particularly bad in Davis' case, as his $23 million contract has given way to a season that saw him hit .182 with nine home runs.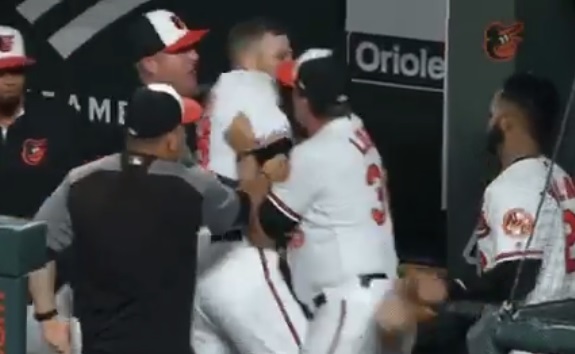 Baltimore Orioles manager Brandon Hyde admitted on Wednesday night that he was "embarrassed" by his dugout altercation with Chris Davis that was caught on camera and became a talking point following the team's 14-2 loss to the New York Yankees.
Hyde said something to Davis during the middle of the fifth inning that upset the first baseman and led Davis to react by going after his manager. Davis needed to be restrained by a teammate and coach.
In response, Hyde pulled Davis from the game and replaced the first baseman with a pinch-hitter in the bottom of the fifth.
After the game, Hyde said he wouldn't go into specifics regarding what led to Davis' reaction, but he did acknowledge how poorly it looked.
"It's private … it's something that happens sometimes and frustration boils over when we're not playing our best baseball the last couple games. Unfortunately I'm embarrassed that it was caught on camera and people had to see it. But we'll move past it and hopefully be closer for it," Hyde said.
Brandon Hyde meets with the media after the #Orioles' loss to the Yankees. pic.twitter.com/nmcFMyAAkz

— Orioles on MASN (@masnOrioles) August 8, 2019
The Orioles are 38-76 and have the second-worst record in MLB. Davis, batting .182, has been one of the worst players in the league. The season has not gone well for the Orioles (as expected), so it's not too surprising that this sort of thing unfolded.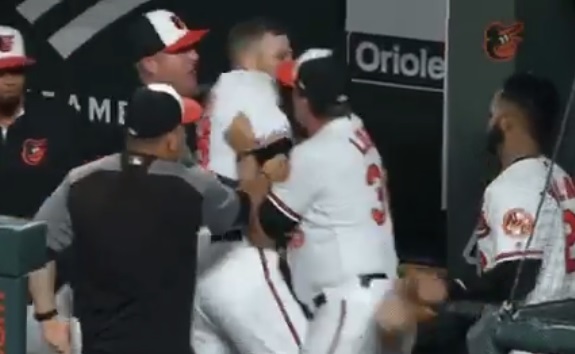 Chris Davis had to be restrained from going after manager Brandon Hyde in the Baltimore Orioles' dugout during the middle of Wednesday's game against the New York Yankees.
Both YES Network and MASN cameras captured Davis being restrained by teammate Mark Trumbo and hitting coach Don Long following an altercation with Hyde in the fifth inning. MASN showed that Hyde had said something to Davis, leading to a reaction from the struggling first baseman.
Here's what the MASN cameras caught of the Chris Davis-Brandon Hyde interaction:

Appears Hyde said something Davis didn't appreciate, then Davis had to be held back by hitting coach Don Long and Mark Trumbo. pic.twitter.com/4GTaePor2Y

— Zachary Silver (@zachsilver) August 8, 2019
Going out on a limb here… someone said something about Chris Davis' EMBARRASSING contract pic.twitter.com/lBJi8MZgiQ

— Kyle (@KyleNYY) August 8, 2019
Davis ended up being replaced by pinch-hitter Jace Peterson in the bottom of the fifth.
The incident is said to have occurred in the middle of the fifth and was aired on TV in the bottom of the inning. It's unclear whether a defensive play from the top half of the inning or something else led Hyde to say something to Davis.
Davis is batting .182 this season and began the year on an embarrassing streak. His $161 million contract signed in 2016 is widely considered the worst in baseball.
Chris Davis wasn't the only one happy when he recorded his first hit of the season.
Davis had a streak of 54 consecutive at-bats without a hit dating back to last season. That prompted Lee's Pint & Shell in Baltimore to offer an open bar for two hours when Davis gets a hit.
It didn't take long for the bar's patrons to take advantage of the promotion on Saturday. In the first inning, Davis hit a single to right field that scored two runs. Not surprisingly, those at Lee's were excited.
Davis added two doubles to break out of his slump in impressive fashion. Hopefully, Davis can put his struggles behind him and return to the form that helped him become one of the more feared hitters in the American League not too long ago.
Chris Davis's nightmare is over.
The Baltimore Oriole designated hitter stepped to the plate in the first inning of Saturday's game against the Boston Red Sox with the bases loaded and two out, and he did so with an 0-for-54 stretch hanging over him dating back to last season. Oriole fans were likely fearing the worst, but Davis came up big, hitting an RBI single to right off Rick Porcello to drive in two runs.
It's over! pic.twitter.com/wcorVDLOTS

— MLB (@MLB) April 13, 2019
Even the Fenway Park crowd gave Davis a little love for breaking his futile streak.
And there it is. Chris Davis has his hit. Finally. And gets a nice ovation from the Fenway crowd.

— Ian Browne (@IanMBrowne) April 13, 2019
In a way, Davis was treated like he'd just delivered a game-winning hit by his teammates.
Chris Davis came back into the dugout himself to get his hat and glove, and was congratulated by the bullpen on their way out, then hugged by Trey Mancini. Dwight Smith Jr. gave him some dap, too. #Orioles

— Jon Meoli (@JonMeoli) April 13, 2019
This must feel great for Davis, and not just because Red Sox fans were giving him a really hard time on Friday. A career .236 hitter, it's unlikely that he's about to go on a huge tear, but hopefully he can avoid going that long without a hit again,
Boston Red Sox fans had a cruel chant for Chris Davis during Friday night's game against the Baltimore Orioles.
Davis is working on a brutal stretch and has not recorded a hit all season. He's now gone 54 straight at-bats without a hit if you date back to last season. Knowing full well about his struggles, Red Sox taunted Davis with sarcastic "MVP" chants before his appearance as a pinch hitter on Friday.
Chris Davis (0-for-53) hearing "MVP, MVP" chants from the Fenway bleachers as he begins his plate appearance.

— Michael Silverman (@MikeSilvermanBB) April 13, 2019
Davis pinch hit with two outs in the ninth inning with his Orioles down 6-4. He hit a soft liner to short right for the final out of the game. The ball went where it usually would go for a hit, but it was an easy out due to the shift.
Chris Davis is now 0-54 (via @redsoxstats) pic.twitter.com/YpuLCU9sMh

— Baseball Bros (@BaseballBros) April 13, 2019
Davis continues to embarrass himself with his futility. What's especially baffling is that he continues to hit into the shift instead of just dropping a bunt when half the field is wide open for him.
Baltimore Orioles "slugger" Chris Davis somehow has yet to pick up his first hit of the 2019 season, and he continues to cement his place in the MLB Hall of Shame the longer the brutal streak continues.
With a line out to center in the second inning of Thursday's game against the Oakland A's, Davis set yet another record that no player would want any part of. The out marked his 58th consecutive plate appearance without a hit, which set an MLB record previously held by Tony Bernazard.
Chris Davis gets another hand after a line out to deep center at 105 mph run down by Laureano. Davis sets MLB record going hitless in 58 straight plate appearances. Previous mark of 57 by Cleveland's Tony Bernazard in 1984.

— Steve Melewski (@masnSteve) April 11, 2019
Davis later grounded out, walked, a struck out, extending his streak to 60 plate appearances and 53 at-bats without a hit. He has a handful of walks on the season.
The slump Davis is in is truly remarkable. It would be hard to believe for any player, let alone one who is signed at a salary of $17 million per year through 2022. Even some recent advice from Jose Canseco doesn't seem to have helped the first baseman, and you have to wonder if the Orioles will place him on the injured list at some point just so he can get his head straight.
pixel2