The NBA playoffs are often full of remarkable performances, with one player taking over a game and dragging his team over the line. After all, we've seen it plenty of times over the year, from Michael Jordan to Kobe Bryant to LeBron James and many more.
Who are those players now? Here are five who could, if they take over a game or series, be good enough to lead their team to the NBA Finals — and even win a championship when the season resumes in Orlando this summer.
Giannis Antetokounmpo is just over a year away from becoming a free agent. While the league's current situation has everything in flux, one team that would love to have Giannis may have already hurt their chances.
The Knicks drafted Giannis' brother Thanasis in the second round in 2013, but did not give him much of a chance. Thanasis played in just two games for the Knicks and has since moved on to play with his brother in Milwaukee.
Marc Berman of the New York Post summarized some of the comments Giannis and his inner circle have made on how the Knicks treated Thanasis. In 2015, the Knicks failed to call Thanasis up for a game against the Bucks in London, prompting Giannis to say he was "a little disappointed." In addition, Giorgos Panou, one of Giannis' agents, remarked last season that the Knicks were the only team not to send a scout to see Giannis in Greece. The Knicks have denied that claim.
Giannis also had some issues with a former Knicks forward, but he's not there anymore.
For this to matter, you'd have to think the Knicks ever had a shot at Giannis to begin with. The team isn't close to contention and looks poorly-run to most in the NBA, which could scare him off either way. He's also said he'd like to play with his brothers. That's already unlikely, but if Giannis really wants to make it happen, it probably won't be happening in New York given the experience Thanasis had there.
The selections for All-NBA forwards and centers present an interesting dilemma, as they strictly adhere to a two forward, one center format. In today's position-less pace-and-space era of the NBA, it seems antiquated to require one center per All-NBA team. With the game speeding up and a premium being placed on spacing, there is a significant decrease in demand for traditional centers. Teams like the Houston Rockets don't even believe in playing a center.
The NBA recognized this shift in basketball ideology by removing positions from the frontcourt of the All-Star ballot and allowing for three frontcourt players of any position to be named a starter. While this was a step in the right direction, no changes have been made to the format of the All-NBA teams, resulting in less deserving players on the All-NBA teams simply due to their position.
With that caveat in mind, here are my selections for the All-NBA forwards and centers. (You can see my 2020 All-NBA guards here)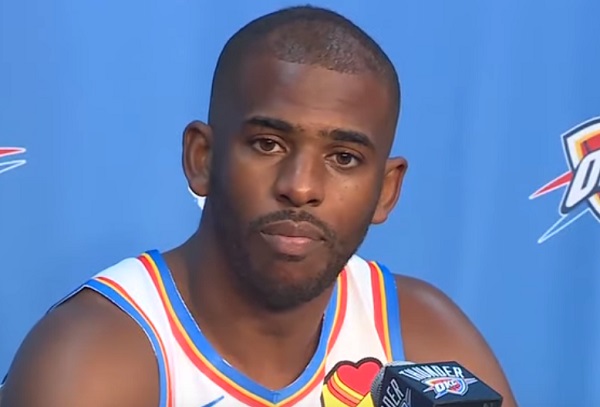 Several NBA stars want to resume the current season, according to a report.
Yahoo's Chris B. Haynes reported on Tuesday that Chris Paul, who is the president of the players' association, arranged a call with many other top players in the league to discuss the resumption of the season. Haynes says the call included LeBron James, Anthony Davis, Kevin Durant, Giannis Antetokounmpo, Kawhi Leonard, Stephen Curry, Damian Lillard and Russell Westbrook.
All players agreed that they wanted to resume the current season when it is safe. The belief is that the superstars all being on the same page will influence the direction of the league.
With the exception of Curry, Durant and Lillard, the players on that call mostly are on championship-contending teams, and therefore would have more incentive to resume the season. Haynes says many players not on playoff contenders feel the season should only resume with playoff teams to minimize the risk of virus exposure.
One issue some players are considering is that the next collective bargaining agreement would be negatively affected if the season were not resumed. That is a concern that was raised by one veteran player.
Giannis Antetokounmpo posted a note on Twitter Thursday to address his account being hacked earlier in the day.
The Milwaukee Bucks MVP candidate's account was hacked with a tweet saying he was going to the Golden State Warriors. Other tweets took shots at Khris Middleton and LeBron James. There was also an inappropriate tweet at Stephen Curry about his wife Ayesha.
So Giannis' twitter got hacked… pic.twitter.com/TLC4J2Rqm0

— TLSM (@TLSportsMedia) May 7, 2020
It was very clear that Antetokounmpo had been hacked. He said as much in a note that called the information "malicious and untrue." Giannis also said they were investigating what happened.
— Giannis Antetokounmpo (@Giannis_An34) May 8, 2020
It's time for a new password, Giannis.
Giannis Antetokounmpo was an All-Defensive First Teamer last season, but he obviously needs to do a better job of defending his social media accounts.
The Milwaukee Bucks star and reigning MVP saw his Twitter get hacked on Thursday with a message claiming he was going to the Golden State Warriors.
Giannis' Twitter account was apparently hacked todaypic.twitter.com/Co8xoRVY1b

— Warriors on NBCS (@NBCSWarriors) May 7, 2020
Both Antetokounmpo's agent Alex Saratsis and his younger brother Kostas confirmed that The Greek Freak had indeed fallen victim to hackers.
No surprise, Giannis Antetokounmpo's Twitter account has been hacked, his agent confirms.

— Eric Woodyard (@E_Woodyard) May 7, 2020
Wow yo someone hacked this account

— Kostas Antetokounmpo (@Kostas_ante13) May 7, 2020
Giannis did not post this

— Kostas Antetokounmpo (@Kostas_ante13) May 7, 2020
The 25-year-old Antetokounmpo, who has over 1 million followers on Twitter, also saw other inappropriate and racist messages posted to his account as part of the hack. The offending tweets have since been deleted.
Antetokounmpo will become a free agent in 2021 with Golden State gaining buzz as a potential suitor if he decides to leave the Bucks. Whoever hacked the four-time All-Star's Twitter page certainly knew the stir that they would cause by posting about him going to the Warriors.
Giannis Antetokounmpo has been tasked with defending some of the most explosive players in the NBA, and you may be surprised to learn which opponent he considers the most challenging to cover.
Antetokounmpo and his girlfriend Mariah Riddlesprigger held a Q&A on Instagram live this week, and one fan asked who is the hardest player to guard in the NBA. Giannis thought for a while before giving the honor to Harden.
Giannis says hardest NBA player to guard is James Harden pic.twitter.com/NgSMB4qrgy

— The Render (@TheRenderNBA2) March 27, 2020
There's no denying Harden is one of the best scorers in the NBA, but we'll probably never know whether or not Giannis was being sarcastic. The two players have had somewhat of an ongoing feud over the past year, so Antetokounmpo may have just been messing with his nemesis.
When Antetokounmpo was picking his All-Star Game roster on live TV, he had a funny moment while deciding between Harden, Kemba Walker and Trae Young. The Greek Freak said he didn't want to pick Harden because he'd rather have a teammate who is going to pass. Harden was later asked about the remark during an interview and responded by taking a shot at Giannis. Giannis also threw an elbow at Harden during the All-Star Game that may or may not have been inadvertent.
Harden is averaging 34.4 points per game this season, so Giannis probably isn't the only player who would say Harden is the toughest person in the NBA to guard. It is somewhat surprising, however, that The Greek Freak is giving the Houston Rockets star the satisfaction.
pixel2