What do Jared Allen and your average teenage girl have in common? They both are big fans of Taylor Lautner.
Jay Glazer has been delivering the goods all week since "FOX Football Daily" premiered Monday on FOX Sports 1. In addition to the scoop he had on Antonio Smith swinging his helmet at Richie Incognito, Glazer has been sharing some other exclusive videos. On Wednesday's show, Glazer shared a video he took inside Allen's training camp dorm room in 2010.
The video showed that Allen had a comforter filled with soccer balls, and posters of teenage heartthrob Lautner, wrestler John Cena, and one of the "Twilight" movies on his wall. The Minnesota Vikings defensive end has a great sense of humor, so maybe this was his way of being funny. Or maybe he's just a really big Lautner fan.
Last Sunday, the Vikings got a chance to see first-hand what Robert Griffin III is capable of doing at the NFL level. RG3 put the team on his back on a day where the Redskins need a boatload of points to win. He rushed for 138 yards and two touchdowns and threw for another 182 and a score. The Vikings were impressed, but Jared Allen made sure to knock the rookie down a peg during his postgame comments.
"I'm not going to crown him anything yet," Allen told Comcast SportsNet on Sunday. "He had a good game. Hats off to him, he ran really well. But to be great in this league, you have to do it for years and years and years. So, I wish him all the best, except next time when we play him."
As D.C. Sports Bog pointed out, Griffin's 138 yards rushing were a Redskins franchise record for rushing yards by a quarterback in a game. Through six games, he is already the franchise record-holder for rushing yards by a quarterback in a single season with 379. One of his runs on Sunday was a 76-yard touchdown scamper — the longest run by an NFL quarterback in over 15 years.
While RG3 was impressive on Sunday, Allen is likely speaking for a number of veterans in not being ready to "crown" him. Griffin is obviously a viable NFL starter and may have earned the right to be called RG3 by some rival opponents, but the NFL season is more about how you finish than how you start. If he continues on the path he's started out on, the respect will continue to grow.
Photo credit: Matthew Emmons-USPRESSWIRE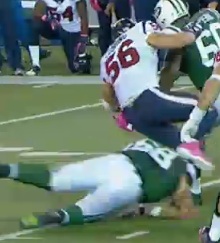 Monday night, Texans linebacker Brian Cushing suffered a torn ACL after a cut block was thrown on him by Jets offensive guard Matt Slauson. It was a cheap shot, as Slauson dove at Cushing's legs from behind and he never saw it coming. Since that play, a number of defensive players have criticized the NFL for not protecting defenses in the same way it protects so-called "skill players." Unsurprisingly, Jared Allen has formed an opinion on the topic.
"In a league that talks about taking care of defenseless players and people in defenseless positions, that's a situation right there, there's nothing you can do to defend yourself," the Vikings defensive end said according to Around the League. "He can't get his hands down – that's an outside end cut block. For me, there's no place (for) that. You take a guy's knee, he may never be the same player after that. If we're going to talk about player safety, there needs to be equality amongst all players.
"My knee is just as valuable as Tom Brady's, in my eyes. There's some hits on the defensive side that could be illegal and probably save some defensive players."
Slauson was fined $10,000 for the hit, but Cushing's entire season is lost. Had the hit involved a quarterback, you have to assume the fine would have been heftier and Slauson — who ironically called someone a dirty player last season — could have even faced a suspension. In that sense, Allen is right. Offensive players may find themselves more vulnerable than defensive players at times, but if the league is aiming to protect players it needs to protect them on both sides of the ball.
Matt Kalil was the Vikings' first-round pick (No. 4 overall) in April's draft, and he's wasting no time trying to prove his value. The former USC offensive lineman apparently has been going after sack master Jared Allen pretty hard in practice, even frustrating the defensive end, according to Tom Pelissero.
Allen is entering his ninth season in the league and told PFT Live he doesn't have time to deal with a rookie.
"I'm too old to deal with overzealous rookies right now," Allen told PFT Live. "Keep your hands out of my face, don't grab my jersey and we won't have to fist fight."
While Allen initially seemed bothered by Kalil, he later downplayed a rivalry with the rookie during an interview with NFL Network's "NFL AM."
"If I'm worrying about beating him every day, I've got bigger fish to fry," Allen said. "I'm trying to get myself ready for the season. … I've had to put a couple moves on him. We did a short-yardage drill yesterday, and I could see him foaming at the mouth ready to come off and take my head off, and 'Whoops, you missed!' So … but we've been having a good time.
"If I beat you some way and you want to know why, just ask," Allen said. "At the end of the day, we've got to work together, a lot of people been trying to build this hype up between me and him. I told him, I said — I've been telling everybody — don't worry about beating me, you don't play me. You've got 16 other guys you have to worry about. I think he's going to be all right."
Allen may be downplaying his problems with Kalil, but it's clear the rookie got to him. And it's understandable why he would bristle; Kalil played him well. Allen needs to get over that, respect Kalil, and realize that this will only be better for the team.
With all the emphasis on making the NFL safer for players by cutting back on head shots and hits on defenseless receivers, we tend to forget one important thing: What about the guys on the other side of the ball? Rules have developed over the years in such a way that passers and receivers are subject to less abuse, but as Jared Allen reminds us defensive players have to take a beating as well.
"Let's not pretend they're making it safer for everybody," Allen told KTAR in Phoenix according to Sports Radio Interviews. "It's safer for offensive players. I mean, a wide receiver or tight end can still motion from the outside in on a pass play and just absolutely blindside a defensive end across the formation. … We can still hit running backs pretty much any which way we want.
"So I think there's an emphasis on — obviously there's no more head shots, they talk about concussions. I think there's a bigger problem because of these so-called concussion-proof helmets. Guys kind of throw caution to the wind. I've been rocking the old-school Riddell for a while and I just know it's limitations, you know what I mean? So I don't know, I mean, we've had a lot more head injuries, and maybe they're just getting reported I feel like in the last few years."
Obviously offensive players tend to have more moments of vulnerability during a game, but there are still ways in which offensive lineman can legally dive at the knees of the defense. When a guy like Hines Ward threw helmet-to-helmet shots on defensive backs, many viewed it as hard-nosed football and not dirty play. Defensive players could argue that Roger Goodell is protecting the skill players, not the entire league.
Photo credit: Bruce Kluckhohn-US PRESSWIRE
Michael Strahan's sack of Brett Favre. Cal Ripken's home run off of Chan Ho Park in his final All Star appearance. The list goes on and on. Oftentimes when a respected player is about to set a record or on the verge of a special moment, he or she will get a little assistance from an opponent.
Playing in the final game of the regular season and just a half-sack away from breaking Strahan's single-season record of 22.5 sacks, Jared Allen was not the recipient of such generosity. And make no mistake about it, he would have liked it if Bears quarterback Josh McCown handed him the record.
"A sack is a sack is a sack," Allen said during an interview with WHB in Kansas City. "There was about three times when I hit (McCown) when he just got rid of the ball. I tell you what, all he had to do was hook slide for me on one of them. … There's been a lot of talk about that. I guess the biggest controversy is, was it a pass or was it a run? I've gotten sacks where I've chased guys out of bounds. I haven't had one yet where a guy slides and I get to touch him down, but I've gotten them any which way possible, but a sack is a sack is a sack and they're still hard to come by."
Allen obviously has no problem with the way Strahan came about his record-breaking sack.  Personally, I can see both sides of the argument.  On one end you have a respectable player working hard to break a record.  Had McCown laid down and given Allen the record it would have been fine since the same was done for Strahan.  But what about before?  Is it fair to a former record-holder who had to earn every sack?  These are the questions…these are the questions.
We all know Jared Allen has never been shy about speaking his mind.  After all, this is the guy who once offered his butt to Brett Favre and thought "schism" was an STD.  Allen may have outdone himself this time.  The Vikings are traveling to Detroit this weekend to take on the Lions, and apparently Allen is dreading the trip.
"I don't like going to Detroit," he said according to MLive.com. "I'll be honest, it's gloomy, it sucks. Everything is brown and then there is snow on the ground. There's like Brownstones everywhere and I'm like, 'Awesome.' I don't know, I couldn't do it. If I had to live in Detroit, I think I'd just drown myself in the river that was across the way.
"I'm not trying to be mean, but it's just depressing when I go there. There's two cities like I don't go out to eat or don't do anything. It's Detroit and New Orleans. New Orleans looks like I'm driving through a third-world country every time I get off the plane, I'm like, 'Oh, flak jacket.' I'm trying to get down. I'm like, 'Ah, crap, I can't carry my gun here. This sucks.'"
Yikes.  That's some pretty intense smack talk about a lot of people right there.  Plenty of people have said that Detroit isn't exactly a nice city, but never can I remember an athlete being that cruel about it.  As for New Orleans: well, they just suffered one of the worst natural disasters in American history a few years back.  Perhaps they are still picking up the pieces.  Whatever the case, it would appear Allen doesn't give a damn.
pixel2