Jimmy Clausen is already prepared to watch his alma mater Notre Dame take on Alabama in the BCS National Championship Game next month. He has his shirt picked out and everything.
On Monday, Clausen tweeted a photo of the classy shirt you see above, which described the big game as a battle between the "Catholics" and the "Cousins." If you don't understand the reference, you're probably not old enough to be reading even our family-friendly blog. Apparently the shirt offended enough people, because Clausen later pulled the tweet and sent the following apology:
Jimmy Clausen may have no chance to step into the spotlight in Carolina as long as Cam Newton is around, but from the look of it he is doing pretty well for himself behind the scenes. If Twitter is any indication, Clausen has been dating volleyball player Jess Gysin for at least a month or so now. As our friends at Busted Coverage pointed out, the two have been hanging out together and documenting it via pictures on Twitter since late May. What began as Clausen tweeting at Gysin and seemingly chasing her around has apparently turned into an official relationship.
Bravo, Jimmy. In addition to being a very good volleyball player, Gysin also happens to be extremely attractive. She was an All-American at USC and now plays professionally. Did I mention she's good looking? If not for Landry Fields and his new lady friend, Clausen would win first place if "hottest new girlfriend" was a competition.
When the Carolina Panthers made quarterback Cam Newton the first overall pick in the NFL Draft, Jimmy Clausen sent his congratulations on twitter saying "Congrats to Cam Newton! Welcome to the Panthers." Clausen may have been genuine sending his congratulations, but he can't be too happy about the pick because this is the guy who is going to take his job.
Clausen was brutal in his first year as Carolina's starter. He threw for just three touchdowns while turning the ball over 11 times (nine interceptions and two fumbles). He never once threw for more than 200 yards in a game. The team went 2-14. Carolina only invested a second-round pick on Clausen, so they're not on the hook for much money if they don't play him. It all adds up to Newton becoming the team's starter. The only question is whether or not he becomes the team's starter before he gets Clausen's jersey.
Cam Newton wore jersey number two at Auburn — the same number Clausen wore for the Panthers last year. Cam wants to continue wearing the number and that presents an issue. "It's mine right now," Clausen said of the No.2 jersey. "We'll see what happens."
What will happen is Cam will make him a really nice offer of money or jewelry or gifts in order to get the jersey number. Who could have imagined that the same guy who was the Golden Child coming out of high school would have to end up surrendering his jersey number to a higher-rated quarterback? I guess it's all Karma and coming back to The Jimmy for flashing his rings and taking his stretch limo to his Notre Dame announcement coming out of high school. Couldn't be happening to a nicer guy.
The Carolina Panthers have had some of the worst quarterback play in the NFL this season. They just lost 34-3 on Sunday at home to the Saints, they're only 1-7, and they've averaged the fewest points per game in the league. Unfortunately for the Panthers, they also just received the bad news that the one quarterback who had performed somewhat decently for them is now done for the year.
Matt Moore left Sunday's game early holding his shoulder and did not return. On Monday, it was reported that he's done for the year because of a torn labrum in his shoulder. Moore's injury means either rookie 2nd round pick Jimmy Clausen will start for the Panthers or rookie 6th round pick Tony Pike will get the nod.
Clausen got the first crack at the starting job after Moore was concussed in week one. The Jimmy was brutal, throwing for fewer than 188 yards in all four of his starts. He also has just one touchdown pass compared to six turnovers in the six games he's played. Clausen was so bad that he was replaced by Tony Pike in the 4th quarter on Sunday.
Pike went 6-12 for 47 yards and actually moved the team enough to have two scoring drives, but they were down so badly they went for it on 4th down instead of attempting field goals. Things were already looking bad for the Panthers, but now it only looks worse. In fact, it's so bad coach John Fox says the team will even look at Armanti Edwards at quarterback (he played QB at Appalachian State but was drafted to play wide receiver). Carolina quarterbacks have just six touchdowns and 18 turnovers on the season. Now you know why they're 1-7 and why they're likely to change the number in the win column.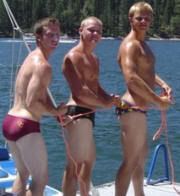 The NFL Draft is always exciting for young players who are fresh out of college. But for Jimmy Clausen, the quarterback from Notre Dame, it just plain sucked.
Clausen was predicted by many people to be a first-round draft pick, with experts saying he was the second best QB coming into the draft behind Sam Bradford. Bradford was the first overall pick, selected by the St. Louis Rams as predicted. But I think the most upsetting part of the night for Clausen had to be the announcement that the Denver Broncos had selected Tim Tebow as the 25th overall pick. I'm guessing that Jimmy had to be stunned. Clausen did have a year of eligibility remaining but he chose to leave South Bend and boy, that has to be haunting him now.
Notre Dame hasn't been very successful with their QB's being top ten draft picks lately. Remember, Brady Quinn was projected to be a top ten pick but instead he fell into the 20's before getting drafted by the Browns. But now Clausen is ending up in the second-round, which will be a blow to his confidence (which isn't necessarily a bad thing, the kid is pretty cocky) and his pocketbook. But, what will be considered a lose for the South Bend quarterback, can still be a win for LBS fans. Since he was not drafted last night, that means Ochocinco's prize for predicting the team that would draft Clausen is still up for grabs. All I can say is that I don't this as such a bad thing, maybe Clausen needed to be knocked off his pedestal before he could learn to play in the NFL.
Sources:
Clausen, Broncos come up short [ESPN]
We heard about Jimmy Clausen getting punched last weekend and that it resulted in a pair of black eyes. That report seemed to be exaggerated considering visual evidence confirms he has one black eye. Notre Dame may have been helping Jimmy "saving face," saying he got sucker punched, but that doesn't change that we saw the damage to his face on Saturday in the Stanford game. Clearly this dude got decked!
I know there's a Jimmy Clausen penis joke somewhere involving that photo on the bottom left. I said it before and I'll say it again: given Jimmy's personality, I would not be surprised to hear he provoked the fight. Even though I crack on the guy, I have to give him plenty of credit for the way he played on the field — 340 yards and 5 touchdown passes is simply awesome. Can't fault him for the defense's issues; he doesn't tackle.
Much like Buckeyes fans who expressed support of Rich Rodriguez on Saturday, anti-Notre Dame fans will be sad to hear about the way things are ending for the Irish. Now 6-5 after losing to UConn, all signs point to the school firing Charlie Weis after the season ends. There couldn't have been a clearer sign than when the school decided Weis wouldn't be allowed to remain on the West Coast for a scheduled recruiting trip following the Stanford game. That was their way of sending their message without publicly saying Weis is done.
Adding to the awesomeness surrounding South Bend this week was when Jimmy Clausen got punched on Saturday night in/outside a restaurant. The details surrounding the event are sketchy at best, with several explanations being offered. Given Jimmy's history of untimely remarks and cocky behavior, I'm guessing he's not the innocent lamb he's being made out to be. As far as his future goes, the Chicago Tribune is saying the Clausens are selling their South Bend home. The home has been up for sale since the summer, but the family has accepted an offer. Was it put up for sale in the summer because of the economy or some other reason? Or was it so the family would have options in case Jimmy left school early? I'm guessing it's the latter. Or maybe Clausen is leaving because Jimmy holds grudges.
pixel2