Remember all that talk about what happened to Klay Thompson and his shot? Neither do I.
Thompson was on absolute fire during the Golden State Warriors' game against the Los Angeles Lakers on Monday night. In 27 minutes, Thompson was 17/20 from the field including 10/11 on threes for 44 points as he got the Warriors out to a huge lead. In fact, he began the game by making his first 10 three-point shots, which is an NBA record.
After one of his made threes during the third quarter, Thompson flashed a money sign at Floyd "Money" Mayweather, who was attending the game in Los Angeles.
Klay Thompson wildin' now. Just threw up a money sign at Floyd Mayweather. pic.twitter.com/qWdrSmatzU

— Logan Murdock (@loganmmurdock) January 22, 2019
When Thompson is going that hot, there's not much you can do except admire the show.
Since a cold stretch a month ago, Thompson has completely turned things around. He's shooting nearly 53 percent from the field in January and making 44 percent of his threes. What do you think he's saying to his hand now?
The Golden State Warriors may end up not being able to keep soon-to-be free agents Kevin Durant, Klay Thompson and DeMarcus Cousins this summer, but it sounds like an unwillingness to spend will have nothing to do with them losing any of the three.
Eric Pincus of Bleacher Report wrote on Monday that there is a belief around the NBA that Golden State's ownership group has given general manager Bob Myers the authority to "offer whatever is necessary" to keep the team's entire core intact going forward. That would, in theory, mean offering both Durant and Thompson max contract extensions. The situation with Cousins is a bit more complicated.
Durant is eligible for a five-year extension worth around $221 million, and Thompson can cash in for roughly $190 million over five years. The Warriors already signed Stephen Curry to a record $201 million deal in July 2017, so it goes without saying that their luxury tax bill would be astronomical if they keep Durant, Curry and Thompson. Cousins, however, may end up leaving as a free agent if he follows the money.
The Warriors only have Cousins' non-Bird Rights, so they can offer him up to 120 percent of his 2018-19 salary, which would be $6.4 million. Another team could offer Cousins a four-year max contract of around $140 million. Marc Stein of the New York Times recently reported that there's a theory Cousins could stick around for one more year in Golden State and sign a long-term contract in 2020, when he's eligible for more money as a 10-year NBA veteran. However, that would be a risky gamble for a player coming off a torn Achilles who may be able to secure a max contract sooner.
Thompson seems unlikely to leave the Warriors, and there have been hints that he may even be willing to give them a hometown discount. Durant might be more of a risk to leave because of all the drama involving him and Draymond Green earlier in the year, but it will be tough for him to turn down $220 million.
The Warriors will move into a new state-of-the-art arena next year, and it sounds like money is no object at this point. That insane luxury tax bill we have been hearing about for nearly two years may actually become a reality.
Klay Thompson weighed in on his funny comment during the Golden State Warriors' win over the Portland Trail Blazers on Saturday night.
Thompson broke out of a shooting slump that had lasted much of the month by going 12/21 including 4 of 5 on threes. After making his fourth three of the night Saturday, Thompson hilariously looked at his shooting hand and said "I missed you" to it.
Klay hadn't hit 4 threes in a game in over 2 weeks.

He yelled "I missed you" at his right hand after hitting his 4th one tonight pic.twitter.com/UQqjYcz6Tu

— NBA on ESPN (@ESPNNBA) December 30, 2018
Thompson was asked after the game about his words to his hand going viral and put together a thoughtful response. He said he tries to avoid the internet because it "is a volatile place."
Klay Thompson on his 'I miss you' message to his hand going crazy online: "The Internet is a volatile place. I don't try to be on there too much…Mass information is crazy. I try to read books." pic.twitter.com/DkW1LpYePA

— Anthony Slater (@anthonyVslater) December 30, 2018
Deep thinker, that Klay Thompson. Though he's putting together the worst shooting season of his career, he still has plenty of time to turn things around.
Did former Golden State Warriors center Zaza Pachulia troll Klay Thompson on Twitter Thursday night? It seems that way.
Thompson has been struggling with his shot and actually seems to be pretty frustrated with questions about it. In Thursday night's overtime loss against Portland, Klay went 6/19 from the field and 1/4 at the line. He was particularly cold during a stretch in the third quarter, which is when Pachulia sent the following tweet about a hack-a-Klay strategy.
Hack a @KlayThompson

— Zaza Pachulia (@zaza27) December 28, 2018
Who knows to what extent Pachulia was messing around, but there's little doubt about whether the Warriors miss a player like Zaza. The Warriors are without Damian Jones and still waiting for DeMarcus Cousins to get healthy. They have used Draymond Green at center. They probably wish they had the veteran center back around now.
Klay Thompson recalled some of the pettiness by the Cleveland Cavaliers and called them "idiots" for it.
The Golden State Warriors are returning to Cleveland to face the Cavs on Wednesday night, only this matchup is nothing like the last four Finals between the teams. LeBron James is gone, and so is the rivalry. The Warriors put an end to the LeBron days in Cleveland.
Ahead of the matchup, The Athletic's Anthony Slater visited with many Warriors for an excellent piece reflecting on the rivalry. Thompson had a funny response when Slater reminded him about the infamous Cavaliers Halloween party that mocked the Warriors for blowing a 3-1 lead.
"Oh, yeah. Ha!" Klay said, via Slater. "That was funny. Look how that turned out. Psssh. Bums. That was crazy. I forgot about that. Well, look at what pettiness gets you. Gets you 1-8 in the Finals. Idiots."
1-8 in the Finals is a reference to the next two Finals meetings between the teams, both won by the Warriors — 4-1 in 2017 and via a sweep in 2018. Of course, so much of that dominance is owed to Kevin Durant joining Golden State, but Klay leaves out that part.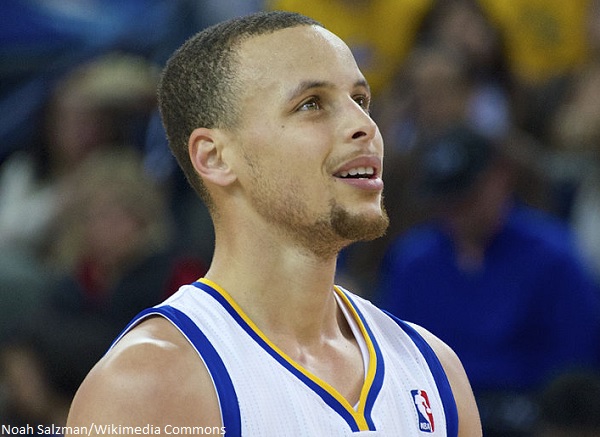 Klay Thompson had the support of the man whose record he was chasing during his historic game against the Chicago Bulls on Monday night.
Thompson set NBA records for three-pointers made and attempted during the Golden State Warriors' 149-124 victory over the Bulls. In just 27 minutes, Thompson connected on 14-of-24 three-pointers and scored 52 points.
The previous record of 13 made three-pointers in a single game was set by Thompson's Warriors teammate, Stephen Curry. Thompson, who made 10 three-pointers in the first half, said Curry told him to "go get" the record during halftime.
Klay Thompson: "Even before I went out in the second half, Steph looked at the box score and said, 'Go get it.' That just shows you the unselfishness of him."

— K.C. Johnson (@KCJHoop) October 30, 2018
The unselfish attitude of many of the players on the Warriors is part of what has led to their collective success.
Thompson came into Monday's game shooting 5-of-36 from behind the three-point line this season. He broke out of his early season shooting slump in a big way.
The Golden State Warriors set a couple of team records during a scorching first half against the Chicago Bulls on Monday night, while Klay Thompson set an impressive individual mark.
The Warriors scored 92 points in the first half of their game against the Bulls. The 92 points in the first half were a team record and the second-most ever by an NBA team in a first half, behind the 1990 Suns, who once scored 107 points. They also went 17-for-27 on threes, with their 17 3-pointers in a half setting a team record.
From @WarriorsPR: The Warriors have set an NBA record for three-point field goals in a half with 17 (17-of-27 3FG). They have also set a franchise record for points in a half with 92.

— Connor Letourneau (@Con_Chron) October 30, 2018
Golden State's 92 first-half points are the second most ever in a first half. Phoenix scored 107 points in the first half vs. Denver on Nov. 10, 1990.

— Warriors PR (@WarriorsPR) October 30, 2018
10 of those threes in the first half were made by Thompson. He kept up his hot shooting in the second half, making four more threes during the first eight minutes of the third quarter. That gave Thompson 14 threes for the game, which surpasses Steph Curry's record of 13 threes made in a game.
Congrats @KlayThompson!!!
@NBCSAuthentic pic.twitter.com/5MT9Y5VEg2

— Golden State Warriors (@warriors) October 30, 2018
Thompson had 52 points in 26 minutes at the time he set his record. When he gets that hot, it's game over.
pixel2