On Sunday, Giovanni Ramirez was arrested and booked on suspicion of assaulting Bryan Stow at Dodger Stadium on Opening Day. He was booked for assault with a deadly weapon and is being held on $1 million bail. His mug shot was not released at the time of his booking, but we present it to you courtesy of our friend A Mack and KFI which has since taken down the photo.
I have to say that his actual mug shot looks incredibly similar to the police artist sketch. And just like the LA Times reported, he has an incredible amount of tattoos on his neck which were added to try and cover up previous tattoos that may have been able to use to identify him. Luckily it didn't work.
We here at LBS found Brett Sutter's mug shot from when he punched a cabbie to be hilarious.  This dwarfs it.
Laurence Maroney was arrested in St. Louis on Monday night for possession of marijuana and carrying a concealed weapon while under the influence (he has a permit to carry otherwise).  The Infinity he was riding in contained Maroney and five other friends who were smoking a whole bunch of weed and carrying three guns.  His mug shot could be the greatest we've ever witnessed.
What are you thinking, Laurence?  Forget the weed.  Forget the concealed weapon.  Did you lose some sort of dare that resulted in your having to sport the Pippi Longstocking look?  This could be the most embarrassing hairtsyle I've ever seen on a professional athlete.
Clearly, the Patriots knew what they were doing when they got rid of the first round draft bust.  Aside from being a terrible NFL running back, we now realize Maroney is one of the game's biggest clowns. 
Thanks to Deadspin for the picture.
Forget retro jerseys or composite sticks—punching cab drivers seems to be the hottest trend amongst the NHL's young stars. Last summer, we heard about Chicago Blackhawks phenom/Twi-hard Patrick Kane's infamous freak out when a Buffalo cab driver failed to produce a whopping 20 cents in change.
Now it seems that Calgary Flames forward Brett Sutter—son of Darryl Sutter, the team's general manager—opened up a can of dorky Canadian whoop ass on an unlucky cabbie outside a bar in Scottsdale, Arizona, punching him in the face.
Less than pleased with the prodigal son's behavior, the Flames (who have the creepiest fans on earth) busted him down to their minor league affiliate, the Abbotsford Heat. But the 23-year-old sniper didn't languish long in AHL purgatory; on Wednesday, the team did away with him altogether, trading him to the Carolina Hurricanes.
I don't know which is more offensive–slugging some poor immigrant driving your taxi…or doing it with that creepy "To Catch A Predator" mustache. Chilling.
It looks like police officers out in Las Vegas finally tracked down Floyd Mayweather Jr.  It also looks like he couldn't care less that he's been arrested.  The mother of Floyd's children, Josie Harris, claimed Mayweather attacked her on Thursday.  After looking at the Floyd Mayweather Jr. mugshot, I'd say Pretty Boy is more concerned about looking fresh than he is about his police record.
Fresh shirt, fresh smile, fresh iPod, and an endless pit of money to spend on legal counsel.  Man, this guy's a dink.
Photo Credit: TMZ
Reading about Carlos Dunlap's DUI arrest reminds me a ton of Tony La Russa's DUI — both were so out of it that they were passed out at the wheel when police got there. Here's the police report from the Gainesville Sun and their write up about the incident:
According to police, [officer] Rogers was dispatched to the area to check out reports of a reckless driver in a Chrysler. Rogers said that when he found the car matching the description, it was stopped although the traffic light was green. Rogers said he watched the light cycle through several times but the car remained stopped.

When Rogers approached the car, he said he saw Dunlap alone in the car and apparently asleep while at the wheel.
That doesn't exactly sound too reckless to me. The only thing Dunlap had going for him was that he was still wise enough to refuse the breathalyzer otherwise we'd probably be talking about his .27 BAC right now. This is bad news for Florida considering they're playing Alabama this weekend in the SEC championship game. Knowing the way Urban Meyer disciplines his players, Dunlap will just be held out the first offensive series of the game for Bama (but Urban will put him in there if the Tide's moving the ball). I'm guessing the heat will be too much for Meyer to get away with not putting the clamps down after this. Roll tide, roll.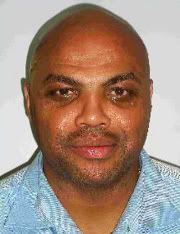 DUIs are no laughing matter. I can think of two members of the sports world who have killed people through their drunken driving. But even after committing a bad crime like driving drunk, Charles Barkley still managed to take the focus off his arrest and gain points from the public with his humor. The man known for always speaking his true feelings told this to the police (the following is from the officer's incident report)
"[Barkley] told me that he ran the stop sign because he was in a hurry to pick up the girl I saw get in the passenger seat.
…
[Barkley] asked me to admit that she was 'hot.' He asked me, 'You want the truth?' When I told him I did he said, 'I was gonna drive around the corner and get a b**w job. He then explained that she had given him a 'b**w job' one week earlier and said it was the best one he had ever had in his life."
…
While being processed Barkley told a civilian Gilbert PD employee, ""I'll tattoo my name on your ass" if he helped "get him out of the DUI." According to the report, "He laughed and then quickly corrected himself and said, 'I'll tattoo your name on my ass' and then laughed again."
I'm having a hard time not scolding Barkley for his arrest, but I can't help but laugh about this story. Barkley going to get a BJ and that's why he couldn't obey traffic laws. The guy's like a teenager all hyped up on testosterone. And how about that mug shot? Classic, huh?
That is former Houston Astros semi-star Derek Bell. He was arrested and is in jail on four counts of possession of drug paraphernalia. He's not doing too well. He was also arrested in '06 for cocaine possession. He's had those same eyes since he was 12, but he probably wasn't tweaking back then. I feel badly for him. But I'm glad he gave us a great mug shot to use on the site.
Unfortunately, Bell's mug shot wasn't much prettier when he was arrested in 2006 on the aforementioned coke charges:
pixel2