New England Patriots special teams coordinator Joe Judge is becoming a popular name in coaching circles.
Judge interviewed for the vacant New York Giants head coach job on Monday, the team confirmed, becoming the fifth candidate to do so. That interview comes on the heels of reports that Judge is a leading candidate for the vacant Mississippi State job.
Hearing that #Patriots STC Joe Judge has emerged as a strong candidate for the Miss. State head coaching job. A former #HailState player and assistant with strong ties to MSU, Judge was a name we were told to keep an eye on all along: https://t.co/nWnEKjcaEe

— Bruce Feldman (@BruceFeldmanCFB) January 6, 2020
Judge has been with the Patriots since 2012. He also serves as the team's wide receivers coach. A former Mississippi State player, he also got his start in coaching there as a graduate assistant, hence the links to that head coaching job.
There are other names involved in the Mississippi State job, and Judge feels like a secondary candidate in what is a robust Giants search that may already have a different favorite. Still, it's clear that Judge's stock is high and he's a name to watch this hiring cycle.
The New York Giants are planning to interview several candidates for their vacant head coaching position, but there is one they may already prefer over all the others.
Matt Rhule is considered the favorite to be hired as the next head coach of the Giants, according to SNY's Ralph Vacchiano. The Giants have reportedly been enamored with him since he worked for them as an assistant in 2012, and sources told Vacchiano that Rhule has "strong interest" in the job.
Rhule is currently preparing to coach Baylor in the Sugar Bowl against Georgia on Wednesday, so any conversation he has with the Giants will likely take place after that. There was some talk that head coaching candidates may be deterred by the Giants deciding to keep general manager Dave Gettleman, but Gettleman was a member of the team's front office in 2012 when Rhule served on Tom Coughlin's staff. Vacchiano reports that the idea of Rhule not wanting to work with Gettleman again is "ridiculous."
Rhule, a New York native, said recently that he would only leave Baylor for the perfect NFL job. He has already taken himself out of the running for another NFL vacancy and turned down the New York Jets a year ago, but there are a number of reasons he may view the Giants job differently.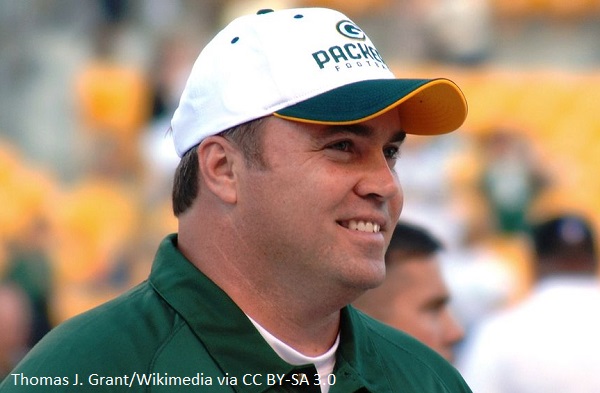 Mike McCarthy took a year off from coaching after he was fired by the Green Bay Packers during the 2018 season, but it sounds like he will have opportunities to land another head coaching gig this offseason.
McCarthy is expected to interview with the New York Giants for their head coaching vacancy this upcoming weekend, ESPN's Adam Schefter reports.
Giants are expected to interview former Packers' head coach Mike McCarthy this weekend, per source.

— Adam Schefter (@AdamSchefter) December 31, 2019
McCarthy has also drawn interest from the Cleveland Browns and Carolina Panthers, having already had a second interview with the latter.
In 12-plus seasons with the Packers, McCarthy compiled a 125-77-2 record during the regular season. He was 10-8 during the playoffs, and Green Bay won a Super Bowl in 2010. There were some unflattering reports about him toward the end of his time with the Packers, but he has plenty of experience and a good track record. It seems like only a matter of team before McCarthy gets another head coaching job.
One Dallas Cowboys assistant may not have a long-term future with his current team, but may have an opportunity elsewhere.
According to ESPN's Josina Anderson, Dallas passing game coordinator Kris Richard will interview for the New York Giants head coach vacancy on Thursday.
I'm told #Cowboys passing game coordinator/defensive backs coach Kris Richard is schedule to interview with the #Giants for its head coach vacancy on Thursday, per source.

— ig: josinaanderson (@JosinaAnderson) December 30, 2019
Richard was the defensive backs coach for the Seattle Seahawks during their Legion of Boom days, and later became the team's defensive coordinator. He has been Dallas' passing game coordinator, giving him valuable experience on both sides of the ball.
Richard is clearly a candidate for the Giants job, but there may be a name that they prioritize above others once their search concludes.
The Kansas City Chiefs have boasted one of the league's best offenses for the last two years, and the man coordinating it may be rewarded with a head coaching gig as a result.
Eric Bieniemy, who has served in the role since prior to the 2018 season, has been the subject of interview requests from both the New York Giants and Carolina Panthers, according to ESPN's Adam Schefter.
Giants have requested permission to interview Chiefs OC Eric Bieniemy for their head-coaching job, per source. Panthers also have requested interview for Bieniemy.

— Adam Schefter (@AdamSchefter) December 30, 2019
Thought the offense dropped from first in both points and yardage this season, they were still fifth and sixth in those respective categories. The 50-year-old has overseen the offense that Patrick Mahomes has thrived in, and that alone makes him an enticing coaching candidate. A former NFL running back and Heisman Trophy finalist, he has served as a running backs coach for various teams, along with a two-year stint in college as Colorado's offensive coordinator.
Bieniemy will have a lot of competitors for both roles. The Giants, in particular, may be able to attract one of the hotter college coaches on the market.
Matt Rhule said recently that he would only leave Baylor for an NFL job if the situation were perfect, and there is apparently at least one position that has his attention.
Rhule has been linked to the New York Giants head coaching job after they officially parted ways with Pat Shurmur, and ESPN's Chris Mortensen reports that he is "prominent" in the team's search. The Giants also announced Monday that they are keeping general manager Dave Gettleman, and there is some belief that potential head coaching candidates will be deterred by that. However, Rhule is said to still be interested in the job.
Matt Rhule is a hot candidate and has interest from the #Giants, #Panthers and almost certainly #Cowboys. NYG is absolutely attractive to him. https://t.co/xMhCCYbaxe

— Ian Rapoport (@RapSheet) December 30, 2019
Rhule was an assistant offensive line coach under Tom Coughlin with the Giants back in 2012, and Gettleman held the title of senior pro personnel analyst with the team at the time. There is a level of familiarity there, and that could be either a good or a bad thing.
Rhule turned down the New York Jets last offseason, so you have to wonder if he would consider the Giants job much better. We already know of at least one NFL head coaching job for which he does not want to be considered, and there could be others. The fact that he is willing to listen to the Giants is noteworthy.
For the second time in two years, the New York Giants are searching for a new head coach.
The Giants have fired head coach Pat Shurmur following his second season with the team, according to multiple reports.
The #Giants have fired coach Pat Shurmur, source says. It's over after two years.

— Ian Rapoport (@RapSheet) December 30, 2019
There has also been talk that general manager Dave Gettleman could be fired as well, so parting ways with Shurmur may only be the first big move the Giants are making after failing to reach the postseason once again.
The Giants finished the season 4-12 with their loss to the Philadelphia Eagles on Sunday. Shurmur ended up going 9-23 in two seasons with the team. While New York was said to be pleased with the work he did in helping to develop rookie quarterback Daniel Jones, the results for Shurmur were worse than his predecessor, Ben McAdoo.
Shurmur was the head coach of the Cleveland Browns for two seasons in 2011 and 2012, and the overall results were identical, as he finished with a record of 9-23 there as well. He's unlikely to land another head coaching gig in 2020, though he could be sought after as an offensive coordinator.
Two seasons isn't exactly a lot of time to get things turned around for a struggling franchise, but it's possible the Giants already have a replacement in mind for Shurmur.
pixel2