Can somebody help me out?  I'm pretty sure I missed something.  I'm well aware that Nike loves releasing new LeBron James products and constantly releases sneakers like these ones and these ones, but their newest LeBron logo is a tad bit confusing. The theme for Nike's new LeBron logo is "The Heart of a Lion."  Here is what the new logo looks like, as passed along by the USA Today via I Am a GM:
I could have sworn this was the guy who gets made fun of for disappearing in the playoffs, but maybe I have King James confused with someone else.  This logo, which is based on the coat of arms of medieval monarchs like King Richard the Lionheart, shows that Nike believes their poster boy is a fighter.  Here is Nike's opinion of James:
"Beat after beat. Game after game. LeBron James' heart stays strong. The two-time NBA MVP has seen his fair share of battles. He's done his time on the hardwood. In the gym. And around the neighborhood. With every victory the beast within grows stronger. More determined. Fearless. Always on."
The logo suits him perfectly, doesn't it?
Somehow this NBA postseason has turned into a clash between Charles Barkley and the Miami Heat. Last week Chuck called the Miami Heat a whiny bunch which didn't sit well with fans. They also didn't like that he picked the Chicago Bulls to win the series, so they let him have it during TNT's postgame show after Game 3. Chuck responded with a double bird to the fans.
Most of the problems between the sides date back to last summer when Barkley criticized LeBron James for leaving the Cavs to join the Heat, completely disregarding that he had actually sold out and joined the Rockets in search of a ring late in his career! Putting the hypocrisy aside, Barkley's negativity towards LeBron was enough to get the suits from the swoosh on the phone.
Check out what Barkley told Barry Jackson of The Miami Herald as shared by Royce Young at CBS Sports:
During Oklahoma City Thunder post-game press conferences, two things go hand-in-hand: Kevin Durant and his backpack.  For whatever reason, the 21-year-old superstar does all his post game blabber wearing his backpack completely strapped up and ready to go.  Like any smart company would do, Nike is capitalizing on the fashion statement by selling the carrying book bag as part of Durant's KD III line.
It has almost become symbolic for Durant to rock the backpack during his sessions with the media.  However, some fans may be disappointed with what's actually in it.  According to Durant, "iPad, headphones, bible and phone chargers," is all he carries.
Nike is has wisely decided to capitalize off this entertaining fad.  Durant, unlike LeBron, is one of the most loved players in the NBA.  When young basketball players go to purchase his shoes, they'll almost certainly feel obligated to buy the matching backpack.
While Nike looks to profit off Durant's choice in style, Durant himself has other things to worry about.  One huge one will be slowing down the Mavericks and Dirk Nowitzki's quest to enhance his legacy. After the Game 1 loss, Durant will need his teammate Russell Westbrook (3-15 shooting in Game 1) — not his backpack — to have any chance of bouncing back.
When you look at the way Durant used to be, this revelation is actually surprising.
Back when I was in school, one of the hottest shoes around were the Ken Griffey Jr. Nike Air Max. They had velcro with his number 24 on the strap and they came in the Seattle Mariners colors. Now it's several years later but the Air Max shoes are still hot. In fact, check out Amar'e "STAT" Stoudemire, DeSean Jackson, and Chris Bosh as they gets Fresh Air from none other than Ken Griffey Jr. in this eye-popping Nike spot.
When Blake Griffin was drafted number one overall in the 2009 NBA Draft by the Los Angeles Clippers, he signed a reported 2-year shoe endorsement deal with Nike for $400,000/year.

To the average person, that's nearly 10 years worth of salary or one year's worth of free Nike products. To us fans, that seems like an incredible deal, one that we would sign in a heartbeat. But in the world of NBA mega-endorsements and multi-million dollar deals, Blake Griffin is severely underpaid. With his hype and fame skyrocketing higher and higher with each and every dunk, Blake's value-to-cost ratio is growing.

Looking at the last few draft classes, here are a few examples of shoe endorsement deals for top flight rookies:

Player, Company, Draft year, Position, Contract


Kevin Durant/Nike – 2007, #2 pick, 7-years, $60 million
O.J. Mayo/Nike – 2008, #3 pick, $400,000 per year
Derrick Rose/Adidas – 2008, #1 pick,  $1 million per year
Michael Beasley/Adidas – 2008, #2 pick, $650,000 per year
Blake Griffin/Nike – 2009, #1 pick, $400,000 per year
Brandon Jennings/UnderArmor – 2009, #10 pick, 2-years $2 million
John Wall/Reebok – 2009, #1 pick, 5-years, $25 million

Knowing that Tim Tebow was one of the most famous players in college football history, it's no surprise to see how popular he is as he makes his transition into the NFL. Tebow creates lines when he's signing autographs (even at a cost of $100+ per signing), and his Denver Broncos jersey has been the league's top seller. As if that wasn't enough evidence, we're discovering that pretty much any gear with his name attached will cause a frenzy.
Nike released 500 limited edition Tim Tebow cross training shoes on its online store and they sold out in 15 minutes. They also released the shoes at three different locations: Nike Town New York, Nike Town Denver, and the new Nike store in Santa Monica. According to a sales rep at the Nike store in Santa Monica, the shoes sold out within two hours of the doors opening Friday, which also happened to be the grand opening.
In an effort to keep the Tebow hunger alive, the nike store online scattered the release of the Tebow shoes and t-shirt. The "Tebow Knows" shirt was released later in the day Friday and is still available in XL and XXL sizes, although likely not for long. Maybe some commercials similar to Bo Knows are forthcoming, but the point is clear: Tim Tebow is one of the most popular athletes around and fans demand his stuff. I wonder how long this will last if Tebow's NFL career becomes unsuccessful.
Sources:
No. 15 is the key in Tim Tebow Trainer 1.2 release [Only Gators]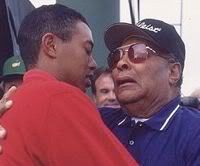 The new Nike Tiger Woods ad with his father's voice in it has generated a ton of buzz. That's probably exactly the way the swoosh wanted it — the more talk about their product the better. The one obvious question for most viewers was how they got Earl Woods' voice in there considering Tiger's dad has been dead since 2006. Well Nike used an interview Earl gave as part of a 2004 Tiger documentary "Tiger: The Authorized DVD Collection" for the sound bite. Here's the context via Sports by Brooks and ABC News:
In the original context, Earl was not talking to Woods, but about the golfer's mother Kultida. …
Earl's full quote in the film is: "Authoritarian. Yea, Tida is very authoritative. She is very definitive. 'Yes' and 'No.' I am more prone to be inquisitive, to promote discussion. I want to find out what you're thinking was, I want to find out what your feelings are and did you learn anything?"

Earl then adds, "So, we were two different types but we co-existed pretty well."
So there you have it, Earl Woods was talking about himself, not Tiger in that now infamous soundbite. People don't seem to care because it fit so well. Tiger even felt that way saying, "I think it was very apropos. I think that's what my dad would say. It's amazing how my Dad could speak to me from different ways even though he's long gone. He's still helping me. I think any son who has lost a father who meant so much in their life, I think they would understand the spot." Tiger knows the commercial quote was b.s. but still gets people to buy into it. Of course he did — they never betrayed him so why would he betray them?
Sources:
Nike Ad: What Earl Was Actually Talking About [Sports by Brooks]
Tiger Woods Ad Ripped Audio from 2004 Documentary [ABC]
pixel2