The last remaining unsigned first-round NFL Draft pick has officially reached an agreement with his team.
According to ESPN's Adam Schefter, No. 3 overall pick Quinnen Williams has agreed to sign a four-year contract with the New York Jets.
Last unsigned first-round pick now had a deal: No. 3 overall pick Quinnen Williams and Jets just reached agreement on four-year deal, per source. Williams now will be reporting to work immediately.

— Adam Schefter (@AdamSchefter) July 25, 2019
The Williams news came just minutes after it was reported that No. 2 overall pick Nick Bosa will sign a four-year, $33 million deal with the San Francisco 49ers. Williams' contract will likely be very similar.
Williams was a star at Alabama, and he has already managed to endear himself to Jets fans with his infectious personality. He has a chance to make a huge impact in his first NFL season.
In addition to being one of the best defensive players in the NFL Draft, the New York Jets also got one of the most enthusiastic and humble in former Alabama star Quinnen Williams.
Williams gave the New York media a glimpse of his infectious personality on Friday, as the defensive end openly talked about how giddy he has been to meet his new teammates. He said it has been "crazy" to meet some of the Jets' best players, and it's impossible not to smile while listening to the No. 3 overall pick openly admit how star-struck he has been.
.@QuinnenWilliams knows he belongs, but he just can't get over meeting his favorite players 😂 pic.twitter.com/HqRXGCSwzE

— New York Jets (@nyjets) May 10, 2019
"I met Le'Veon Bell yesterday, and I'm like, 'Whoa, that's Le'Veon Bell, the No. 1 running back in the NFL,"' Williams said with an ear-to-ear grin. "It's just crazy. … I know I'm one of the people too, but I don't really look at it like that."
A lot of NFL players probably feel that way during their rookie seasons, but the majority of them would never admit it. Williams is supposed to be a fierce competitor who is confident he can overpower the guys lining up opposite him, but his press conference was a friendly reminder that you can do all of that while taking some time to soak up living out your dream.
The Jets may have been hiding Williams from the media a bit after they drafted him, but we need as many interviews from him as we can get.
The New York Jets have not yet formally introduced their top pick of the NFL Draft, and that is apparently the way it will stay.
Most teams hold press conferences for their top picks at some point after they join the team, and almost all teams hold some sort of media event when they make a top-five selection. The availability gives the media a chance to learn more about the player and his journey to the NFL, but Manish Mehta of the New York Daily News notes that new Jets head coach Adam Gase did not allow Quinnen Williams to have that kind of big welcome.
Why? Mehta speculates that Gase may have wanted to send a message that Williams is no more important to the Jets than their other draft picks, though the fact that they selected the former Alabama star third overall says otherwise. Gase also could simply feel that a player who has yet to play a down in the NFL does not deserve a big press conference.
This isn't the first time a coach has tried to change the culture of a team upon taking over, but it seems fairly significant. Between Gase squashing a tradition and the rumblings we have heard about the Jets' front office, there are some interesting storylines to monitor in New York as we head into the 2019 season.
If the Arizona Cardinals have made a final decision regarding which player they will select with the top overall pick in Thursday night's draft, they are going to great lengths to protect that information.
Cardinals general manager Steve Keim has said for weeks that the team has not settled on Kyler Murray or any other player with the No. 1 pick, and many people believe that is just a smokescreen. However, Ian Rapoport of NFL Media reports that Keim has reached out to at least one player to let him know he is a possibility to go first overall, and that player is not Murray.
If the #AZCardinals have made a decision on No. 1, they are keeping it quiet. Source said GM Steve Keim reached out to at least one player — #Bama DT Quinnen Willliams — to let him know he's still a possibility to go first overall.

— Ian Rapoport (@RapSheet) April 25, 2019
Interestingly enough, the odds of Quinnen Williams being the first overall pick have seen a big shift this week. Murray is still considered the favorite, but oddsmakers do not consider it to be nearly as much of a certainty as they did just a few days ago.
It would still be a surprise if the Cardinals took a player other than Murray, but it would be even more shocking if they took Williams. Most analysts believe Ohio State's Nick Bosa is the best defensive player in the draft, so that would be an upset in more ways than one.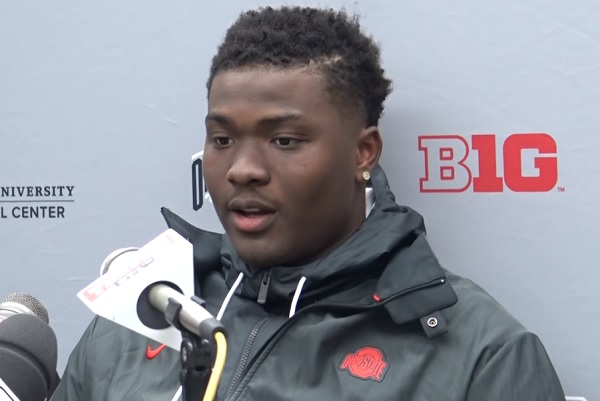 The 2019 NFL Draft is approaching, which means all of the speculation, rumors and insider reports will come to an end and we'll finally see exactly what each of the 32 general managers are thinking.
As part of that, we'll likely see a flurry of trades, with many of those coming at the top of Round 1. But the jockeying won't end there as teams contentiously wheel-and-deal in an effort to fortify their rosters. What players will they be trying to trade up for? We have an idea.
Here's a look at 10 prospects who are most likely to be targeted in trade-up scenarios.
10. D.K. Metcalf, WR, Ole Miss
The overall feeling on Metcalf is mixed at best. Some have him projected to go in the top 10, others in the top 20, and more yet in the second round. It's anyone's guess where he eventually goes, but in the event Metcalf falls into the No. 20 range, someone is going to take a flier and not risk waiting for him to fall further. The Baltimore Ravens, New England Patriots, Arizona Cardinals and Green Bay Packers are all potential buyers in such a scenario, so keep an eye out for some late-Round 1 shakeups if Metcalf remains available at that point.
Over a century ago, Sir Francis Galton observed that over 700 participants guessing the weight of an ox at a county fair in England were near perfect in getting the exact weight when the group was averaged. More recently, James Surowiecki wrote a book on the concept of "Wisdom of the Crowds," the idea that large groups of people are collectively smarter than an individual expert.
If you want a recent sports example that the concept works, look at individual predictions for the 2019 NCAA Tournament bracket. The Bracket Project tracked the individual predictions of 195 entries. If you took the average across all those entries, you would have been more accurate than all but six of the individual ones. That's right, taking the collective wisdom outperformed all but 3 percent of the individual expert opinions.
I am bringing that same philosophy to this mock draft. I have reviewed 18 different mock drafts from national sites and experts (the full list and links to those mocks are at the end of this post). This mock draft presents that collective wisdom, by looking at both where players were being drafted on average, and what positions the experts were predicting teams would focus on.
One thing that can hurt a wisdom of the crowds exercise is if there is too much groupthink. However, in this case, there is plenty of variation and individual opinions. Sixty-four different players appeared in at least one of the mock drafts reviewed. So what is the consensus on how the first round will go? Let's take a look at our mock draft.
1. Arizona Cardinals — Kyler Murray, QB, Oklahoma
Will Arizona really move on from Josh Rosen after one season? Right now, the consensus guess seems to be that Kyler Murray will in fact be the choice, and he will follow in Baker Mayfield's footsteps in becoming the first overall pick at quarterback out of Lincoln Riley's offense. Arizona has no incentive to show their Cards yet (pun intended) since they can influence trade offers both for the first pick and for Rosen by remaining publicly non-committal.
Tags:
2019 NFL Draft, AJ Brown, Andre Dillard, Brian Burns, Byron Murphy, Christian Wilkins, Cody Ford, Dalton Risner, Daniel Jones, Deandre Baker, Devin Bush, Devin White, Dexter Lawrence, Drew Lock, Dwayne Haskins, Ed Oliver, Garrett Bradbury, Greedy Williams, Jawaan Taylor, Jeffery Simmons, Jerry Tillery, Jonah Williams, Josh Allen LB, Kyler Murray, Marquise Brown, Montez Sweat, Nick Bosa, Noah Fant, Quinnen Williams, Rashan Gary, TJ Hockenson
The NFL Combine, fairly or not, can make or break a player's draft stock. A bad workout can send someone hurtling, but a good one can turn a Day 2 pick into a first-rounder and a top-20 pick into a top-10 selection.
Which prospects stood out the most in Indianapolis this year? Here are ten players who helped themselves significantly with their on-field showings at the NFL Combine.
D.K. Metcalf, WR, Ole Miss
Metcalf may or may not turn into an elite wide receiver, but he's definitely an elite athlete, and he became the talk of the NFL Combine. There was his ridiculous body fat percentage, and even more impressively, there was the 40 time that had scouts drooling. At least physically, he compares favorably with Julio Jones, who is one of the NFL's finest receivers. There are still some questions about how that athleticism translates into elite receiver play and whether Metcalf can put it together, but his workout was good enough that someone picking in the first round will likely want to find out.
Kyler Murray, QB, Oklahoma
Murray did not work out at the NFL Combine, but he didn't really need to. He has bigger hands than Baker Mayfield and measured up at 5-foot-10 and 1/8. It's nitpicking over size, but Murray seems to be tall enough. The question at this point is not whether he'll be picked in the first round, but instead whether he'll go first overall. He certainly seems to have solidified his standing just ahead of Dwayne Haskins as the favorite to be the first quarterback off the board, even if his interviews led to some negative reviews.
pixel2