Fans, analysts and general managers around baseball cannot seem to accept that Felix Hernandez may stay with Seattle. The fact that King Felix is the best young pitcher in the game and recently threw a perfect game does not neccessarily guarantee he will be pitching in a mega-market like Boston or New York at some point in the near future. The Mariners have their ace under control through 2014, and they are not looking to trade him in the meantime.
During an interview with Sports Radio KJR that the Seattle Times shared with us on Tuesday, the 26-year-old Hernandez discussed his future and reassured Mariners fans that he has no intention of pitching anywhere else.
"You guys will be happy," Hernandez said when host Mitch Levy told him the fans in Seattle are nervous about his next contract. "I'm not going anywhere."
Levy then asked Hernandez if he was willing to promise he will stay with the Mariners.
"Yeah, I promise," he continued. "I'm not going nowhere. You've got to talk to (Mariners GM Jack Zduriencik) and all those guys over here."
A historic era in Seattle ended on Monday when Ichiro Suzuki was shockingly traded to the New York Yankees. Ichiro was a franchise legend for the Mariners. He came over to Seattle from Japan in 2001 when he was 27 and led the league in hits, batting average, and stolen bases. He won Rookie of the Year and MVP, a Gold Glove and Silver Slugger award, and became an All-Star. He made the All-Star team 10 straight times and led the AL in hits seven times.
But the Mariners, which made four playoff appearances from 1995-2001, lost much more with Ichiro than they won. After leading MLB with 116 wins in 2001, the Mariners never made it back to the postseason. They finished last in the AL West six of the next 10 seasons, and the losing had worn on Suzuki. Feeling that the rebuilding Mariners would be better served dealing him for prospects, and desiring to play for a winner, Ichiro approached the Mariners during the All-Star break to ask for a trade.
The Mariners obliged and dealt him to the Yankees on Monday for pitchers D.J. Mitchell and Danny Farquhar. Seattle fans are frustrated with the deal; not only are the Mariners paying part of the $6.7 million remaining on Suzuki's salary, but they only got back two middling prospects in return. What's worse is that both prospects were pitchers and that doesn't even address the Mariners' dreadful offense.
Mariners executives said they wanted to give Ichiro a chance to play for a contender before his career ends. They did that by dealing him to the Yankees who have the best record in MLB. And thanks to a three-game series between the teams, Suzuki didn't have to travel to join his new club.
The Seattle Mariners set a franchise record by losing its 15th straight game Sunday. They fell to the Red Sox 12-8 to make it four straight series in which they were swept (they've been outscored 86-40 during the streak). Manager Eric Wedge tried digging deep to end the slump, electing to shave his handle bar mustache after Saturday's loss:
We've seen players go to crazy lengths to try and break slumps, so it's not as if this is something new. We've seen them wear thongs, practice voodoo and even shave their entire body in attempts to turn things around, and most of the time it works. For Wedge sadly, it didn't.
The Mariners manager explained his decision to chop off the 'stache, saying "Drastic measures I guess. I just wanted to get the reaction out there that I've been getting from everybody and hopefully lighten them up a little bit."
So much for that huh? At least the Mariners scored eight runs though. Baby steps Wedge, baby steps.
Seattle Mariners outfielder Milton Bradley has long been an LBS favorite because of his entertaining personality. But this time, there's not much reason to bash Bradley; he's actually acting like a man. We knew something was different when instead of yelling and screaming after being taken out of Tuesday's game in the 6th inning, he just walked into the clubhouse and didn't come back. I think this may have stunned Bradley watchers more than any freak out he's had in the past.
Is M.B. finally growing up? Shockingly, that's what appears to be happening. Not too long ago he was proclaiming himself the bad boy of baseball, but that was before the start of a pretty good season for him in Seattle. The Mariners manager Don Wakamatsu said that Bradley is currently dealing with some "personal issues" and that Bradley came up to him and said "I need your help".
I hope that this is the start of a more professional Milton Bradley. Don't get me wrong — I will miss his little tantrums and trash talking, but I think it's for the best. I'm not holding my breath because I know that Bradley loves being in the spotlight, but for a man who has been on eight teams in 10 years, Bradley might be ready to settle down and call Seattle home.
Sources:
Bradley dealing with "Emotional Stress" [ESPN]
Milton Bradley has been hitting the ball well lately for the Seattle Mariners.  Since returning from a calf injury, Bradley was 8-for-25 with three doubles going into last night's game against the Rays.  Lately, he seems to be one of the lone bright spots on what has been a pretty stale Mariners offense.  Apparently that's not good enough for Bradley, who has of course been known for being a complete hot head in the past and someone who can't seem to control his emotions.  He's a bomb waiting to go off, and he was detonated once again last night, albeit in a quiet manner.
After Bradley struck out in the 6th inning, he supposedly headed back to the dugout and said something to Seattle manager Don Wakamatsu that was along the lines of, "I'm done; I'm not helping the team."  Bradley then reportedly walked toward the clubhouse, where teammate Ryan Langerhans attempted to talk to him to get him to cool down a bit.  When Bradley started back toward the dugout to find out Langerhans had replaced him in left field, he headed to the locker room, packed up his things, and left the ballpark.
This wasn't the usual blow up on an umpire and get ejected that we've grown used to seeing from Bradley.  In fact, it's probably worse.  I don't know whether he's putting too much pressure on himself to carry the offense in Seattle or what, but you can't just up and leave your team during a game ever —  let alone in a game where you're only trailing by two runs.  This can't sit well with the Mariners front office.  Bradley's been hitting well, but it'll be interesting to see how this is handled.  Back in December, we asked your opinion on how long Milton would last in Seattle.  I'm not sure how this tips the odds, but it certainly shouldn't be something his coaches and teammates turn their cheeks to.  It's an insult to them and a slap in the face.
Sources:
SbB Live
Milton Bradley packed up, left stadium during game after being benched [Seattle Times Blog]
Last year the Mariners may have won 85 games and finished 3rd in the AL West, but they were last in the American League in runs scored. During the offseason they made several moves that had me and several other AL fans concerned. In addition to acquiring Cy Young winner Cliff Lee, the Mariners signed Chone Figgins away from the Angels, and they traded for Milton Bradley and Casey Kotchman. Despite all their moves, it's become apparent through 25 games that it's the same old Seattle story.
The Mariners just got swept by the Rangers, scoring only four runs in three games. To make matters more frustrating, they spoiled 11 scoreless innings from their staff on Friday night (including seven thrown by starter Cliff Lee), and eight scoreless innings from Doug Fister on Sunday. Manager Don Wakamatsu has seen enough of the club's offensive struggles: "If somebody said you'd throw 26 scoreless innings in a three-game series and get swept, I'd think you were crazy. But that's what happened. It just kind of tells you the shape of the offense right now."
The Mariners are tied with the Pirates for the third worst offense in MLB based on runs scored. The only other AL team that's stinking it up more is the Cleveland Indians. Seattle's also tied with Houston for the fewest home runs in MLB with a measly nine. Even though the Mariners are offensively challenged at this point I expect them to pick it up. They have several hitters currently underachieving who should be doing much better. One of the biggest problems they're facing is that they don't have any true three or four hitters on the team, and that puts extra pressure on guys who should be batting towards the bottom of the lineup but are now in the middle. Where's Richie Sexson when you need him?
Sources:
Mariners waste another pitching performance, swept by Rangers [Seattle PI]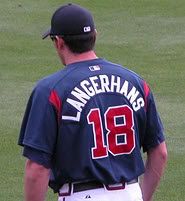 This story is pretty cool and not one you see every day so I figure it's definitely worth mentioning. The World of Isaac via The Sporting Blog says that a minor trade by the Mariners recently can be attributed to an online chat the team's GM had with fans last week. Check out this Q&A from the chat on mlb.com:
booxa: We need more LH bats. Have you looked at Ryan Langerhans, currently in the Nats' organization?

Jack_Zduriencik: Good suggestion.
Well, a matter of about four days later, the trade was officially announced: the Mariners had acquired Langerhans from the Nats for former steroid cheat, Mike Morse. Also adding to this story was the post done at the Mariners blog, U.S.S. Mariner, that suggested they pursue Langerhans. Now obviously I don't follow the Mariners to the level that I'm suggesting they get a guy who's with the Nats' Triple-A team, but obviously they do. And for some reason someone there has a thing for Langerhans that I just don't get. Cool side is that when the fans talk, the team listens. And even cooler is when they actually respond. Oh yeah, this is not the first time something posted at U.S.S. Mariner has impacted the team.
pixel2