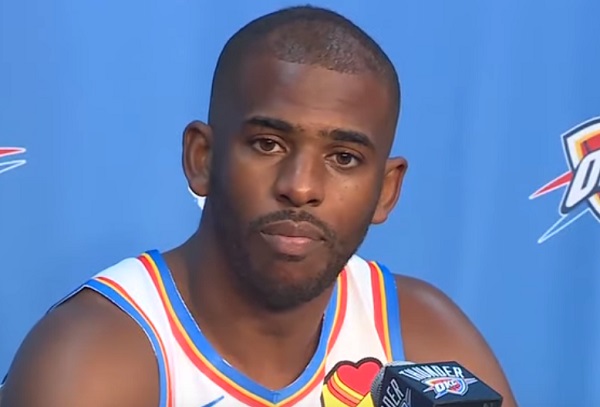 Several NBA stars want to resume the current season, according to a report.
Yahoo's Chris B. Haynes reported on Tuesday that Chris Paul, who is the president of the players' association, arranged a call with many other top players in the league to discuss the resumption of the season. Haynes says the call included LeBron James, Anthony Davis, Kevin Durant, Giannis Antetokounmpo, Kawhi Leonard, Stephen Curry, Damian Lillard and Russell Westbrook.
All players agreed that they wanted to resume the current season when it is safe. The belief is that the superstars all being on the same page will influence the direction of the league.
With the exception of Curry, Durant and Lillard, the players on that call mostly are on championship-contending teams, and therefore would have more incentive to resume the season. Haynes says many players not on playoff contenders feel the season should only resume with playoff teams to minimize the risk of virus exposure.
One issue some players are considering is that the next collective bargaining agreement would be negatively affected if the season were not resumed. That is a concern that was raised by one veteran player.
Kevin Durant has moved on from Golden State and was in his first season with the Brooklyn Nets prior to the league going on hiatus. KD spent the three previous seasons with the Warriors, winning two championships and losing in the Finals last season. KD suffered a calf injury early in the playoffs and a torn Achilles tendon when he tried to return in the Finals.
During his time with the Warriors, Durant did not feel like he completely fit in. One of his big issues was he felt fans were forced to pick between him and Steph Curry at times. He even accused one writer of trying to drive a wedge between them.
Ethan Strauss has written a new book called "The Victory Machine: The Making and Unmaking of the Warriors Dynasty," and an excerpt from the book was published this week. In the excerpt, Strauss details an exchange he had with Durant on Jan. 5, 2019. The exchange came a day after Strauss wrote an article saying the Warriors sometimes sacrifice efficiency in their play in order to placate Durant.
Strauss writes in the first person in recalling the exchange:
I tried to make a few points, saying I didn't begrudge him for having leverage with his contract, and insisted that I had good reason to write what I wrote. KD wasn't impressed and accused me of trying to "rile up Steph's fans."

He expressed that this was a constant theme in the Bay. All of us local guys just wanted to kiss Steph's a– at his expense. This was KD's consistent lament. He would frequently squabble in direct-message conversations with the Warriors fans of Twitter, frequently accusing them of favoring Steph at his expense.

In one such exchange that foreshadowed things to come, he was asked by the WarriorsWorld account whether two-time MVP Steph Curry or Kyrie Irving was the better player. "I gotta really sit down and analyze it," Durant demurred.
Durant has long been a sensitive person who is affected more by fan and media negativity than the average player. And even when Curry was trying to defend KD, the issues seemed to become too much for Durant by the end of his time in Golden State, leading him to leave the team.
In some regards, the dynamic between two superstars on the same team makes for a great talking point with the media, so yes, Durant is correct about the media's narrative. On the other side, Durant also needs to learn to let it go, but instead he too often did not. Maybe it's a lot easier said than done.
The haircut problem has been a major issue for folks during quarantine.
Many people are used to getting their hair cut on a regular basis, including some who get it weekly or even more frequently. But Steph Curry's hair is somehow still looking pretty fresh, which led a colleague to ask how that happened.
Curry went on Instagram Live and was asked by fellow NBA player Damian Lillard how his hair still looked fresh.
Damian Lillard wants to know how Steph Curry was able to get a haircut in quarantine! pic.twitter.com/8b62nXZqWi

— Larry Brown Sports (@larrybrownsport) April 12, 2020
That's not peak Curry hair, but it still looks pretty good. And Steph said in a conversation with Chris Paul that his wife Ayesha gave him the haircut. Credit to her, because she did a pretty good job — it could have been a lot worse.
Mychal Thompson thinks that the Golden State Warriors' dynamic backcourt duo could still be terrorizing NBA defenses for a long time to come.
This week on Dell and Sonya Curry's "Raising Fame" podcast, Thompson discussed his son Klay's bond with fellow Splash Brother Stephen Curry.
Mychal Thompson on Klay's relationship with Steph:

"He wants to go into the Hall of Fame with Steph. That's how close he feels to him." pic.twitter.com/xoe5Smo80E

— Chris Montano (@gswchris) March 24, 2020
"Klay loves playing with Steph," said the elder Thompson. "He respects him so much, talks about him all the time, about how hard he works, how dedicated he is to the game and to his family … He loves playing with Steph, he wants to retire as a Warrior in another ten years. He wants to go into the Hall of Fame along with Steph. That's how close he feels to him and how honored he is to play with him. They've really formed a special bond.
"That's why I told him, 'Even though you're probably gonna miss this year, I think you and Steph still have eight years together as long as you guys take care of your body,'" Mychal added.
Curry and Thompson have already been together for nine seasons in Golden State, a stretch that has produced five NBA Finals appearances and three championships. The 2019-20 campaign was marred by injury for both of them, but the Warriors are expected to return to title contention once the Splash Brothers are fully healthy.
Since their games are more reliant on sweet shooting rather than athleticism, Curry and Thompson should indeed be able to have long NBA careers, health permitting. They have already inspired entire generations of young ballers, so who knows how much more they will be able to do in another eight years.
Steve Kerr had a funny line for the media ahead of Steph Curry's return to the Golden State Warriors on Thursday.
Golden State had a much larger crowd of media for Thursday's home game against the Toronto Raptors than they have the past few months. Kerr acknowledged the larger crowd with a joke about everyone "jumping on the bandwagon."
"Look at all you jumping on the bandwagon," said a smirking Warriors head coach Steve Kerr upon seeing a packed room of media pre game prior to Stephen Curry's return.

— Marc J. Spears (@MarcJSpearsESPN) March 6, 2020
Curry only played in four games before getting injured in late October. He underwent two hand surgeries and it took several months for him to recover from his broken hand. He was originally expected to play on Sunday, but that got pushed back to Thursday.
And yes, Kerr is not stupid; he knows having a two-time MVP return to action is going to draw a crowd, and that's good for the Warriors and the NBA in general.
The Warriors entered Thursday night's game 14-48, which is the worst record in the league. Despite having Curry back, Draymond Green is out with a knee injury.
Stephen Curry has been cleared to return from his hand injury for Thursday night's game against the Toronto Raptors. The two-time MVP won't get many chances to play with just 20 games remaining in the regular season, but he still has the Olympics to look forward to.
There had been some speculation that Curry would skip the Tokyo Olympics after he suffered the injury back in October, but he told reporters on Thursday that competing in the Olympics is "still the goal."
Steph Curry said he still plans to compete in the Olympics pic.twitter.com/UxYYidvoO9

— Anthony Slater (@anthonyVslater) March 5, 2020
Curry has won two gold medals — one with USA Basketball at the 2014 World Cup and one at the 2010 World Championships. He has never been on an Olympic team, however, so it's no surprise he is still planning to play.
Curry's return from his broken hand has already been pushed back once, but the Golden State Warriors must be confident he is fully healed to bring him back with 20 games remaining in a lost season. Assuming he doesn't suffer any type of new injury, there's no reason to think Curry would be putting himself at risk by competing in the Olympics.
Stephen Curry is coming back to action.
The Warriors announced on Wednesday that Curry has been cleared to return to game action and is set to play Thursday against the Toronto Raptors.
Warriors guard Stephen Curry, who has missed the last 58 games with a fractured left hand suffered on October 30 vs. Phoenix, will return to the lineup tomorrow night against the Toronto Raptors.

— Warriors PR (@WarriorsPR) March 5, 2020
Curry missed 58 games after breaking his left hand on Oct. 30. The Warriors have certainly floundered without him, and though it's too late to save their season, they will welcome his return. It's not clear if the Warriors will take extra precautions or limit Curry in any way once he's back on the court.
The original goal for Curry was to return Sunday, but that did not happen. It sounds like this one is set in stone and we'll see the Warriors star playing in a finals rematch that has a little excitement around it now.
pixel2