One of the anchors of the Tennessee Titans' offensive line definitely seems to have some regrets about how the season went.
Taylor Lewan thanked Titans fans for their support after the team's season ended at the hands of the Kansas City Chiefs on Sunday. He added that he felt he had "screwed" the team by missing the first four games of the regular season for violating the league's policy against performance-enhancing substances.
Thank you to every single @Titans fan that believed in us through the year. I screwed this team being gone for 4 weeks, the team never flinched in front of adversity even when we were 2-4. I love the city of Nashville and excited about our teams future.

Thank you
Love. Dad

— Taylor Lewan (@TaylorLewan77) January 20, 2020
The Titans went 2-2 in Lewan's absence and 7-5 with him. He probably helped, but the Titans seem to have finished the season more or less where they should have.
Lewan also got in an unnecessary verbal back-and-forth with some members of the Buffalo Bills, but he seems to be growing this season after these things went wrong. He's clearly taken responsibility for the suspension, and he's a big part of the bright future the Titans appear to have.
The only thing that was perhaps more unexpected than the Tennessee Titans beating the Baltimore Ravens on Saturday night is the talk we have heard about Mike Vrabel sacrificing his genitalia, and his own players are gladly getting in on it.
Vrabel said during an interview over the summer that he would cut off his penis in exchange for a Super Bowl win as a coach, noting that he has been married 20 years and doesn't need it anyway. After the Titans dominated Baltimore by a score of 28-12 to advance to the AFC Championship Game, offensive lineman Taylor Lewan told Vrabel "that piece is coming off!"
Taylor Lewan greeted Mike Vrabel postgame with "that piece is coming, that PIECE IS COMING OFF!" pic.twitter.com/hHHYeM7c33

— Will Brinson (@WillBrinson) January 12, 2020
Vrabel's comments were picked up by a bunch of sites and have been a running joke throughout the year, but most people did not expect the Titans coach to come this close to having to put up or shut up. We can probably guess what the outcome will be even if Tennessee goes on to win the Super Bowl, but all the jokes we have gotten out of the situation have made it worthwhile.
Go Titans — we think?
Tennessee Titans offensive lineman Taylor Lewan got into it with several members of the Buffalo Bills' defensive line on social media this week, and he seems to have come to regret it.
Lewan played his first game of the season after a four-game drug suspension on Sunday, and that led members of the Bills to trash talk him beforehand. Lewan responded after the game by trolling them over their stats despite the fact that Titans quarterback Marcus Mariota was sacked five times. Jordan Phillips and Shaq Lawson responded by blasting Lewan even more on Twitter.
On Wednesday, Lewan admitted that he took it too personally.
.@Titans LT @TaylorLewan77: I took things too personal during social media squabble with @BuffaloBills players @Shaq_Lawson90 and @bigj9797. Owned up to it and is moving on to @Broncos. pic.twitter.com/3au7PfWihN

— Jim Wyatt (@jwyattsports) October 9, 2019
Lewan doesn't seem particularly regretful — by his own admission, he likes to push the envelope. In his mind, it seems the whole confrontation turned a bit too serious for his liking. This is a guy who likes to stir things up, and don't expect this episode to change that.
Tennessee Titans offensive lineman Taylor Lewan is known for being quite outspoken and riling up opponents, and he's made some angry enemies on the Buffalo Bills' defensive line.
Things started after Sunday's 14-7 Bills win, which was Lewan's first game of the season after a four-game suspension for a violation of the league's drug policy. The biggest shot was fired by Bills defensive lineman Shaq Lawson, who was not impressed when asked about Lewan and the Tennessee offensive line after the game.
"We knew what his weakness was — he gives up inside moves and this was an inside game," Lawson said, via Marcel Louis-Jacques of ESPN. "He's a fake tough guy … he was quiet today."
Undeterred, Lewan took to Twitter to take a shot at Lawson's lack of statistical success in 2019.
Shout out to @Shaq_Lawson90 and his dominant stats #1stroundbackup you're a monster hahaha pic.twitter.com/6jwPp8iHNj

— Taylor Lewan (@TaylorLewan77) October 7, 2019
Lawson's teammate, defensive tackle Jordan Phillips, was not having that.
Go get drug tested again bum your soft cry baby I'm surprised you even finished the game better

— Jordan Phillips (@bigj9797) October 7, 2019
Man didn't say one word during the game because he was getting tore up now he wants to take it to social media your a joke always been a joke

— Jordan Phillips (@bigj9797) October 7, 2019
Lawson wasn't all that impressed, either.
Still was whooping your ass all game https://t.co/ibcq2LldID

— Shaq Lawson (@Shaq_Lawson90) October 7, 2019
Phillips had three sacks, so it's fair to say he can talk. In total, Titans QB Marcus Mariota was sacked five times, so it's probably not the best game for Lewan to be trying to talk trash after. That said, this is what he does, and this likely isn't going to stop him.
Tennessee Titans offensive lineman Taylor Lewan said he unknowingly took a banned substance and will be suspended for four games to start the 2019 season, but it's not set in stone yet.
According to Adam Schefter of ESPN, Lewan's "A" sample tested positive, but for the suspension to happen, his "B" sample would have to match it. The test results for that sample are not in yet.
Source: Taylor Lewan's 'A" sample tested positive this summer, but the results on his "B' sample have not yet come back from lab. If the B sample matches the A, he would be facing a four-game suspension. But test results still pending.

— Adam Schefter (@AdamSchefter) July 24, 2019
It's probably not likely that Lewan avoids a suspension at this point, but despite his proclamation, he still has a chance to avoid discipline. It's also unclear when we'll find out for certain.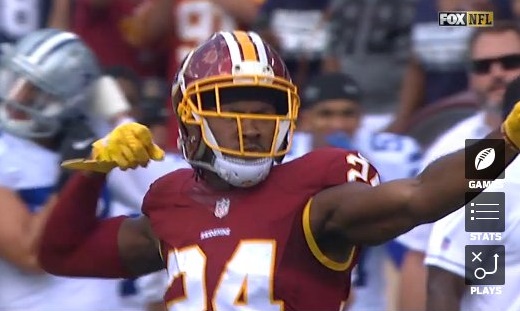 Josh Norman is still fuming several days after his incident with Taylor Lewan.
The Redskins cornerback was involved in a confrontation with the Titans offensive lineman following Tennessee's 25-16 victory over Washington on Saturday. Lewan went up to the Redskins sideline after the game went final and mocked Norman's famous bow-and-arrow celebration, leading to Norman getting up in his face.
Things got HEATED between Josh Norman and Taylor Lewan postgame. pic.twitter.com/HXCE6zRSzj

— NBC Sports Redskins (@NBCSRedskins) December 23, 2018
Addressing reporters Wednesday, Norman elaborated further on the skirmish.
"Maximum disrespect," said Norman of Lewan's actions, per Les Carpenter of the Washington Post. "Ultimate disrespect.
"I don't care how big you are. You can be a giant; it's kill or be killed," the former All-Pro continued. "That's how I look at it, how I see it. The guy had a whole foot and 135 pounds on me; what does that matter?"
As for what started the bad blood between the two players, Lewan claimed that Norman had tried to injure Titans running back Derrick Henry late in the game, something that Norman also responded to on Wednesday.
"How can [you] someone hurt someone who is 265 pounds?" said Norman, exaggerating Henry's listed weight of 247. "He's a running back. But what [Lewan] should have been worrying about . . . is his quarterback because our whole line ran through him like water on rocks. I mean, gosh, you would think he'd have been doing a better job worrying about protecting him than worrying about a running back who is [247] pounds."
Norman is a player who has thrived off feuding with opponents in the past, and while his profile isn't as high as it was a few years ago, it's safe to say that his brand still hasn't changed.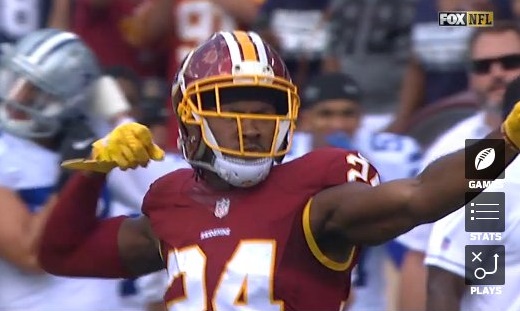 Josh Norman and Taylor Lewan got into a heated postgame confrontation following the Tennessee Titans' 25-16 win over the Washington Redskins on Saturday night.
Video from NBC Sports Washington shows Lewan going up towards Norman after the game and mocking his bow and arrow celebration. Norman took offense to that and got into Lewan's face in response.
Things got HEATED between Josh Norman and Taylor Lewan postgame. pic.twitter.com/HXCE6zRSzj

— NBC Sports Redskins (@NBCSRedskins) December 23, 2018
Asked about the confrontation following the game, Lewan said he approached Norman because he thought the Redskins DB had tried to injure Derrick Henry late in the game.
Here's what Lewan had to say about what led to his bow-and-arrow moment with Norman:
"I was pissed. He was trying to hurt Derrick during that four-minute. That's BS. That's not the way football is supposed to be played. It's not our fault your not relevant anymore." https://t.co/ZScHwAU3N0

— John Glennon (@glennonsports) December 23, 2018
For what it's worth, Henry said he did not feel Norman was trying to hurt him.
Henry says he didn't think Josh Norman tried to hurt him.

— John Glennon (@glennonsports) December 23, 2018
Lewan seemed like he was just trying to troll Norman for fun and gloat over the victory. Norman did not like that at all. Lewan just enjoys getting in the middle of things.
pixel2