Barry Bonds Is a Lucky Man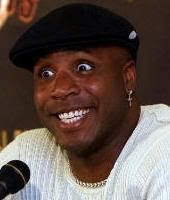 If you were down with LBS going back a few months, you know that I was all over the upcoming indictment of Bonds. I said the feds were getting close to indicting him back in July, and also speculated that President Bush could have had something to do with it. For quite some time, I've had the inkling that Bonds was going to get indicted, and that Major League Baseball knew it was coming as well. All those questions about Bud Selig being reluctant to attend Barry's record-breaking game? It's because Selig didn't want to be associated with a player guilty of federal crimes.
So if Bonds is facing several charges of obstruction of justice and perjury, how can he be lucky? That's easy: MLB allowed him to break the record. I have no doubt that they waited until the offseason to indict Barry. They could have brought these charges about in the summer before Barry broke the record. In fact, parts of me (OK fine, all of me) wanted them to indict Barry on his way to the batter's box, stuck on 755. They were generous for holding off on the indictment until now. They got their investigation extended months ago, meaning they had a strong case all along. So why wait until now? Because they didn't want to mar the season. I couldn't think of a more appropriate ending to Bonds' career. And yes, unless he goes to the Independent Wild Things, he's done forever. Alas, justice may be served!