Dodgers Holding Joe Beimel Bobblehead Giveaway Night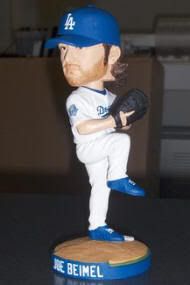 Alright, so I was watching the Dodger game the other night when a particular giveaway night they were promoting caught my attention. Just like every other team in MLB, the Dodgers do the whole Fireworks Night, back to school lunch bag giveaway, hat night, and of course, the fan-favorite bobblehead night. Now ordinarily the bobbleheads are miniature versions of the team's superstars. Only the real marquee players get bobblehead nights. Many of them even consider it an honor — like a sign that they've arrived. The Dodgers this year have already given away Takashi Saito bobbleheads which makes sense since he was an All-Star closer last year. They also had a Joe Torre bobblehead night, presumably to justify the $6 million they pay him annually to make double-switches. And last month they did a Brad Penny bobblehead to celebrate a pitcher who's been an anchor in their rotation the last few years (ironically he was hurt during the month of his giveaway). But check this out: the fourth and final Dodger to be immortalized in the form of a bobblehead is none other than Joe Beimel.
Apparently Beimel won the fan vote to determine the final bobblehead during Spring Training. Now I don't follow the promotions of teams across the country, but I'm willing to bet that this is the first time a left-handed specialist in the bullpen has EVER received his own bobblehead. I'm not exactly sure which fans decided to vote for Beimel, either. If they wanted to make a joke of it, they should have elected some stiff like Mark Sweeney whose bobblehead could probably take better at-bats than him. But Joe Beimel? A bobblehead? Are you kidding me? Have you ever heard of a situational left-hander getting his own bobblehead before? This is absurd, I tell you!
(Photo courtesy of Roberto)