Goose Gossage Would Have Been Tempted by Steroids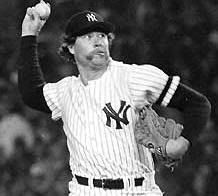 I was particularly intrigued by this story that came out Wednesday. Hall of Fame reliever Goose Gossage said he'd probably be tempted to use steroids if they were available in his day. From the NY Daily News:
"They weren't around in my time, but if they were I probably would have been tempted to use them,"
…
"The money is so great that it would be easy to be tempted," Gossage told the Daily News. "And who am I to say I wouldn't use them?"
I'm not posting this story because of the timeliness; I post it because I think those comments are quite telling. I think you put most players from history in the setting of the '90s and 2000s where free agency and the possibility of big bucks is out there and they all probably would have dabbled with performance enhancers. If a Hall of Famer says he would've been tempted by steroids, isn't it sound to reason that most players in the game were not only tempted by them, but also tried them?