Johan Santana Will Not Be With the Twins in '09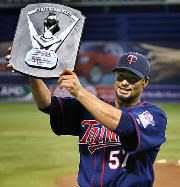 We already knew that the Twins players were not happy the front office (read: Terry Ryan) traded Luis Castillo to the Mets for what my buddy Alan termed "a backup catcher and 5th outfielder at best." Now, the biggest name and most talented of them all lashed out. Let me just say this, when a guy unloads the type of bombs that Johan did, it's safe to say he won't be staying with the team for long. Unless your name is Kobe Bryant. Cy Young pitcher Johan Santana went off on the Twins, Gary Sheffield-style:
"We've been close," Santana said. "And in all those times, we seem to be a couple players away from winning it all. So I respect all the decisions they make, but I won't say that they're right all the time.

"They protect their young players. They protect their organization, their roots, everything. But I guess I won't be a part of it. A lot of guys don't feel like they can be part of it, and they have to move on."
…
"I never give up," Santana said. "Me, personally, I never give up. It's over when the last game of the season's over. I don't know how these guys upstairs think. I'm expecting everybody else to do their jobs and help us win games because I've been so close to being in the World Series.

"A lot of these guys, they don't know. They're just happy to be here. Maybe that's how they like it upstairs, but I don't like it."
Really, you must just read the entire article to get the proper feel. As Tom Hanks said in Saving Private Ryan, gentlemen, take note, now that is how you gripe. The Yankees meanwhile, are licking their chops. Tell me this cat won't be in pinstripes in two years making A-Rod-type cash.