Matt Stairs: 'I Swing for the Fences'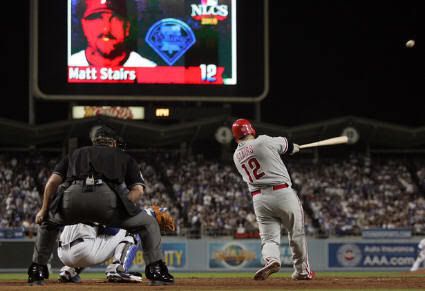 I've always been a fan of Matt Stairs, professional hitter. He has a unique style and always struck me as such the prototypical beer league softball player. Only he plays real baseball. And he plays it well. And in one statement, Stairs showed exactly why I love him so much. Check out this correspondence with Ken Rosenthal following the Phillies' 7-5 win in Game 4 of the NLCS Monday night, where Stairs had the tie-breaking 2-run HR:
Score tied, one on, two out in the 8th inning, you're up to pinch-hit, what's your approach? It's the same as when I pinch hit or when I'm playing — I try to swing for the fences — that's how I've been my whole career.
There I was, rolling my eyes because Rosenthal had asked the typical, boring question to start his interview. I was expecting the "I was just hoping to get a pitch I could drive, I was looking to get a base hit …" but no. What does Stairs do? He lets the whole world know that his entire approach at the plate in every at-bat he's ever taken is to try and hit a home run. I don't think I could have possibly been more shocked by a player's response to a question. Does it get any better than that? Is there any wonder why Matt Stairs is such a boom or bust hitter? I think we have our answer.
(photo courtesy Jed Jacobsohn/Getty Images)