High School Junior Jeremy Tyler Leaving School Early to Play Pro Ball in Europe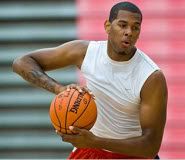 I was so shocked to read this story that I didn't even know what to make of it. Jeremy Tyler is a high school junior in San Diego and he's apparently decided that basketball is his future and it's time to pursue that career. Tyler truly has his mind set on improving his game:
"Nowadays people look to college for more off-the-court stuff versus being in the gym and getting better," Tyler said. "If you're really focused on getting better, you go play pro somewhere. Pro guys will get you way better than playing against college guys."
…
"It was boring and I wasn't getting better," Tyler said. "Each game was the same thing. I was getting triple-teamed and getting hacked. After each game I'd have scratches and bruises up and down my arms from getting triple-teamed. It just wasn't for me."
Now hang on a second, if the physical nature of the high school game wasn't for him, how will pro ball be better? Because they'll be cleaner? I respect his attitude that he doesn't want to screw around in college and instead just play ball, but I still feel this is a terrible precedent to set. Even Brandon Jennings admitted it wasn't all peaches the way he thought it would be. The younger you are the harder it is to deal with adult matters. This is a horrible trend for kids. A 17-year old going across seas to play pro ball? This is not good.