Portland State Sure Knows How to Party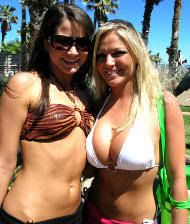 They often say what happens in Mexico on Spring Break, stays there. That might be the case for your average skank winning wet T-shirt contests and trying her luck at a game of Chinese finger cuffs. It even applies to the average dude slamming beer and bong rips in between playing Eiffel Tower with co-eds. But one thing you're not allowed to do in Mexico is beat the crap out of some tool and leave him lying in the street. Unfortunately for a few basketball players at Portland State, they learned that the hard way:
Less than two weeks removed from the glory of taking Portland State to the NCAA Tournament, two of the basketball team's star players were arrested in Mexico for their alleged roles in a brutal beating that threatened a man's life.
…
"You couldn't do damage like this with a baseball bat — it's worse," said Alejandro Rojas, general manager of Balboa World Class Clinic, the hospital where a cabdriver took Meagher afterward. Rojas said that it was unclear what beyond fists may have been used in the attack but that upon arriving, the 6-foot, 170-pound Meagher's lower jaw was broken in several places. He was choking on blood from severe internal bleeding.
Eight screws, two titanium plates, and about $40,000 in medical expenses later, Meagher was ready to go home. The two players implicated in the beating are Scott Morrison and Jeremiah Dominguez, both top contributors to the Portland State squad. Seeing as that Morrison is 6'11" and 250lbs, while Dominguez is 5'6″ and 150lbs, I'm going to go ahead and venture a guess that Morrison did most of the damage. Just a hunch.
UPDATE: The players are refuting the claims.
Pic from Spring Break.