Amanda Beard Posing Nude for PETA in Protest of Fashion Furs at Beijing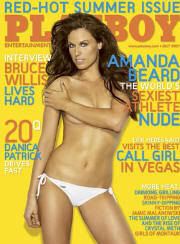 Everyone's favorite Olympian, Amanda Beard, who already showed off her goods in a sexy spread for Playboy magazine, is at it again. And by at it, I mean set to appear nude and bare her fine body for the masses. Beard's teaming with PETA in an anti-fur for fashion campaign that will feature her posing nude in front of the water cube swimming venue in Beijing:
"Seeing animals slaughtered to be worn as fashion is awful to me, so I'm definitely against wearing fur … I'd much rather go naked than ever put a dead animal on my body," PETA quoted Beard as saying.
One can only hope that Beard looks as sexy in those pictures as she does in some of these ones. And as wacky and crazy PETA can get sometimes, as long as they're making it up to us by getting Amanda Beard to pose nude, I'm on board with it. Heck, she might just have been the best looking Olympian to pose in Playboy.