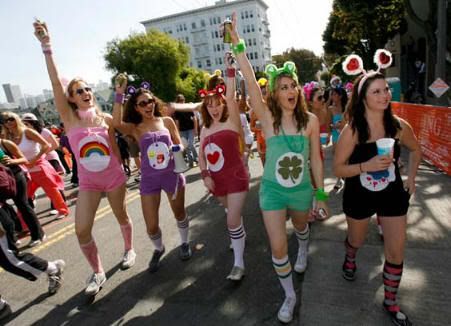 In case you're unfamiliar with the tradition unlike any other, Bay to Breakers is an annual race in San Francisco that apparently started back in 1912 to lift spirits after a disastrous earthquake. Now, it has become a race full of drunken debauchery, naked bodies, and hideous costumes. In so many words, it represents the Bay Area perfectly. On Sunday, Bay to Breakers was held. Unfortunately, it ended on a sad note when a man died by the finish line. However, that will not stop me from giving you some details of the race courtesy of the San Francisco Chronicle
Some participants were motivated to run fast and others were motivated to drink beer in imaginative ways — such as while doing a handstand over a keg in a shopping cart on the corner of Howard and Fifth streets, or by sucking on tubes connected to a pair of 40-ounce bottles of malt liquor connected to a helmet.
…
Less concerned about posting solid times were two men just out of the shower (complete with towels, bed-head and faces full of shaving cream), an impressive spaghetti and meatballs, a man dressed all in brown who said he was dog droppings and too many red-and-white-wearing Pamplona bull-dodgers to count.
I'm sad to say that I could not hook up with my sister for the live report; she no longer lives in the Bay. One of my other friends did make the trip, I'll have to check with him for more details at another time. Just remember, for every hot chick in a Care Bears outfit, there are five disgusting, old, wrinkly, naked bodies.
More pics of the ridiculousness after the jump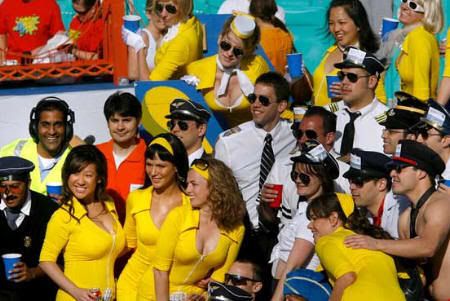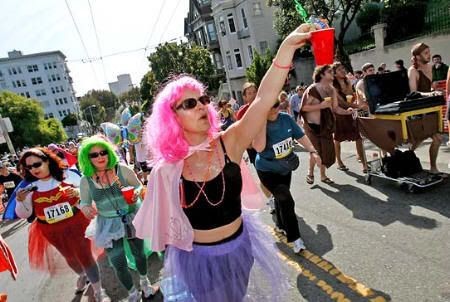 Google+