Brett Favre Could Be Heading Back to the Super Bowl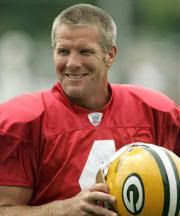 We saw a storybook ending to Jerome Bettis' career a few years ago. We knew he was retiring, we knew the Super Bowl was in his hometown of Detroit, but we didn't think he'd be playing in it — much less winning it. Even more of a long shot entering the season though was the odds of Brett Favre having a great season and playing in February. Though I defended Favre's ability a few years ago when people said he needed to retire, I never would have thought the guy had a shot at the Super Bowl. Never. And that's what makes the NFL so great, not to mention crazy.
So how about that? How insane is it that this old, graybeard 38-year-old is still tearing up defenses and throwing TD passes and on the verge of a birth to the Super Bowl? How insane is it that the NFL is all of a sudden falling back in love with the same guy who was an MVP and hero in the league more than a decade ago? Guys like Tim Couch who was a top pick in the draft not too long ago can't even find work, yet here he Favre is like 15 years later still playing — and balling it up at that. I just know this much: after Sunday, either Eli Manning or Brett Favre will heading to the Super Bowl. That scenario absolutely blows my mind. Can you believe that Brett Favre is thisclose to playing in another Super Bowl? I can't. That's crazy. And too bad the Pats are just gonna beat his Pack and he'll wind up returning for a downer year in '08. Oh well, fun while it lasted.