Home Dome Teams Have the Advantage in the Playoffs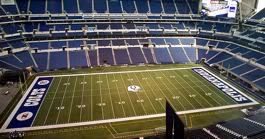 When it comes to the NFL and football in general, we're always in search of trends and patterns to help explain and/or predict the action on the field. We often hear that dome teams don't do well on the road in the playoffs, and that has proven to be the case in the past. This year however, as my buddy Todd Wright pointed out on Sporting News Radio, the dome teams earned the top seeds in the playoffs which led to home field. And it has paid off big time.
Entering Sunday's conference championship games, dome teams are 5-0 at home in the playoffs. That list includes the true dome teams like the Saints, Vikings, and Colts (each are 1-0), and the Cowboys and Cardinals who played with closed roofs. Conversely, outdoor teams like the Patriots, Bengals, and Chargers went 0-3 in their home games.
You can easily treat each game as its own particular case to explain the results but I think there's a clear pattern. The Saints, Vikings, and Colts — the true dome teams — are passing teams unaffected by the weather at home. When it's cold, windy, or rainy, they have a tendency to struggle outdoors. Additionally, the loud noise provided by their home fans made it tough for opposing offenses to operate. The communication regarding audibles was off and the defensive linemen got great jumps off the snap because the offense had to go with silent counts.
So what's the point? A true pattern does exist and it means the Colts and Saints should have their way this weekend. When they get to Miami, you can scrap all this and let the best team win, but for now, go with the home dome team advantage.