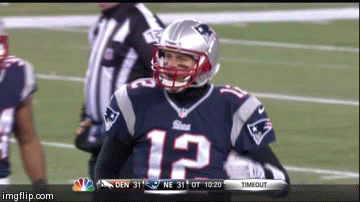 Tom Brady went nuts on the field complaining to the referees after a pass interference penalty was not called in overtime on Sunday night.
The New England Patriots had a 2nd-and-4 from their 37 against the Denver Broncos and ran a play-action fake. Brady passed to Kenbrell Thompkins for a quick slant, but the pass was incomplete. Quentin Jammer was holding Thompkins around the shoulder and pulling on him before the pass was made, and his contact looked like a clear pass interference.
Here is the contact prior to the ball even entering the screen:
After not getting the call, Brady sprinted down the field and protested the call.
If this were the NBA, he surely would have received a technical foul for arguing with the referees. He was heated and probably avoided an unsportsmanlike penalty only because of who he is.
Google+