Home Ice Disadvantage in Playoffs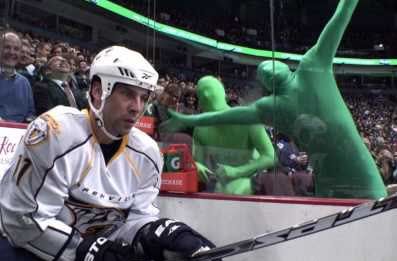 Whenever the playoffs come around in any sport, we always here about the "home advantage." Well, in these 2010 NHL Playoffs, we are seeing exactly the opposite. Every team in the playoffs, aside from the Sharks, has faced difficulty winning at home. For some reason the Sharks have been amazing no matter where they are.
Let's start with the Chicago Blackhawks and the Vancouver Canucks. Game One of their Western Conference semifinals series resulted in an embarrassing home loss for the Blackhawks as the Canucks came into the United Center and just took over. The Blackhawks fell 5-1 that night, but came back for three straight dominate performances, two of which were on the road in Vancouver (where the Hawks seemed to enjoy taunting the fans).  Sunday night, the Canucks came into Chicago facing elimination, and they walked away with 4-1 road victory over the Blackhawks. Game Six will take place Tuesday night in Vancouver. So, why are these two teams so much better when they don't have their home crowd behind them? There might not be an answer, but these teams are hardly an isolated case.
The Pittsburgh Penguins and Montreal Canadiens have shown a similar pattern of losing at home in their Eastern Conference semifinals series. The Penguins dominated in their first home game of this series, but then fell to the Canadiens in the second home game. The Canadiens fell to the Penguins when they returned to Montreal, but won their second home game too. They have forced Game Six in Montreal Monday night.
I think the home struggles of these teams has a lot to do with the goals of the road teams. It seems that all of these road teams are feeding off the energy of quieting the crowd and embarrassing the home town team in front of them. Hey, the fans love taunting the visiting teams — just check out the green men in Vancouver, who have been taunting all season.  My guess is that the players love taunting on the road as much as the fans do, only they do it by winning. That's somewhat strange because in my opinion, there's nothing better than a win in front of your home town fans.
Sources:
Five Things We Learned From Sunday [ESPN]