Articles tagged:

Houston Nutt
The story of Mitch Mustain and how his career fell apart is something of a legend in Arkansas.
Neal McCready, who covers Ole Miss football for Rivals, predicted that the Rebels would lose to Arkansas 49-10 in his weekly picks.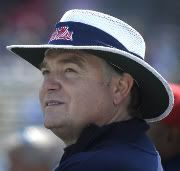 Maybe Houston Nutt knew something about Tommy Tuberville before the rest of us did, but there's no doubt that the recent climate amongst college football coaches has been murky at best.