What's the Word? D-Backs, Youngsters Might Be Studs
This is written by Larry Brown Sports contributor, Alan Hull, who was not particularly fond of Larry's Diamondbacks preview.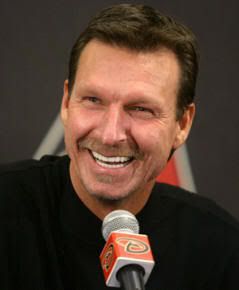 So recently I've been intrigued by the preseason postings over on Bodog.com, listing the Arizona Diamondbacks as a 45/1 favorite to win the World Series (down now from the 50/1 it was when it opened). I figured throwing 20 bucks in the hopes of making a cool grand would be pretty sweet.I pitched the idea to my boy Larry Brown and he just didn't see it. What's to like about this mish-mash of minor leaguers, burned-out Big Units and a bullpen that leaves much to be desired
Come along, friends and allow me to explain.
In order to win the bet, the following must occur:
The D-Backs must win their division or make the playoffs via the wild card.
The D-Backs must win the World Series.
To begin with, let's just go ahead and assume the D-Backs win the division, which I know, I know, is a lot to assume right off the bat but the argument makes the most sense this way. I will get to how this may or may not take place in a minute.
Going back to winning the World Series, I'm going to drop some wisdom here for a minute: the best team in the playoffs doesn't necessarily win. The best team, at best, has a slight edge over the worst team (see: 2006 Cardinals, a.k.a. the worst World Series winner of all time at whopping 83 regular season wins), but I digress—I only mention this to emphasize that making the playoffs is the most important facet of the argument as well as how the D-Backs could very well have a team that could excel in the playoffs.
If one examines the teams that have made World Series appearances over the past few years, generally they possess strong rotations or superior front-of-the-order rotation guys. Those guys get ridden through the playoffs and the bullpen is forced to step it up, albeit with increased rest and fewer appearances. Examples include: Detroit 2006, White Sox/ Astros 2005, Red Sox 2004, Marlins/Yankees 2003, Angels/Giants 2002.
Where does that leave the D-Backs? Well, they have one very young Cy young Winner in Brandon Webb and the rest of the rotation filled out with a much more scrutinizable Randy Johnson, Doug Davis, Livan Hernandez and (insert rotation winner's name here following Spring Training).
There's a lot not to like about that rotation: the legitimacy of Webb's breakout; if Randy Johnson is still a major league pitcher at age 44; Davis's increasing walk totals, Livan Hernandez's age/weight; and who the hell that 5th guy will be. I understand that. I do, really.
Still, I like Randy, I always have. This past season, I really liked his chances, although he ended up with an ERA of 5.00. I was thinking more like 3.00, prior to the season. Personally, I think the guys a head-case and he let the New York thing get to him because his statistics last season were fantastic. I believe he got bombed one time (10 times) too many and this killed his overall numbers. He was still 21st in strikeouts last season (172), 22nd in K/9 (7.55) and 24th in K/BB (2.87), all relative "Ace" numbers. Not to mention, he's moving over to the National (*cough* Crap) league next season, I think an improvement on last season's ERA is not out of line.
Here's how MLB pitchers broke down last season:
ERA GS IP
#1 Starter 3.91 28.5 181.2
#2 Starter 4.61 26.6 165.
#3 Starter 4.74 27.6 167.5
#4 Starter 4.82 20.8 123.4
#5 Starter 4.96 20.6 126.8
I feel fairly confident saying that Webb, Johnson and Davis could exceed the #1 – 3 expectations, perhaps significantly, with their array of other starters meeting or falling within the average. Those factors put them in a good place as it relates to both the playoffs and the regular season. Not to mention, I like a playoff team with Webb and, perhaps, a revitalized Randy Johnson (at age 44!), with something to prove, leading the D-Backs into the playoffs.
Then, there's their offense. Their offense will live and die with the performance of their talented core of young players. I really like their offense, while most people don't know what to expect, I have very high expectations for their offense. While a collapse here or there may occur, more likely, they will be above average or well above average at every position.
Here is the 2006 lineup and their respective AVG./OBP./SLG. figures:
C – Johnny Estrada (.302/.328/.444)
1B – Conor Jackson (.291/.368/.441)
2B – Orlando Hudson (.287/.354/.454)
3B – Chad Tracy (.281/.343/.451)
SS – Craig Counsell (.255/.327/.347)/ Stephen Drew (.316/.357/.517)
LF – Luis Gonzalez (.271/.352/.444)
CF – Eric Byrnes (.267/.313./.482) / Jeff DaVanon (.290/.370/.448)
RF – Shawn Green (.283/.348/.429) / Carlos Quentin (.253/.342/.530)
Out of those, I think Miguel Montero could match or come within reach of Johnny Estrada's production, Hudson will probably regress a bit (but still bring his stellar defense with him), Chad Tracey will improve a bit and Byrnes and Davanon will make up for Gonzo's departure in left. Meanwhile, I predict Jackson and Quentin will take great steps forward in the coming year and Drew and Chris Young will break out in a big, big way. I'll leave the projecting to you, but that's a mighty fine offense.
Last season, the D-Backs went 76-86, scoring 773 runs, allowing 788 runs, performing below their Pythagorean record of 80-82. Pythagorean wins are generally considered a better measurement of a team's performance than wins when projecting future performance, so the D-Backs were not as far from .500 than they may at first appear.
Using 80-wins as the baseline, I think it's reasonably safe to say that any of the teams in the NL West could win the division with 90 wins. Between the upgraded rotation and the fast-improving offense, that gap is looking awfully thin.
If General Manager Josh Byrnes can make a shrewd move for a bullpen guy or two, they'll be in even better shape, but they have a handful of live arms in the bullpen, including Juan Cruz (4.18 ERA), Brandon Lyon (3.89), Jose Valverde (5.84) and Jorge Julio (3.83), who may be able to luck their way into some success.
Throw all information this into the melting pot, combine that with the Padres' lack of depth and the Dodgers' lack of offensive threats, then yeah, I do like the Arizona Diamond backs as a 45/1 favorite to win the World Series. I'm not even going to say that I like them to win their division, but that is certainly the first step and that, friends, is the word.
Along the same lines, I really like Cleveland at 28/1.
UPDATE: Alan and Larry have placed a friendly wager on Arizona's final record this year. The over/under line is 86.5 wins. Since Larry predicted only 78 wins for the D-Backs this year, needless to say, he's already made reservations for when Alan buys him a meal as payment.