Chipper Jones Can't Catch a Break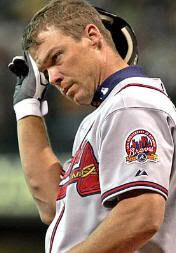 Just a bruise, instead. I've heard of some pretty weird and freak injuries occurring in baseball, but this has to be up there. How many guys get injured during batting practice? I know Nomar did — he was hit on the heel with a batted ball (though that never made any sense). But everything happens to him, so why should that surprise us? Well, because what Chipper did was, well, unprecedented.
Chipper pulled a Brickma, doing only what Daniel Stern could do. He injured himself by fouling a ball off in BP that hit the top of the cage and came back down and hit him in the face. The ball hit him just under the eye, no doubt leaving a bruise of some sort. He was taken to the hospital for a CT scan that came out fine. The good thing is that the injury couldn't have been too serious because Chipper's set to play in Saturday's game. Honestly, some dudes are just like that. Chipper's one of em. He's not quite a Nomar, but he hasn't played a full season in five years. I guess that means he has a DL stint in him for some point this summer. Until that day comes, he's still mashing. Here's to hitting .400 as part of a Hall of Fame career.