Delmon Young: Punk With an Attitude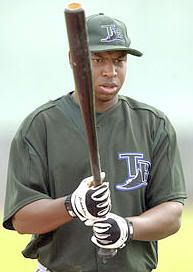 Giving Edwin Encarnacion a run for his money, Delmon Young was yanked from the D-Rays game Saturday for lack of hustling. Manager Joe Maddon said Delmon was disrespecting the game. Delmon as you could imagine, did not take to the benching too happily:
Young said he was treated unfairly because others have been doing the same thing. An inning earlier, B.J. Upton didn't run when he hit a line drive that was dropped by shortstop Ray Olmedo, but Maddon said that was a different situation.

"S—, everybody else is m—–f—— doing it," Young said. "S—, I'm the only one who m—–f—— gets in trouble for the s—. … I play every day. I don't complain about going out there. So, I'll see you guys next year. I'm shut down for (today)."
And with that, the Delmon left the building. Wow. Serious. Attitude. Issues. Don't forget the infamous bat toss hammer throw. There's no way the Rays turn their organization around with that type of behavior on the club, I don't care how talented the players are. Poor form by Delmon, not just on the field, but for refusing to show up for the final game. Brutal.
(via Red at MLB FanHouse)
UPDATE: Per BNLizard in the comments, Young apologized to Maddon, and entered the finale on Sunday as a sub in the 6th.