Doug Melvin Has Deathwish: Sticking with Eric Gagme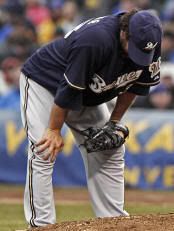 When this subject was first broached in an email by JS, I tried to give Gagne the benefit of the doubt: he had been pitching for the fourth straight day when he blew a save to the Reds, his third of the year. One was a start, two was a trend … but five? Five and we just started May? Maybe it is too early to give up on him if you're the Brewers and paid what, like $10 million for the season? But this guy is straight killing them. Eric Gagne has blown five saves now in only 14 chances. It's been about a month since he's had a 1-2-3 save. His WHIP is 1.70 and hitters are batting nearly .400 against him. That's just awful. So honestly, what do you do if you're Milwaukee? I guess your only options are to stick with him, demote him, or cut him.
If I were the Brewers, maybe I would baby Gagne, give him the Joba rules. I wouldn't let him pitch on back-to-back nights, only let him close like half the games. That way you still get some effectiveness from him hopefully. At the least, he won't be able to screw up two games in a row for the team. Milwaukee's gone through with this recently with Turnbow and they stuck with him for quite some time before making a change. I think they certainly have shown that they'll have patience. What options do they really have anyhow? Going closer by committee's probably the best thing. If they want to compete this year, they'll have to deal for another closer like they did with Francisco Cordero two years ago. Gagne just isn't cutting it.