Former Bulls GM Jerry Krause to Consult for White Sox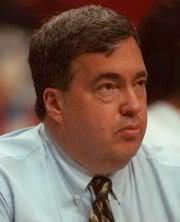 The Chicago White Sox have hired the former general manger of the Chicago Bulls, Jerry Krause, to be a baseball consultant for the team. His main responsibility will be "revamping" the scouting system in the Dominican Republic. Manager Ozzie Guillen seems to think that this was a good decision for a funny reason: "Very smart man. He gambled, trading for me, and he won." Though Ozzie's pleased with the idea, I have some concerns.
Can a man who was so successful in the world of the NBA bring the same magic to MLB? Although Krause was once a scout for the Sox, that was a long time ago. Was it too long ago? I've never been a general manager nor a baseball consultant, so I don't know how easy it is to bounce between sports. Can you go from being a general manager who helped a basketball team win six titles to being a baseball scout and have the same success? I guess only time will tell but it's hard to think it will be easy.
Sources:
White Sox hire Krause as consultant [ESPN]