Juan Pierre Cracks Dodgers Lineup … Batting 9th Behind the Pitcher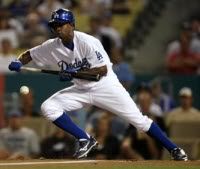 Poor Juan Pierre. All the guy's ever done was be Juan Pierre yet that's not been good enough for the Dodgers. Between the signing of Andruw Jones, the acquisition of Manny Ramirez, and the emergence of Andre Ethier and Matt Kemp, there hasn't been much room for J.P., the Dodgers' $9 million-a-year man. On Wednesday, for only the second time all season, Pierre was able to crack the Dodgers' starting lineup because they sat Matt Kemp against Cy Young winner Tim Lincecum. Problem is the team was slapping him in the face at the same time that they were rewarding him. Sort of. Joe Torre pulled a Tony LaRussa, batting Pierre 9th behind the pitcher. The logic was sound and apparently Pierre was OK with it:
"I've been threatening it, right?" Manager Joe Torre said. "It just seemed like a situation, with a player like Juan, he'd be freer to steal and stuff with [Rafael] Furcal hitting behind him instead of the pitcher. . . . To me, it makes sense with a guy with speed. . . . I just don't want to take away some of his tools from him."
…
Pierre said he had no problem with the alignment, joking that he would bat 11th if that's what it took for him to crack the lineup.
Like I said, the move appears as an insult on its surface, but it actually makes sense. Just because the "standard" way of doing things involves the pitcher batting last doesn't always mean it's the right move. Torre's correct — speed is a big part of Pierre's game, and that bonus of his game is more or less nullified by the pitcher batting behind him.