Ken Macha Still Has Strong Ties to Moneyball Style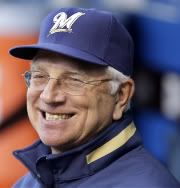 The Brewers have played well this year, leading the NL Central with a 30-21 record despite starting out the season slowly. They don't have C.C. Sabathia or Ben Sheets, but they have a new manager in Ken Macha who has a pretty strong idea about how to run the team. Some of the former A's manager's principles include not running nor sacrifice bunting, and that's brought on questions from the press:
[Macha] analyzed some statistics and came up with a few tidbits that support why he doesn't let players steal more bases, and why he doesn't sacrifice bunt as much.

Going into play Sunday, the Tampa Bay Rays were stealing bases at a success rate of 87% (82 steals in 94 attempts).

Macha and droves of other statistic gurus believe a team has to have a 75% success rate for steals to have a positive impact on an offense, but as Macha happily pointed out, the Rays were two games under .500.
If all that sounds familiar, it's probably because you've read Moneyball — the book about the Oakland A's. Macha maintains that his feelings on stealing bases and dropping bunts (he added that a team's percentage of scoring is higher with a runner on first base and nobody out than with a man on second and one out) have also been referenced in Ted Williams' book and essays by Branch Rickey. That may be the case, but I'm guessing all these notions were well-cemented into his consciousness by the A's organization. Oakland may have altered its philosophy but it still sounds like some of the tenets of Moneyball are alive and well in Milwaukee. I've always felt that teams should play a style based on their abilities, and it seems like Macha's way of thinking is working out with the Brewers.
(via Ben Maller)