Mike Trout's girlfriend is Jessica Cox, his high school sweetheart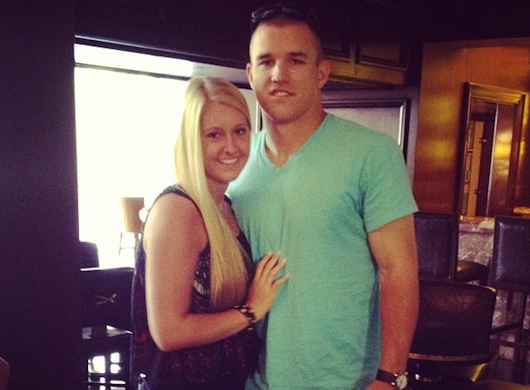 Mike Trout is practically on top of the world right now. He's young, the best player on a playoff contender and an MVP candidate — as a rookie. So who's the lucky lady who gets to be Trout's romantic companion during these exciting times? A supermodel? Pop star? Miss July? Kim Kardashian? Wrong. Wrong. Wrong. Definitely wrong.
No, the Angels phenom is keeping things simple (as most baseball players not named Evan Longoria, Matt Kemp and Alex Rodriguez do) and dating his high school sweetheart Jessica Cox. "I met her in high school, and we trust each other, and she is one of my best friends," Trout told the Philadelphia Daily News, per to PlayerWives.com. "She is somebody I can talk to and is always here for me."
A gloss over of her Twitter page reveals Trouty recently sent her a bouquet of roses with the message, "I love you and miss you." Ah, to be young and in love. Additionally, she is currently vacationing in Bermuda and likes to Instagram photos of bowls of fruit. The life of an MLB WAG!
Here are more photos of these two lovebirds together:
JESSICA COX AND MIKE TROUT PHOTOS: