The Angels Own the Yankees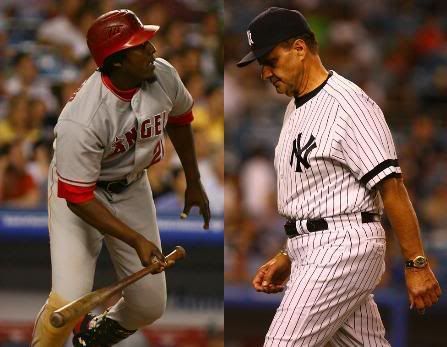 Since Joe Torre took over as manager of the Yankees in 1996, only one Major League team has a winning record against his New York club. And if you can't guess who it is based on the title of this post, then someone needs to hit you over the head with a tack hammer because you are a moron. That's right, you guessed it, the Angels. My gutty, gritty Angels baby. 56-52 against the Yanks since Joe Torre took over — haunting him in his sleep. If that's not enough, the Angels have also extinguished the Yanks from the playoffs twice in that span. And last night in the Bronx, the Angels proved once again, that they OWN the Yankees.
A 10-6 win, and Jered Weaver wasn't even that sharp. It's like some sort of magnetic effect; the Yanks draw out the best in the Angels offense — no matter who it is, no matter how bad they are slumping. Witness Chone Figgins: prior to Friday night's game, he didn't have a home run in 75 at-bats. But on Friday, he went 1 for 5 with a dinger. Or take Casey Kotchman: prior to Friday night's game, he only had 3 home runs in 142 at-bats. In Friday's game, he went 3 for 5, with a death blow to deep right. It may sound crazy, but I honestly wish the Angels played the Yanks 50 times a season. That would guarantee them a spot in the playoffs every year.