Yankees Suck T-Shirts Not Allowed at The Ballpark in Arlington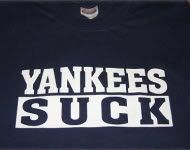 I feel pretty strongly when it comes to being a fan that one should support his/her team to the fullest and not downgrade the opponent. Dressing up in ridiculous garb, painting your face, and cheering for your team is extreme but in the positive sense. Threatening an opponent with death is taking things way too far. Wearing a "Yankees Suck" shirt expresses a negative sentiment but is more harmless. Anyway, a fan at the park for one of the Rangers/Yankees games last week in Arlington encountered some controversy because she wore a Yankees Suck shirt to the game.
Once inside the ballpark's Diamond Club for a pregame dinner, [fan Kristen] Knapp-Webb was informed that the anti-Yankees message on her shirt was a violation of the Rangers' code of conduct for fans. At the least, she had to turn it inside out.
…
In fact, the Rangers organization imposes a dozen rules of conduct on fans who attend games in Arlington.

Rule 11 states: "Any person wearing clothing with language, graphics or revealing parts of their body that may be offensive to another guest may be denied entry into the stadium or ejected from the stadium without refund."
The Rangers instituted this rule based on previous complaints by fans. The Red Sox, Mariners, and Orioles have all outlawed the Yankees Suck shirts so by no means are the Rangers in the minority. Now normally I believe this sort of negative sentiment is against the spirit of proper fandom, but when it comes to the Yankees, I think an exception has to be made. Does it get more American than rooting against the Yankees (or for them for that matter)?
(via Circling the Bases)