Hornets Signify Changing of NBA Guard?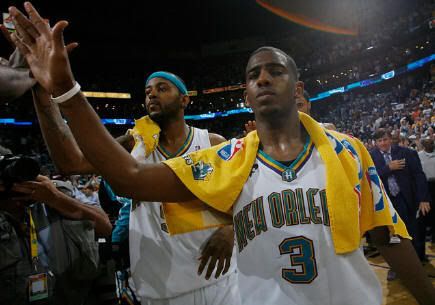 Despite their excellent regular season, the Hornets were a popular pick to bust in the playoffs. Lots of experts had the Mavericks beating them in the playoffs, figuring experience would be a huge factor. Though I had New Orleans winning their first round series, I didn't think they'd be able to get past the second round. Come on, how many people would figure they could have beaten the Spurs or Suns? They haven't advanced to the Conference Finals just yet, but they've looked more than impressive blitzing San Antonio in the 2nd half of both Game 1 and Game 2 in New Orleans. Peja has been hot, hitting over 61% on his three-pointers in the playoffs, and 48% on all his shots. Chris Paul has been incredible handling and shooting the ball, making 50% of his shots, and turning the ball over just three times in two games against the Spurs. They've been incredibly impressive, beating down San Antonio just like they did Dallas in the first two games.
I'm not expecting the same result by any means once the series goes to San Antonio. In fact, I'd expect to see things get evened up. But New Orleans is looking like they're going to win this series, and I think that is monumental. To knock off San Antonio would be a huge deal — it would prove the Hornets have truly arrived. Perhaps what's been most impressive in the series is how they've held down Tim Duncan. Duncan went just 5 and 3 in the first game, making only one of nine shots. He only grabbed eight boards in Game 2, and the Spurs were down by a combined 32 points while he was on the floor. Yikes. West and Chandler have done a great job defensively. We'll see if they can keep it up because they've looked great thus far.