It's Kobe's Armageddon in Los Angeles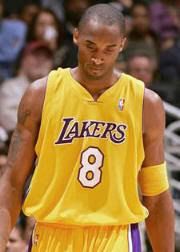 Armageddon:
the place where the final battle will be fought between the forces of good and evil
the last and completely destructive battle
any great and crucial conflict.
My friends who do not live in LA, let me tell you. You are unfortunately missing out on armageddon. These past few days may have been the greatest ever in LA sports radio history. It's mass hysteria. It's comedy. It's hilarity in its ultimate form. People skipping work to listen to the talk shows; their fingers are wrapped around the wrists of the city like boa constrictors, grasping for a pulse. Los Angeles is falling apart. I'm not sure a natural disaster could have created this type of commotion. The Northridge quake didn't do this much damage. Daytime soap operas couldn't produce this type of real-life drama.
It's great. If you want to hear Laker fans break down, if you want to hear the ultimate shots of desperation and despair, tune into KLAC am570 or espnradio 710 on your computer. Could you imagine a greater week on the national sports scene? The most popular teams in the nation's most popular cities are both going down in flames. And all it takes is a few clicks of a button to experience it all. Unfortunately we do not have a term in the English language that can properly describe this experience. Fortunately, the Germans do. It's called schadenfreude. Join in with me and celebrate the Lakers as they go down in flames. It is hilarious.